Sushi Up 17% Amid DeFi 2.0 Rescue Rumors
Sushi has had a difficult few months. Still, its token is outperforming the rest of DeFi after jumping 17% in the last 24 hours.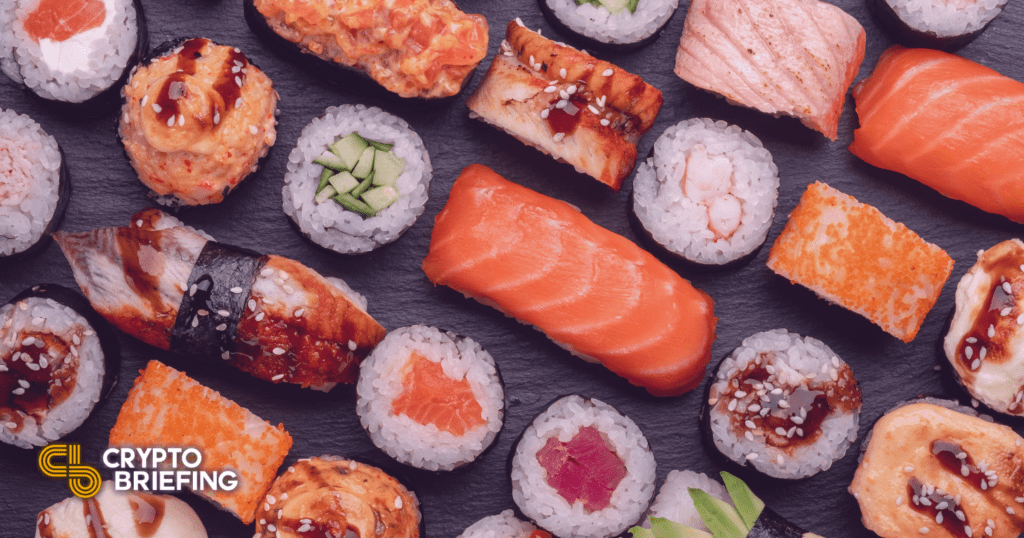 Key Takeaways
Sushi has risen 17% amid rumors of an internal restructure.
Daniele Sestagalli, a DeFi developer known for spearheading the "DeFi 2.0" wave, is rumored to be joining the project.
Sushi has faced internal issues for several months. The SUSHI token has also trended down throughout the year.
It's thought that Daniele Sestagalli may step into the project as part of an internal restructure.
Sushi Rebounds From Recent Woes
Sushi is leading the market.
The DeFi project's SUSHI token has jumped 17.1% this afternoon, trading at $9.14 at press time. Other DeFi tokens like Uniswap's UNI and Compound's COMP are also up today, though SUSHI is the clear standout.
One key factor behind the rise could be the growing excitement surrounding Daniele Sestagalli's possible involvement in the project. Sestagalli has become something of a cult hero in the DeFi community, known for his contributions to the so-called "DeFi 2.0" wave. Sestagalli founded Abracadabra.Money, Popsicle Finance, and Wonderland Money and is seen as the leader of what he calls the "frog nation"—a community of crypto enthusiasts that advocates for preserving the decentralized aspect of decentralized finance.
Last week, Arca's Alex Woodard put forward a Sushi governance proposal suggesting that Sestagalli joins the project as "Head Visionary/Strategist" as part of a restructure. It also put forward Sushi team member Omakase as a Head of Operations and Business Development. The proposal has had a mixed response from the Sushi community so far, though Sestagalli's possible involvement in the project has proven popular.
Earlier today, Sestagalli posted a tweet promising "a DEX owned by Frogs for Frogs" in reference to Sushi, around the time SUSHI was soaring. It's received 3,391 engagements at press time.
Imagine getting 100% of the fees of Binance distributed to you. That's the future of $SUSHI holders. A DEX owned by Frogs made for Frogs.

— Daniele never asks to DM (@danielesesta) December 27, 2021
Interestingly, before Woodard put the proposal forward, a separate Sushi governance proposal titled "Fire Omakase due to stealing money and Daniele governance attack collusion. Add a constitution" had gained traction. The post alleged that Omakase had censored messages and stolen Sushi funds, accusations other posters on the forum have levelled against Sushi in the last few days. Omakase posted a response refuting the allegations. "These claims are categorically false and quite frankly irresponsible," they wrote. "Stealing money from company is absurd considering there is no company and no funds have ever been misappropriated out of the very decentralized nature of a multisig process."
The accusations leveled at Omakase and Sestagalli's possible involvement in the project come after months of internal issues in the Sushi camp. Most recently, the project's chief technology officer Joseph Delong announced his departure, saying that he was "saddened that Sushi is so imperiled within and without." Delong had previously noted how there had been "a lot of drama within Sushi" and pointed to conflicts with a former team member known as BoringCrypto and other core team member departures. BoringCrypto held the licence to Sushi's Kashi product and recently sold it to Sestagalli's Abracadabra.Money project.
Before Delong left, a Business Development lead known as AG was fired "for a continued pattern of behaviour that made for a toxic workplace." And, perhaps most memorably, the project's popular co-founder 0xMaki stepped down in September.
Rekt published a damning investigation amid the ongoing drama, in which an anonymous source alleged that the Sushi team had unevenly distributed an allocation of tokens from MISO's BitDAO sale between team members. It also claimed that 0xMaki was fired from the project, and that a core team member had used the Sushi treasury to fund their day trading habit.
As the issues within Sushi became public, its native token suffered. It hit a low of $4.91 on Dec. 6, declining 79% from its all-time high price recorded in March. Now, it appears to be making a swift recovery.
Disclosure: At the time of writing, the author of this feature owned ETH, SUSHI, and several other cryptocurrencies. They also had exposure to UNI and COMP in a cryptocurrency index.