TaTaTu: A $500M Startup Has Replaced Half Its Original Team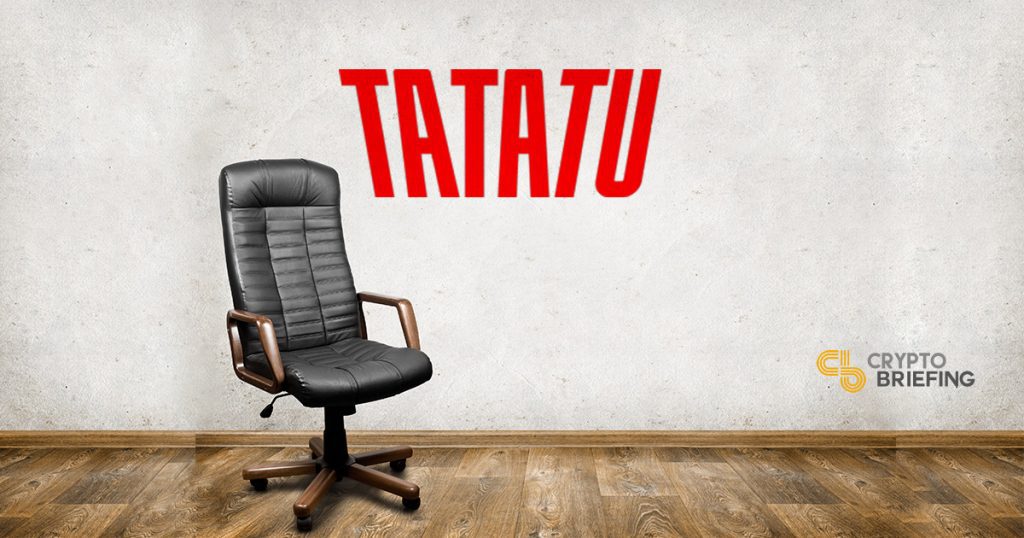 One of last year's biggest ICOs has replaced at least half of its original staff. TaTaTu (TTU), the third largest token sale on record, is in the midst of "changing the team," company insiders told Crypto Briefing. Of the ten original core team members, five have been replaced since the token sale.
TaTaTu's whitepaper, published in 2018, lists ten members of staff. These include the project's founder and CEO, film director Andrea Iervolino, as well as nine others. But judging from their LinkedIn profiles, just over half the people mentioned have left the project since the ICO in June, including senior roles such as the Chief Technology Officer (CTO) and the Head of Platform.
Of the former staff members:
Jonathan Pullinger, the CTO, left in July; he founded an information consultancy following a three-month hiatus.
Marcello Mari, head of PR, left in July for a similar position at MovieCoin.
Mario Alberto Casiraghi, head of the token sale and financial strategy, left in June. Among other roles, he is now CFO at Xfinite Global, a digital entertainment platform.
Anthony McGuire, responsible for advertising and partnerships, left in September.
Ed McCulloch, Head of Platform, left in August.
A sixth employee, 'Christy L' was TaTaTu's social media community manager, although she wasn't mentioned in the whitepaper. According to her LinkedIn profile, she joined in February 2018. She left the company last week, she told Crypto Briefing, but did not explain why.
---
TaTaTu has "changing needs" for personnel
TaTaTu pays content creators that share films and television shows on its platform with TTU tokens, which run off the Ethereum (ETH) blockchain. These are collected from advertisement and marketing bodies. Users who watch ads and branded content can also be rewarded with TTU, theoretically allowing seamless streaming based on an equitable three-way reward system.
Luigi Russo, who assists TaTaTu in communication and public relation activities, confirmed that there had been an extensive team changeover since the ICO in June and that it was still ongoing. "We are indeed in the process of changing the team," Russo said.
Russo said it was TaTaTu's CEO, Iervolino, who was orchestrating the change. Russo explained that the actual product development – "technology and content acquisitions" – require a different set of skills from the crowdfunding phase.
"The goal of our CEO is to get the best resources in each department and therefore we have done some management changes to adapt our strategy and growth," Russo wrote in an email. "All of the people that worked for us during the initial launch were highly skilled in their field but to follow the company growth we have done some management changes."
At least one former employee left on reasonably good terms. Anthony McGuire, who was in charge of advertising and partnerships until he left in September, still describes himself as "very bullish on TaTaTu."
Contrary to what TaTaTu said about a necessary change in personnel, McGuire said his reasons for leaving were personal. He had wanted to branch out as a consultant and has since written a book on blockchain in the music industry.
Asked why other members of the team had left, McGuire said the company "required different skill sets." In any company setting, he said "different people are needed for the IPO and for long-term development." He said the company was "doubling down and making the product really good."
---
What are TaTaTu up to?
TaTaTu raised $575M during its ICO last summer, making it the third largest token sale on record after EOS and Telegram. It has notable backers, including Prince Felix of Luxembourg as well as Lady Monika Bacardi, the heiress to the Bacardi rum empire, who invested a reported $100M. The Hollywood actor Johnny Depp announced in October he was planning to make a film on the TTU platform.
They've also released a beta version, which has gone largely unnoticed. In the two months since it launched, the iOS app has only received eleven reviews: eight 5-star reviews, and three for 1 star. A single individual liked the platform enough to leave a written review.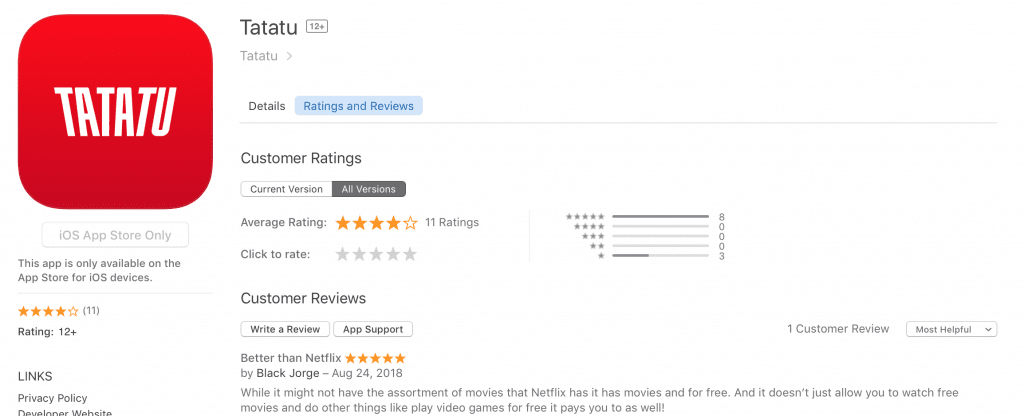 In the email exchange, Luigi said the funds raised in the ICO were financing "content production and product development." This included striking partnerships with production houses. Last week TaTaTu signed a deal with Film4, Lakeshore and Kew Media, who will provide a total of 50 titles for the platform.
Russo refused to give Crypto Briefing any estimates on just how large the TaTaTu team, but McGuire said that there was "around a dozen or two dozen" people working on the platform when he left the project in September.
Some of these, he said, were only working part-time on the project. "It wasn't clear to me if they were full or part-time," he said. "I know that the developer team was all outbound."
---
It's hard to ascertain TaTaTu's overall progress. The project's Github account doesn't have any code in it – Russo says that is all "private." Although investors in an initial public offering have a legal right to be informed about a company's progress, no such laws exist with ICOs.
TaTaTu is set to make a big announcement today. For the ICO participants, they'll be hoping the news will show that their investment was worth it.
---
The author is invested in digital assets, including ETH which is mentioned in this article.