Terra Nears Zero as Do Kwon Promises "Return to Form"
Terraform Labs CEO Do Kwon finally resurfaced early Wednesday to announce an emergency plan to save Terra. However, that's done little to instill confidence in the collapsing ecosystem.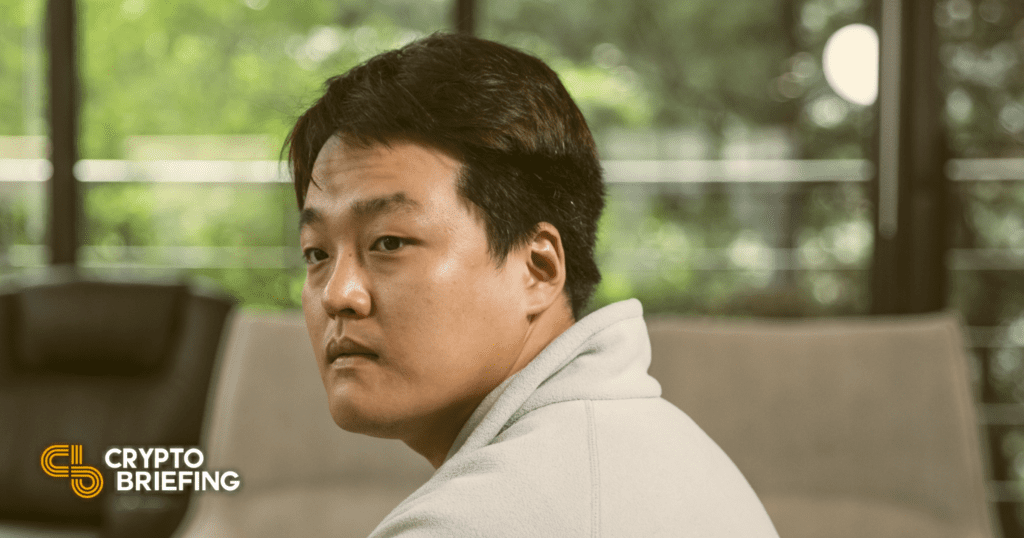 Key Takeaways
Terraform Labs CEO Do Kwon has endorsed a governance proposal to save the Terra ecosystem.
The proposal suggests accelerating LUNA minting to preserve UST's peg.
LUNA is trading around $1, while UST has fallen to $0.33.
LUNA has shed over $30 billion of value over the last few days. It's now trading around $1, down 97% in the last 24 hours.
Do Kwon Proposes Terra Fix
Do Kwon has presented the Terra community with a proposal to save the ecosystem, but LUNA keeps falling.
The Terraform Labs CEO posted a Wednesday tweet storm addressing Terra's ongoing plight, proposing a path forward for the troubled network. "I am resolved to work with every one of you to weather this crisis, and we will build our way out of this. Together," Kwon wrote.
Kwon noted how UST continues to trade below its intended $1 peg, explaining that Terra's dual token mechanism is swallowing the algorithmic stablecoin's supply. "the cost of absorbing so much stablecoins at the same time has stretched out the on-chain swap spread to 40%, and Luna price has diminished dramatically absorbing the arbs," Kwon wrote. He added that "the only path forward will be to absorb the stablecoin supply that wants to exit."
Terra's ecosystem is designed on the close relationship between LUNA, its volatile token, and UST, its algorithmic stablecoin. Terra users can mint 1 UST by burning $1 worth of LUNA, or they can burn 1 UST to mint $1 worth of LUNA. This incentivizes arbitrageurs to maintain UST's price and theoretically means that it should always trade around $1.
While Terra has had enormous success over the past year, it's faced its biggest stress test yet over the past few days. After an initial depeg incident around $0.98 over the weekend, LUNA and UST have plummeted throughout this week as confidence in the project dwindles. UST is trading at $0.33 at press time, while LUNA has fallen 97% in the last 24 hours. It's currently trading at about $1, its lowest level since January 2021 (for context, LUNA hit a high of $119 just five weeks ago). Terra's market cap has plummeted from over $30 billion to about $624 million.
Proposal Seeks to Accelerate LUNA Minting
Kwon has endorsed a fix that would involve increasing Terra's daily minting capacity to help UST return to its peg. He noted that a proposal to increase minting capacity to $1.2 billion has been posted on Terra's governance forum with 56.66% of voters representing over 78.4 million LUNA tokens voting in favor at press time (43.34% of voters have abstained, and no one has voted against). It's already crossed the minimum vote threshold.
If passed, the proposal will let UST holders exit their positions by minting LUNA at a faster rate than they can today (the current minting capacity is only $293 million). However, this means that LUNA could face even more selling pressure in the near future. The proposal drew attention to the potential pressure and presented the idea that LUNA could eventually stabilize once UST returns to $1. An excerpt read:
"Allow more efficient UST burning and LUNA minting, will in the short term put pressure to LUNA price, but will be an effective way to bring UST back to peg, which will eventually stabilize LUNA price."
Kwon also acknowledged that going ahead with the proposal would come "at a high cost to UST and LUNA holders" and added that more ideas would be discussed on the Terra forum.
However the Terra community proceeds, it's facing an uphill battle few other major crypto projects have had to deal with. While several other algorithmic stablecoin projects have failed in the past, none of them escalated to such highs only to collapse in such a short time. It was only a few weeks ago that LUNA was hitting all-time highs in a market-wide downturn and Kwon was publicly betting millions of dollars on its long-term success. Now, it's trading at almost zero.
Despite the gloomy outlook facing the Terra ecosystem and community, Kwon ended his announcement on a positive note. "Terra's return to form will be a sight to behold," he wrote. "We're here to stay. And we're gonna keep making noise."
Disclosure: At the time of writing, the author of this piece owned ETH and several other cryptocurrencies.