Terra Now Sixth Biggest Crypto With Jump to New High
Terra's LUNA is back in price discovery mode.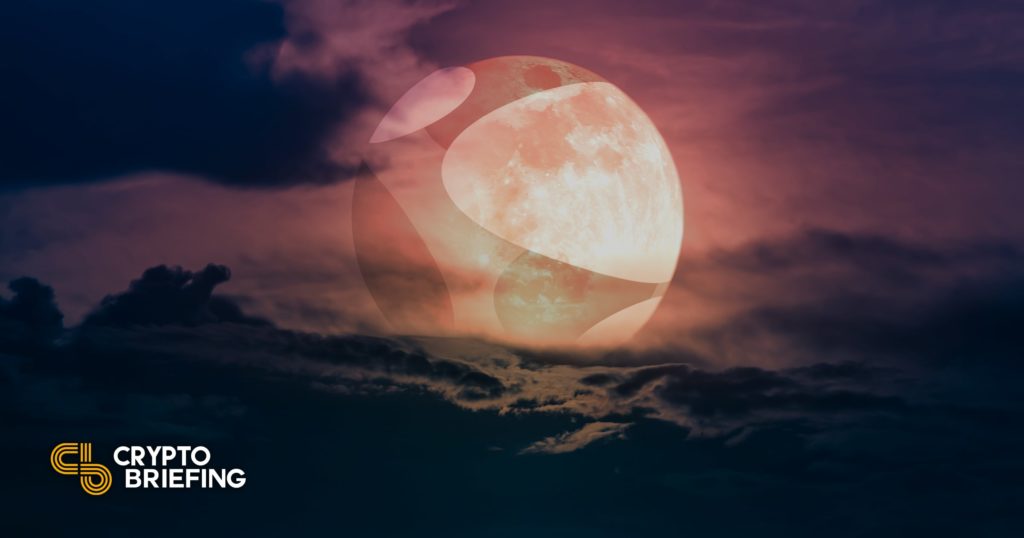 Key Takeaways
Terra hit a new all-time high of $103.88 today.
It's now the world's sixth biggest cryptocurrency, overtaking Ripple.
The Terra ecosystem has also enjoyed an uptick as LUNA shows strength relative to the rest of the market.
The Luna Foundation Guard also added $418 million to its reserves today.
Terra Breaks All-Time High
Terra is leading today's market rally.
Per data from CoinGecko, the stablecoin-focused blockchain's LUNA token hit a new all-time high of $103.88 today following days of upward pressure. It started the week at around $80 and has since surged amid newfound strength in the market.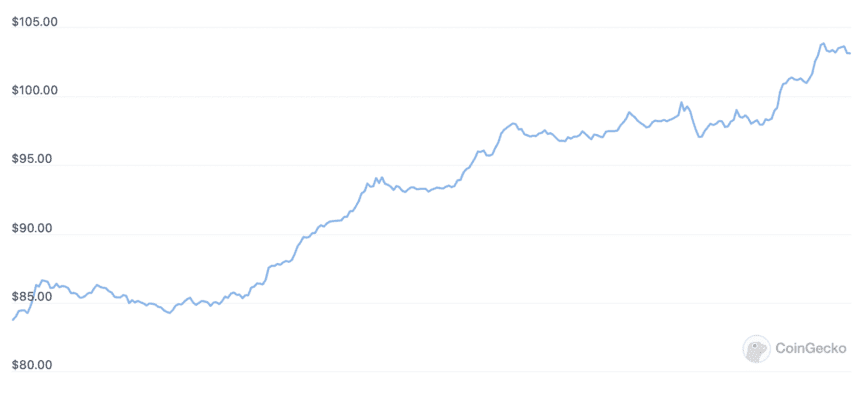 While most leading crypto assets like Bitcoin, Ethereum, and Solana have looked sluggish for weeks amid fears of the Federal Reserve's interest rate hikes and the ongoing Ukraine crisis, the market rebounded today as President Biden signed the White House's long-awaited Executive Order on handling crypto assets. The U.S. government's recognition of innovation in the the digital assets industry served as a confidence boost for investors and led to a market-wide rally.
Bitcoin and other major assets are trading in the green today, but Terra is currently outperforming most other top coins. With the recent jump to a new high, Terra has become the world's sixth-largest cryptocurrency, overtaking Ripple's XRP. It's now also the largest of the so-called "SOLUNAVAX" trio—a group of Ethereum competitors that also includes Solana and Avalanche. The three smart contract networks outperformed Ethereum and most other major assets in the latter half of 2021, but Solana and Avalanche have struggled to maintain momentum since they peaked in November (they're respectively about 66% and 45.6% short of their highs).
Unlike Ethereum and the other leading smart contract blockchains, Terra focuses primarily on stablecoins. LUNA plays a vital role in the ecosystem as it is designed to stabilize UST and Terra's other stablecoins. When someone wants to mint $100 worth of UST, they need to mint $100 worth of LUNA, and vice versa. Terra's dual token mechanism has faced criticism from skeptics in recent months. Its biggest detractors argue that it could experience a meltdown similar to the ones other algorithmic stablecoins like Empty Set Dollar have suffered in the past. However, so far, Terra has successfully defied its critics.
. @LFG_org has just added $418M to its reserves – current balance around 1.5B

— Do Kwon 🌕 (@stablekwon) March 9, 2022
Terraform Labs CEO Do Kwon said today that the Luna Foundation Guard had allocated $418 million to its reserves, adding to the $1 billion in Bitcoin it set aside to ensure UST's price stability. Terraform Labs launched the Luna Foundation Guard last month in a bid to support the Terra ecosystem.
As LUNA has soared, Terra's ecosystem has also benefited. Anchor Protocol, Terra's most used DeFi product, has seen a surge of deposits this month and has become one of the largest DeFi protocols with over $15.5 billion in total value locked. Its ANC token has also jumped to $4.35, up 19.2% today.
Disclosure: At the time of writing, the author of this piece owned ETH and several other cryptocurrencies.