TerraUSD Stablecoin Plunges Below $0.95
The popular stablecoin is losing value rapidly as it slips from its dollar price peg.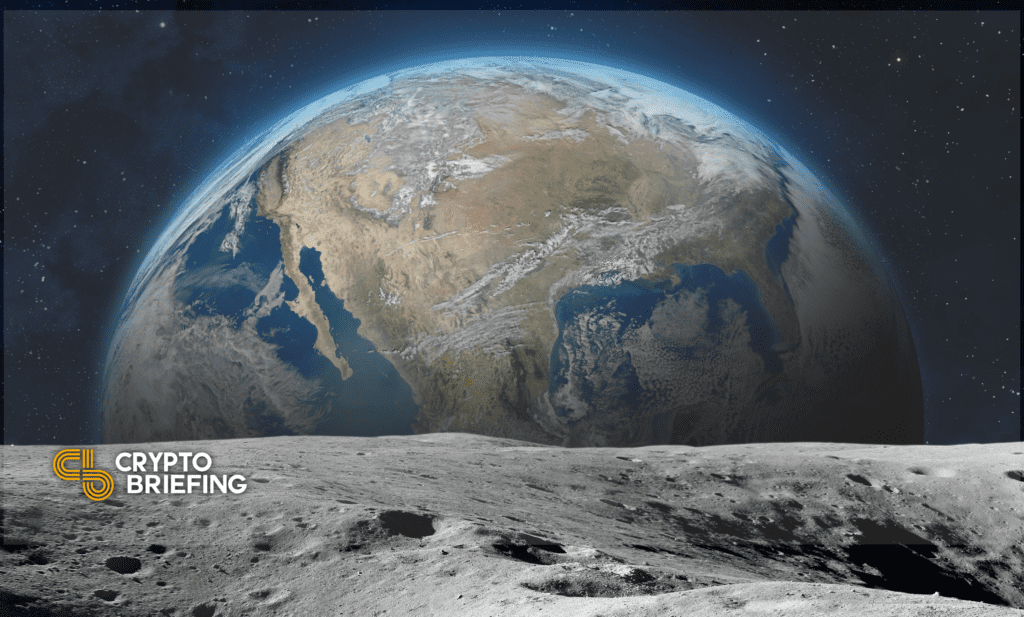 Key Takeaways
The price of TerraUSD has fallen below $0.95, an amount five cents lower than the coin's intended $1.00 price peg.
The stablecoin's price began to slip on the weekend, then rapidly fell below 99.5 cents beginning this morning.
Though $1.5 billion is being deployed to resolve the situation, that action seems to have had little effect so far.
The TerraUSD stablecoin (UST) is now valued at close to $0.95 as the asset's market value continues to decline.
TerraUSD Falls by Five Cents
Terra's UST stablecoin has fallen 5% from its peg and is trading at around $0.95 at press time.
Different market aggregators report slightly different values for the asset. CoinGecko suggests that TerraUSD's price is 94.6 cents, while CoinMarketCap suggests a slightly higher value of 95.1 cents.
By either account, TerraUSD's value was even lower just hours ago. At its lowest point, the coin was valued between 93.2 and 94.2 cents.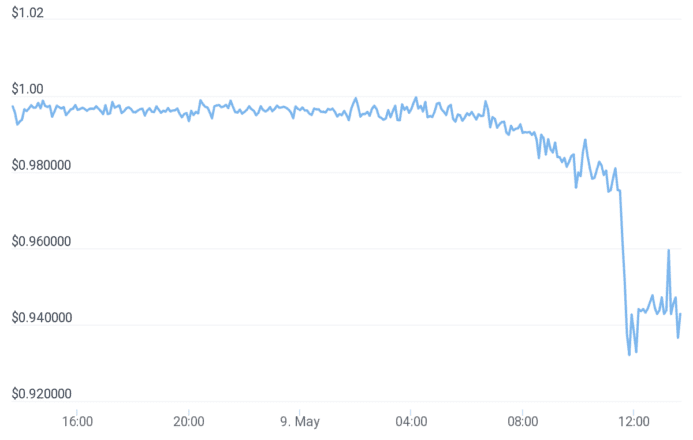 Despite TerraUSD's slight recovery over the past few hours, the stablecoin is still not close to reaching its $1.00 peg. In fact, it has remained below the 99.5 cent mark since 6:00 a.m. today.
It is unclear whether prices will fall further, stabilize, or recover—though a downward spiral could be disastrous for the asset.
Funds Are Being Deployed
Earlier this morning, Terra's Luna Foundation Guard (LFG) announced that it would lend $1.5 billion worth of Bitcoin to help TerraUSD regain its intended parity with the dollar.
In the sixteen hours since that announcement, Terra suggested that regaining the price peg "takes time… but it bounces back."
In the same update, Terra attributed the ongoing price drop to a "liquidity brawl behind the scenes." It added that it is "fighting back" and that "more updates are incoming."
It then asserted that TerraUSD is backed by on-chain activity and user demand, adding that the coin's true on-chain peg has not deviated.
Do Kwon, founder and CEO of Terra, has also tweeted that he is "deploying more [capital]." It is unclear whether Kwon plans to contribute his own wealth, whether LFG will deploy more capital, or whether he is affirming that $1.5 billion was allocated earlier.
TerraUSD's troubles seem to stem from widespread withdrawals on DeFi platforms that deal in the stablecoin, such as Curve. Though the majority of the coin's losses occurred today, its price began to fall over the weekend.
Terra's non-stablecoin asset, LUNA, is down 24% over the past 24 hours and is valued at $46.54. Despite those losses, it remains the eleventh largest cryptocurrency on the market by market cap.
Disclosure: At the time of writing, the author of this piece owned BTC, ETH, and other cryptocurrencies.