The World's First Staking Summit Will Convene to Explore Where the Industry's Staking Ecosystem Goes Next
For an industry with so much total value locked, surprisingly little conversation is happening between different Proof of Stake protocols. Staking Rewards has set out to change this.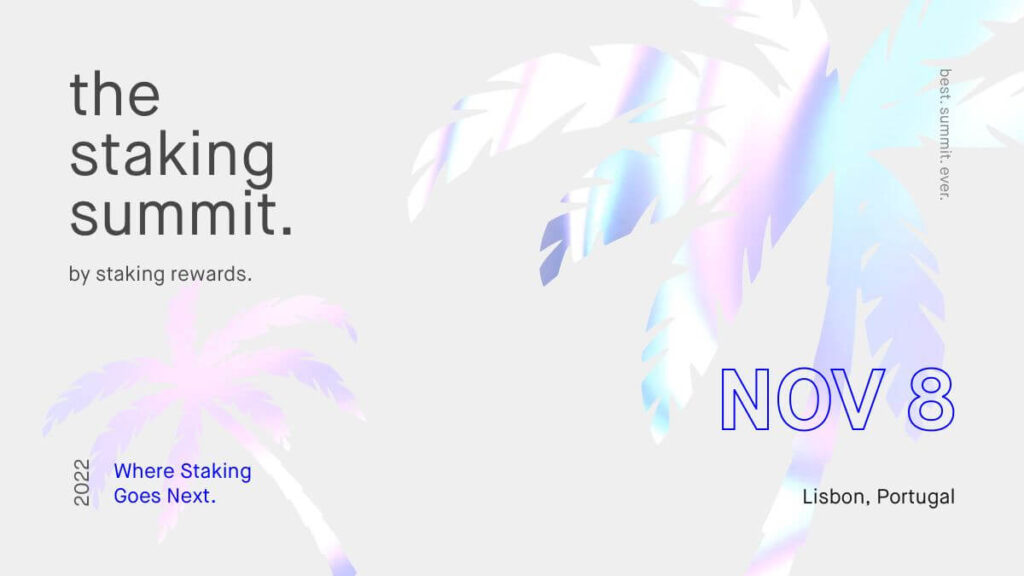 The world's first Staking Summit will convene this November to explore where crypto's rapidly growing $300bn+ staking ecosystem goes post-Ethereum's merge.
Where Does Staking Go Next?
Staking Rewards, staking's leading data aggregator, will be hosting the full-day, in real life event, which will bring together some of the foremost experts and investors from across the industry, with big name speakers from Ethereum, Cosmos, Polkadot, and many more.
The Summit – part of Lisbon's Blockchain Month – aims to tackle some of staking's thorniest questions as it advances towards institutional adoption, as well as validator and governance best practices, and behavioral insights.
Staking Rewards CEO, Mirko Schmiedl, explains:
"Outside of Bitcoin, mining is dead and Proof of Stake is the new king, but for an industry with such huge monetary value, surprisingly little discussion and collaboration is happening between different protocols. We need to fix that. The more we can learn from each other, the more robust and valuable the ecosystem as a whole will be. This is what The Staking Summit sets out to achieve, to answer the collective question: where does staking go next?"
The event, which is limited to just 500 attendees and is selling out fast, will compromise keynote presentations, panels and discussion groups. There'll also be an exclusive party for VIP ticket holders afterwards.
The Staking Summit is sponsored by leading industry names such as Obol Labs, Luganodes, Tencent, Meta Pool, Allnodes, Ankr, Tenderize, GlobalStake, Sikka Money and Staking Facilities.
The Staking Summit will be held at LX Factory in Lisbon on 8 November 2022, from 9am to 7pm. The afterparty will go from 9pm to 2am at the same venue. For more information on the event and to book your tickets, please visit this link.
Staking Rewards is the leading data aggregator for the rapidly growing $300 billion+ crypto staking industry, used by more than 400,000 investors, analysts, and crypto community enthusiasts globally.