These Three Factors Are Fueling Ethereum's Bull Run
Ethereum stole the crypto spotlight after rising to new all-time highs, but market participants are concerned about whether it could climb further.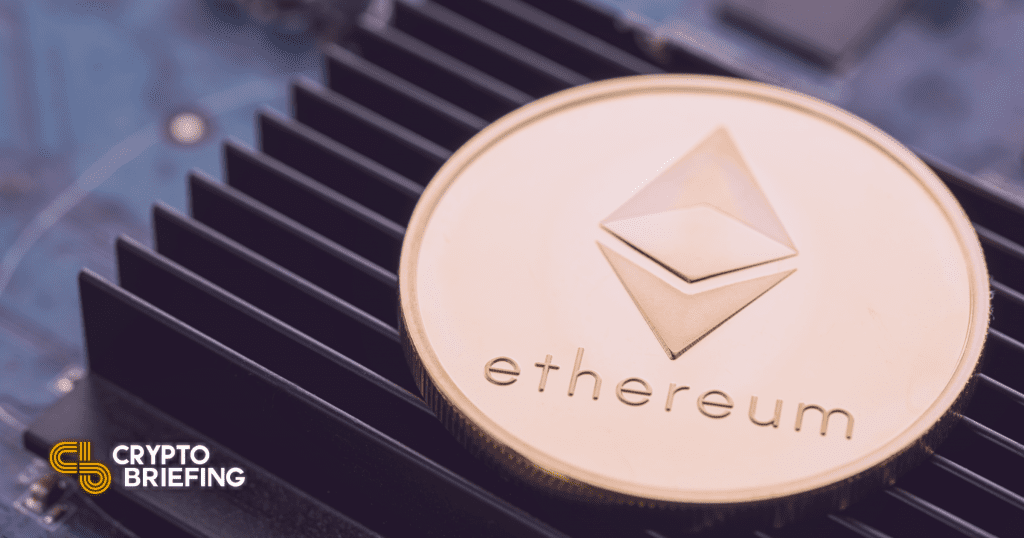 Key Takeaways
Ethereum looks fundamentally strong as DeFi's growth moves its protocol closer to becoming the "world's computer."
The high activity on the network suggests that ETH price may be about to enter a new bull rally after surpassing its previous all-time high.
One of the most prominent analysts in the industry believes Ether's market value could rise to $10,500.
Ethereum enjoyed an impressive bull run over the past few months. Its price has risen nearly 370%, from a low of $307 in late August 2020 to a new all-time high of over $1,440 recently.
Still, Ether has yet to decisively close above its January 2018's all-time high of $1,420 to advance further.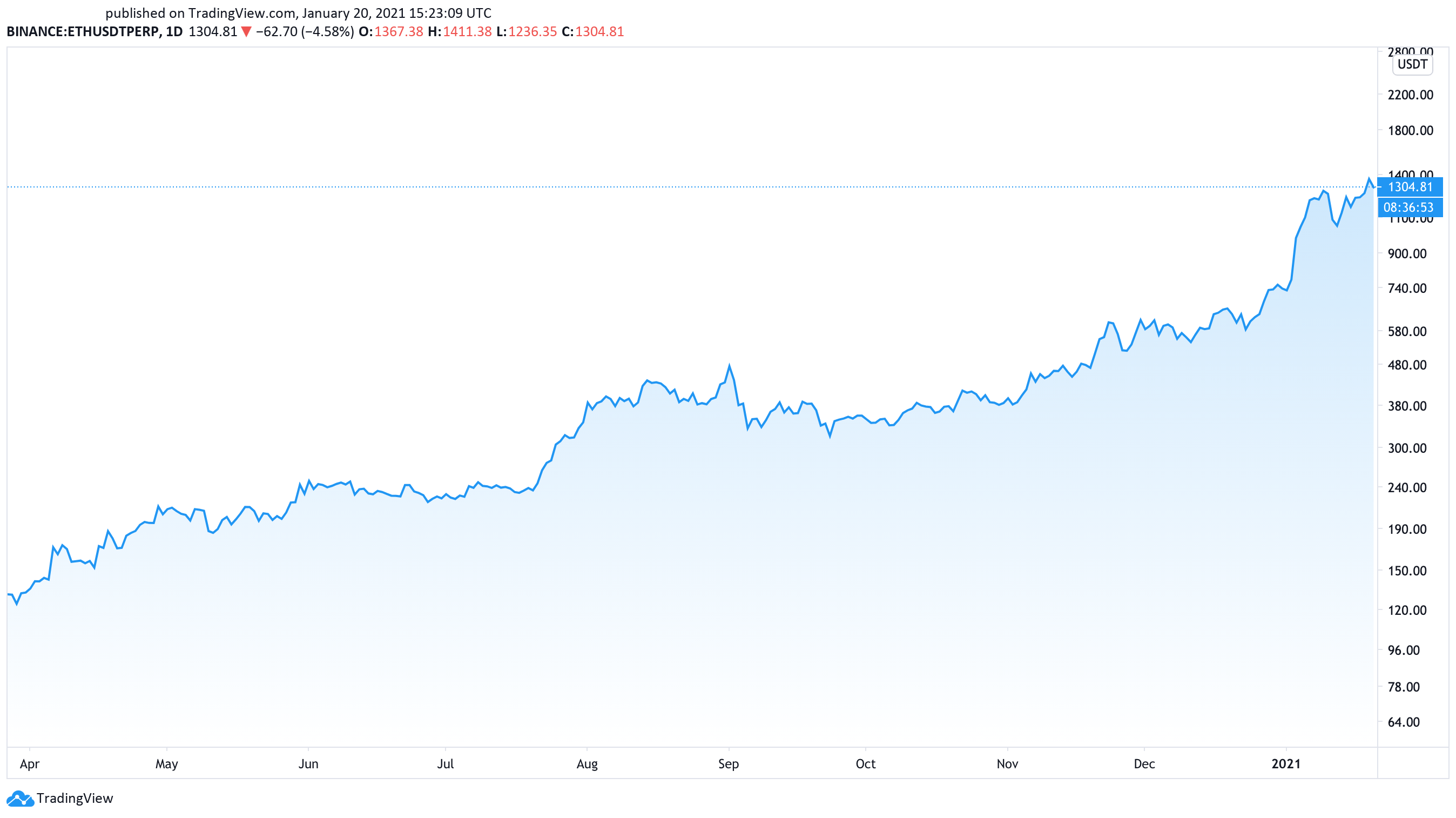 When considering that Bitcoin managed to climb more than 110% after surpassing its previous peak to reach $42,125, market participants are losing confidence in Ether's ability to rise to new record highs.
Regardless, three fundamental factors suggest that Ethereum is primed for massive gains as it prepares for a supply shock.
Ether Steadily Flows Out of Exchanges
On-chain data reveals that the number of ETH held on known cryptocurrency exchange wallets rose to a four-year high of 18.98 million tokens in early August 2020.
Following this milestone, market participants seemingly entered an accumulation phase as a significant amount of Ether was depleted from trading platforms. Nearly 2.40 million ETH have been taken out of exchanges since then, representing a 12.50% drop.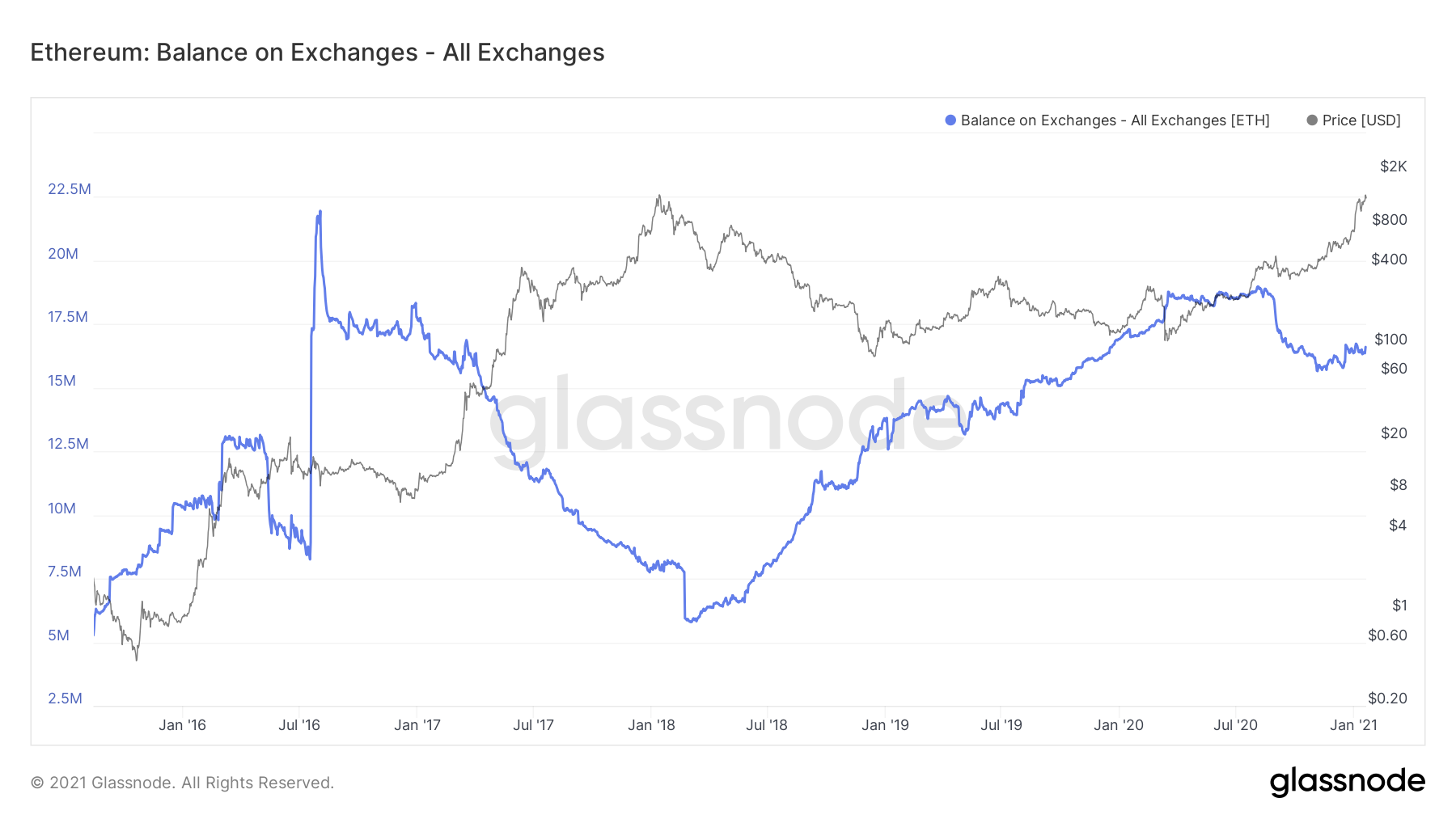 The declining Ether supply on cryptocurrency exchanges is a positive sign for this altcoin's future price growth. It technically reduces the number of tokens available to sell, consequently capping its downside potential.
Similar market behavior occurred between late 2016 and early 2018.
During this period, ETH's balance on exchanges plummeted by 73.50%. It went from a high of 21.8 million tokens held on trading platforms to a low of 5.8 million — meanwhile, Ethereum's market value skyrocketed by nearly 12,900% due to the supply shock.
Valuation Shift Thanks to Staking
ETH 2.0 represents a major shift in user participation on the blockchain. Roughly 900 new validators join the network daily. Meanwhile, more than 16,000 validators sit on the sidelines, ready to enter.
Such interest in Ethereum's upgrade is a sign of confidence in the value proposition it brings to the world.
The Beacon Chain's continued growth since its launch in early December 2020 has seen a large percentage of the total Ether supply getting locked away. Thus far, approximately 2.40% of all tokens in circulation have been removed from the market, and this metric keeps rising.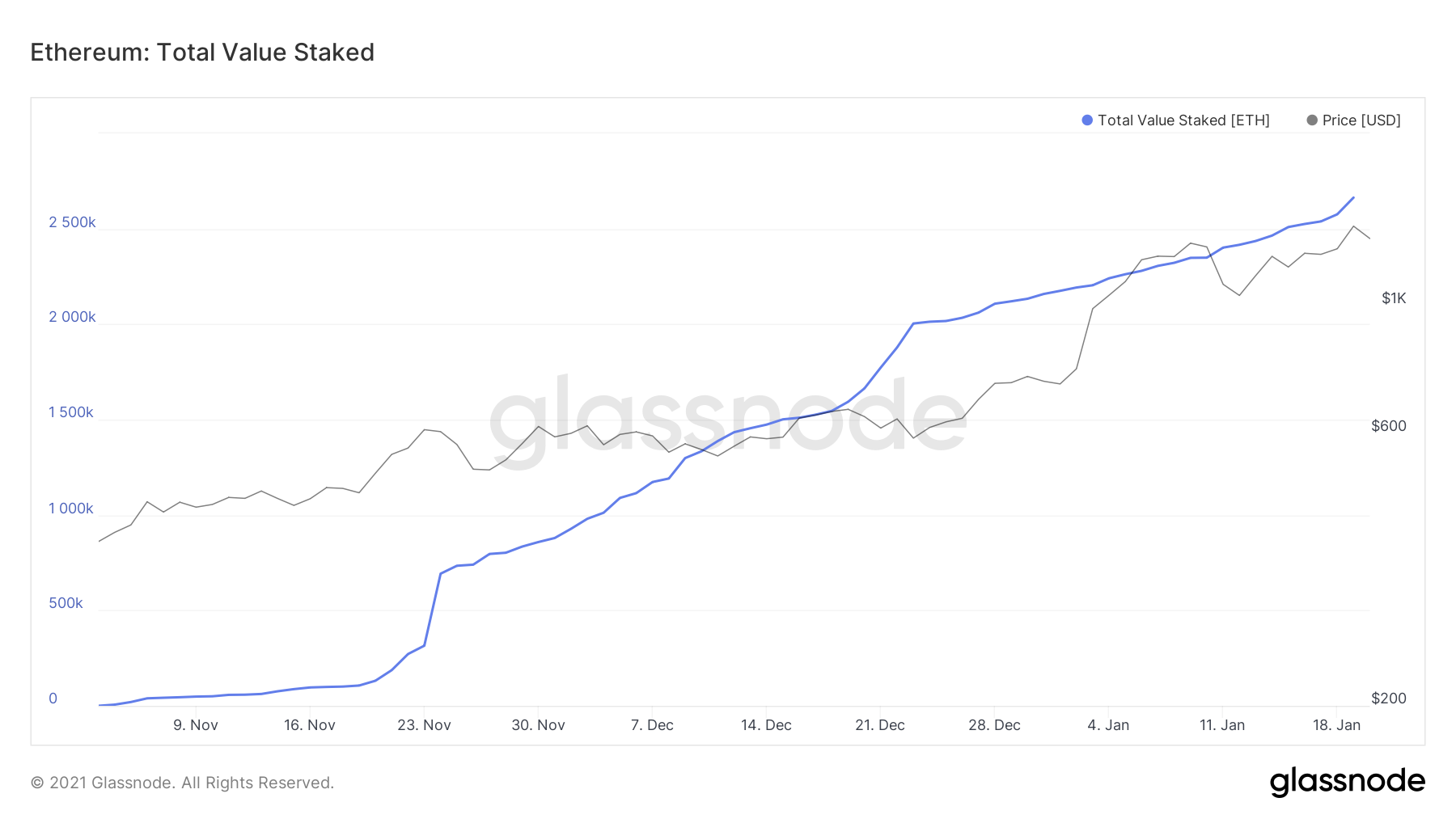 In theory, ETH 2.0 is negatively impacting the rate at which Ether can be exchanged for cash. As Ethereum's velocity decreases, the higher the chances that its price will increase.
The DeFi Mania Has Only Begun
According to Binance Academy, DeFi can be defined as:
"The movement that promotes the use of decentralized networks and open-source software to create multiple types of financial services and products. The idea is to develop and operate financial DApps on top of a transparent and trustless framework, such as permissionless blockchains and other peer-to-peer (P2P) protocols."
This new market sector within the Ethereum network has gained a lot of traction since May 2020. Since then, the total value locked (TVL) in DeFi protocols has risen by more than 2,500%, going from roughly $900 million to surpass $24 billion recently.
More than 21 different DeFi projects have gained over $100 million TVL, which is a sign that "the ecosystem is maturing rapidly and becoming institutional-grade," said by Spencer Noon, founder of analytics platform Our Network.

Alongside TVL, the number of DeFi users recently reached a new milestone of 1.25 million as trust erodes on the current global financial system. If this trend continues, the Ethereum protocol could march towards Vitalik Buterin's dream of becoming the "world's computer."
On the Cusp of a New Bullish Cycle
All of the fundamental factors previously mentioned have led Fundstrat Global Advisors' financial strategist David Grider to compare the Ethereum network with the BVP NASDAQ. This index tracks the largest public companies providing cloud services.
According to Grider, ETH's total annualized earning from the cloud computing space could target $3.90 billion by the end of 2021.
"On a growth adjusted basis, we calculate Ethereum is ⅛ the price of the BVP Cloud Index. Based on our analysis, we are issuing a $10,500 target on Ethereum."
Such a high market valuation for Ethereum may seem to be out of the question when considering its recent price action compared to Bitcoin. Nonetheless, the second-largest cryptocurrency by market capitalization tends to follow after a prolonged period, as seen in previous bull markets.
If Ether were to catch up with the pioneer cryptocurrency, its price would rise by more than 110% from the recent $1,440 all-time high to move past the $3,000 mark.
For more key market trends, subscribe to our YouTube channel and get weekly updates from our lead bitcoin analyst Nathan Batchelor.