THORChain Digital Asset Report by SIMETRI Research
THORChain is a low-cap, high-potential project that solves real problems.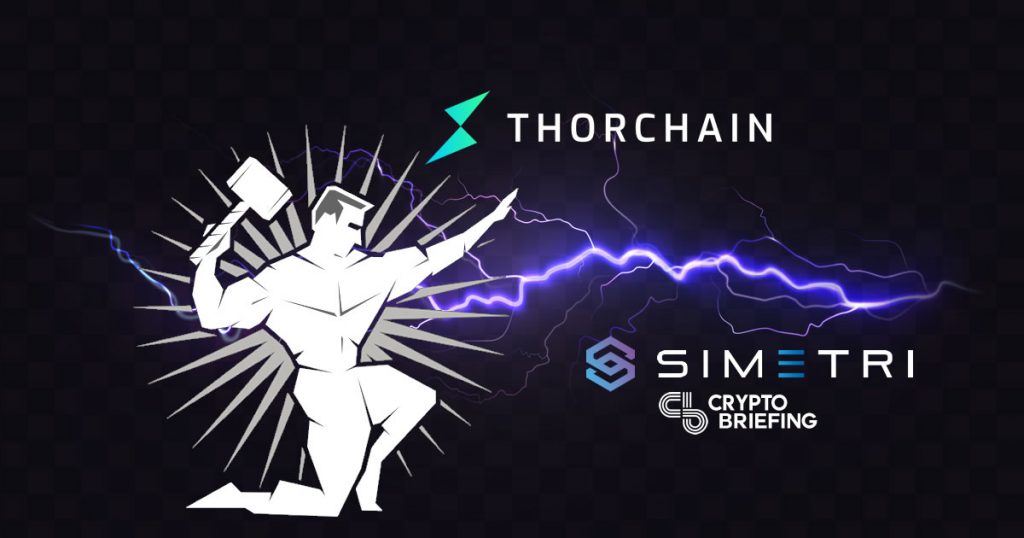 Introduction to THORChain
Altcoins have taken a beating over the last few months, as Bitcoin has re-established serious cryptocurrency dominance.
At the time of writing, Bitcoin accounted for 66.7% of all cryptocurrency value. That's down slightly from a high of over 70%, a couple of weeks back. But it means that the altcoin market has been tougher than skiing backwards down Everest – wearing a blindfold.
And that's why we even cast our eyes over THORChain to begin with – because we think that the next major altcoin surprise won't necessarily come from those tokens that hang around the Top 50 on CMC – or even the Top 100.
Essentially, with the market experiencing some turbulence and altcoins taking the biggest hit, the risk reward ratio is starting to look very promising for some small cap projects.
Microcap projects, in particular, offer tremendous potential, and now at a deep discount.
THORchain is a staking-driven liquidity platform. Users are financially incentivized to stake various tokens and thereby provide liquidity, offering traders and opportunity to seamlessly swap between various available assets.

---
THORChain Market Opportunity
THORChain has been building a solution that aims to interconnect different blockchains and create a deep liquidity network that would provide staking and swapping opportunities for its users.
The project targets the young decentralized finance (DeFi) space that has seen tremendous growth in the past two years. Since 2017, the capital locked up in DeFi applications has grown from 0 to over $500M, a trend that will likely continue over the next decade.

While the DeFi projects all focus on different areas of the growing decentralized finance space, liquidity solutions are getting more attention.
There are players like Uniswap and Bancor, that were able to attract a fair amount of interest, due to the staking and swapping benefits they provide.
Since decentralized platforms let you stake your assets in a non-custodial manner, it represents a safe and profitable way for HODLing. As more people realize the value offering of such platforms, this should lead to a large influx of users and liquidity.
So far, THORChain's competition has focused its development mainly on Ethereum. For example, Uniswap has already built similar functionality, allowing swapping and staking of ERC20 tokens. Likewise, 0x has been developing its own stake-base liquidity solution.
The only project that was able to bridge new blockchains is Bancor who have created a liquidity staking mechanism for EOS. THORChain's competitive advantage comes from it being an exclusive liquidity solution for the Binance Chain ecosystem.
It will be the first to provide staking opportunities for BEP2 token holders. Furthermore, according to the team, they have direct access to the communities of different Binance projects, and it will not be difficult for them to attract stakers to their liquidity pools.
Overall, this is one of the most dynamically developing segments of the space, with a large number of users and projects recently moving to Binance Chain. Having no competition in the Binance ecosystem, the project has a good chance to funnel this activity to its platform, and become an important piece of this ecosystem.
---
THORChain Underlying Technology
THORChain's technological proposition of consolidating liquidity across various blockchains goes beyond what its competitors can offer. Still, much of its proclaimed functionality remains in the pipeline.
At this stage, the only tangible product, BEPSwap, is limited and largely based on pre-existing technology. At the center of the project is a fast BFT consensus engine called Tendermint Core, which is a product of Tenderment Inc, the team behind Cosmos.
It gives THORChain two main advantages over its rivals: higher scalability and fast, deterministic finality. THORChain boasts instant block finality, which enables secure and high-speed token swaps, especially in comparison to its competitors.
To give perspective, Bancor users claimed to be waiting for 3 to 6 minutes for a swap, while on THORChain this would take seconds. Furthermore, the network can replicate any other blockchain's token by creating a sidechain with the same parameters, such as supply and divisibility. The process requires only a single transaction, whereas competitors would need months to connect their platforms to other chains and add non-Ethereum based assets.
The team plans to use the Bifröst Protocol to connect the network to other blockchains via bridges. Bridges hold the original assets on multi-signature wallets controlled by the network's validators via threshold signatures and maintain corresponding amounts of the proxy tokens on THORChain. Entering the platform from a connected blockchain would mean just sending the original token to a multisig address and exiting from it would be just as seamless.
The liquidity part of the platform is supported by RUNE, the project's native token, which binds all of the proxy tokens through Continuous Liquidity Pools attached to each sidechain.
The pools hold RUNE and mock tokens while the ratio between their amounts defines prices. Sending a proxy token to a pool would result in the emission of RUNE and vice versa, which is how a swap on the network works. In many ways, it is similar to the designs of Bancor and Uniswap.
While competitors also aim to provide liquidity for low market-cap tokens, many swap pairs would be hard to trade with given liquidity under $1,000. THORChain allows investors to earn yield on their crypto assets while maintaining full custody of their tokens. A reward is larger if the liquidity of a pool is shallow, which helps to even out liquidity across the platform and support illiquid tokens.
The team already provides a public demo of BEPSwap along with a preliminary staking service. Currently, BEPSwap is the priority and for the last 3 months, the team has been in active development, with over 9100 commits to the codebase. Staking and swapping assets from networks other than Binance Chain is still in the works.
According to the team, threshold signatures which are important for bridging THORChain to other blockchains are going to be released on the BEPSwap testnet in the following weeks. This is encouraging, as the team is confident that BEPSwap will solve the majority of blockchain interoperability problems
(Review date: October 8th, 2019. This is a partial report. For early access and the full assessment, including token economic assessment, team analysis and adherence to the roadmap click here.)
THORChain was also released as the SIMETRI Pick of the Month on the same date.