TRON Academy Celebrates Milestones as Blockchain Clubs Research for Innovation
A former winner of the TRON Grand Hackathon "Hacker House" began participation in an elite startup accelerator.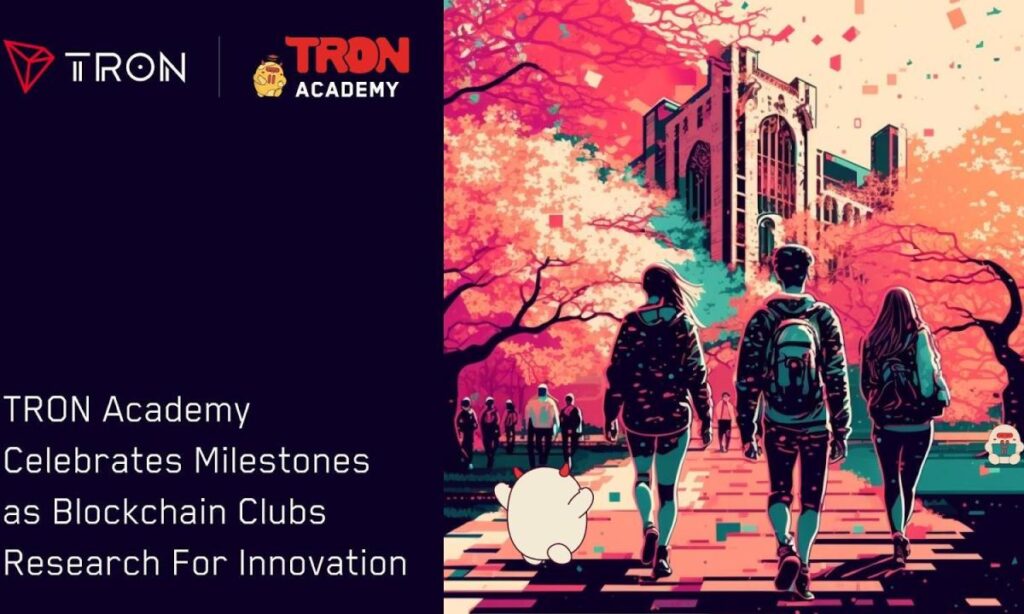 TRON Academy, the initiative focused on equipping the next generation of blockchain leaders and developers from the world's most prestigious learning environments and universities, celebrated two milestones recently.
TRON achievements
First, a former winner of the TRON Grand Hackathon "Hacker House" began participation in an elite startup accelerator. The "Hacker House" is an in-person version of the "HackaTRON," created solely for university students building blockchain applications. Participation by a former Hacker House winner in an elite mentoring program was a first for TRON Academy. Acceptance comes with coaching and networking as well as further guidance to maximize development efforts for the startup project. Stay tuned for more details on who that past winner is and what their minimum viable product will be. Rumor is an announcement may be made in the coming months.
Second, TRON leadership assisted in the launch of the first-ever "Intro to Blockchain and NFTs" course at Belmont University in Nashville, TN. President Dr. L. Gregory Jones, formerly Dean of Duke Divinity School, is committed to developing diverse leaders of purpose, character, wisdom, and an entrepreneurial mindset who are interested in developing innovative solutions to complex problems. Known and respected for its music school, music business program, and music production as well as singer/songwriting preparation, Belmont also has renowned programs in nursing, law, neuroscience, education, business, design, marketing and more.
A few other updates from TRON Academy to note:
Cornell University's Blockchain Club will be doing a research paper on Block Production, which will be shared by TRON DAO once completed.
University of California at Irvine's Blockchain Club is working on a research paper on Shielded Transactions, which will also be shared by TRON DAO once completed.
TRON DAO is a community-governed DAO dedicated to accelerating the decentralization of the internet via blockchain technology and dApps.
Founded in September 2017 by H.E. Justin Sun, the TRON network has continued to deliver impressive achievements since MainNet launch in May 2018. July 2018 also marked the ecosystem integration of BitTorrent, a pioneer in decentralized Web3 services boasting over 100 million monthly active users. The TRON network has gained incredible traction in recent years. As of March 2023, it has over 150.5 million total user accounts on the blockchain, more than 5.2 billion total transactions, and over $11.9 billion in total value locked (TVL), as reported on TRONSCAN.
In addition, TRON hosts the largest circulating supply of USD Tether (USDT) stablecoin across the globe, overtaking USDT on Ethereum since April 2021. The TRON network completed full decentralization in December 2021 and is now a community-governed DAO. Most recently in October 2022, TRON was designated as the national blockchain for the Commonwealth of Dominica, which marks the first time a major public blockchain partnered with a sovereign nation to develop its national blockchain infrastructure. On top of the government's endorsement to issue Dominica Coin ("DMC"), a blockchain-based fan token to help promote Dominica's global fanfare, seven existing TRON-based tokens – TRX, BTT, NFT, JST, USDD, USDT, TUSD, have been granted statutory status as authorized digital currency and medium of exchange in the country.