TRON DAO Team Leaves Consensus 2023 with Crypto Expectations High
TRON was a "5 Blocks" sponsor this year, offering the highest tier of support.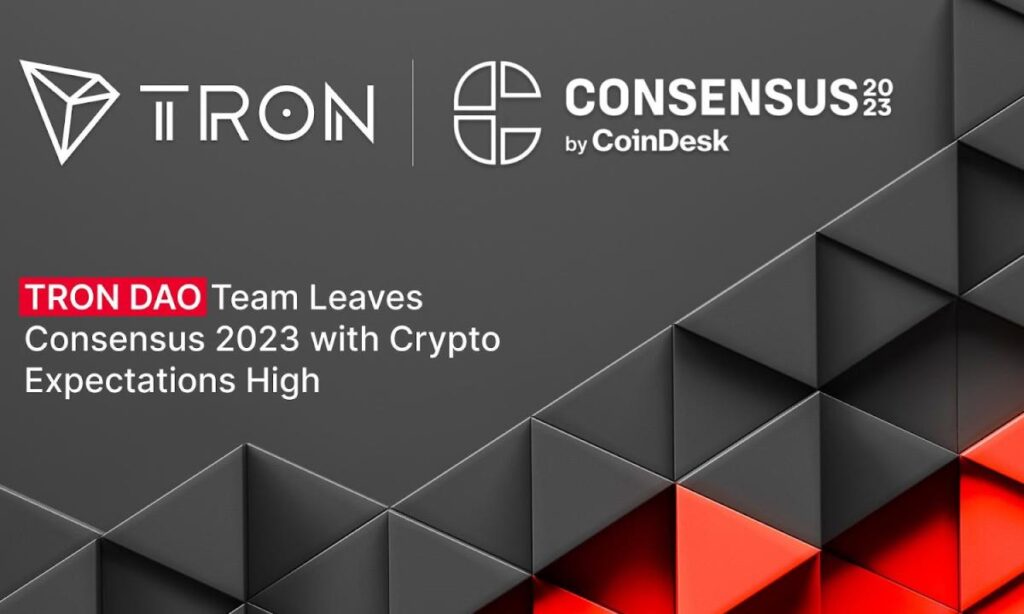 The TRON DAO team was in full force at Consensus 2023 in Austin, TX from April 26 to 28, 2023. TRON was a "5 Blocks" sponsor this year, offering the highest tier of support. The quote, "I like to say I live in Austin, Texas because I can live where I want to," is attributed to movie star Matthew McConaughey. For one week, the capital of Texas, the self-declared "Live Music Capital of the World" became the "Crypto Capital of the World."
"Consensus is the world's largest, longest-running, and most influential gathering that brings together all sides of the cryptocurrency, blockchain, and Web3 community," its website declares. Since 2015, the conference has empowered "calibration, collaboration, and resolution for thousands of professionals and builders from around the world forging the future of finance and the new digital economy."
There were four "interest" tracks this year. "TradFi and DeFi" included sessions mapping out the future of finance and investing. "Builders" included deep dives into developing and building within crypto, blockchain and Web3. "Policy" explored the future of crypto policy and regulations with industry and government leaders. "Web3" focused on all things ownership economy, including NFTs, the metaverse, brand building, DAOs and more. Three summits also took place during C23: Money Reimagined, Crypto Policy, and Web3 Brands and Creators.
The TRON DAO team kicked the week off right with a smashing TRON Whale Night on April 25, 2023. All the major TRON partners and TRON whales who arrived the day before C23 partied together along with other crypto leaders at an indoor-outdoor, roof-top venue. "Keep Austin Weird" is an iconic statement about the city immortalized on local t-shirts and murals. TRON Whale Night was both weird and wonderful in a way only possibly in Austin, full of delightful drinks, fantastic food, and congenial company. Conversations abounded about TRON's historic 2022, the innovations and partnerships announced in quarter one of 2023, and the prolific prizes randomly awarded throughout the night, including a number of TRON-branded Ledger and Tron branded backpacks.
As TRON leaders participated in C23, they welcomed visitors to the most electrifying booth present at the conference. Large screens displayed data and digits about the people and power of the TRON ecosystem. TRON Bulls roamed around and even danced around in TRON Bull onesies. The Prize Wheel always had a wait with a long line full of excited present and future Tronics. TRON DAO team members connected with people, engaged with developers, collaborated with innovators, strategized with current partners, and answered questions for those curious about using as well as developing on TRON.
TRON DAO leaders shared highlights from the week, which included:
Hearing use cases for TRON from other countries from people who expressed thanks for providing a way for people and businesses to engage in commerce
Creating connections at TRON Whale Night who later helped create connections during the week.
Running into a TRON community member at the booth who got a t-shirt and backpack then showed up in all of his TRON swag later that night
Chatting with all the intelligent people behind the innovative companies creating everyday utility with blockchain technology
Meeting developers already building on TRON along with a HackaTRON winner from a couple of seasons ago
Imagining all the future use cases coming out with a high value on interoperability across blockchains
Learning about the current state of protocols from the visionaries at the forefront pitching new ideas for protocol advancement
Getting to wear the TRON Bull onesie and talk to so many people
"TRON is the friendliest blockchain," said a crypto leader who kept running into TRON representatives at side events, commenting about how the team works together to meet the needs of users and partners. Coming out of C23, the TRON DAO team made some high value connections and left with some high expectations regarding the significant opportunities ahead.