TRON Unveils HackaTRON S5 and Developer Community Event TRON Builder Tour
In tandem with the much-anticipated TRON Builder Tour, we invite innovative minds to take part in this year's event, powered by an exceptional prize pool of up to 500,000*.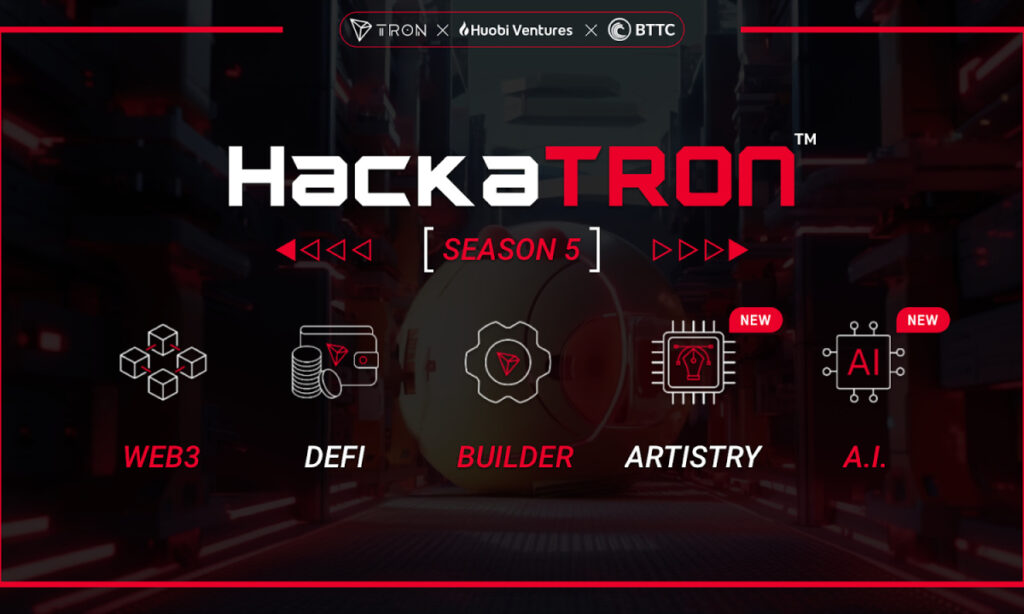 TRON DAO, BitTorrent Chain (BTTC), and Huobi Ventures proudly present HackaTRON Season 5 (S5), an incredible showcase of talent in the fast-paced world of blockchain technology. In tandem with the much-anticipated TRON Builder Tour, we invite innovative minds to take part in this year's event, powered by an exceptional prize pool of up to 500,000*. It's time to set the stage for the next big thing in the blockchain universe!
This season, HackaTRON S5 is ready to unravel the five distinctive tracks: Web3, DeFi, Artistry (featuring NFTs, GameFi, and Metaverse projects), Builder for our esteemed past participants, and the eagerly awaited AI track. Embark on this extraordinary journey to create, innovate, and inspire!
Join the Journey with TRON Builder Tour
Alongside the thrilling launch of HackaTRON Season 5, we're taking the energy and innovation on the road with our TRON Builder Tour. This tour represents our commitment to fostering a robust, hands-on relationship with our vibrant community of developers. Participants will get a unique opportunity to engage with the TRON team directly, network with fellow developers, participate in Tron workshops, and immerse themselves in the world of blockchain.
Our Tron Builder Tour will touch down at the following destinations:
1. New York City: Stepping off on July 16, 2023
2. Los Angeles: Lighting up LA on July 27, 2023
3. Miami: Making waves on August 25, 2023
4. Berkeley: Energizing innovation on September 9, 2023
5. Princeton: Wrapping up our journey on September 23, 2023
Mark your calendars, and prepare for a unique blend of learning, innovation, and community building.
Unleash Your Potential in HackaTRON Season 5
Taking part in HackaTRON Season 5 means more than the chance to compete for prizes. It's an invitation to delve into the future of blockchain technology, collaborate with the best in the industry, and translate your innovative ideas into reality.
Here's why HackaTRON S5 is an opportunity you don't want to miss:
Exposure: Take center stage and let your talents shine before a global audience of blockchain enthusiasts and experts.
Collaboration: Harness the power of diverse minds. Working with fellow participants opens doors to shared learning and potential partnerships.
Impact: Your contribution can redefine the future landscape of blockchain technology. Our event is tailored to the most current and critical issues in the industry.
Opportunities: Beyond the competitive prize pool, participants could secure job offers, internships, or catch the eye of venture capitalists.
Community: Immerse yourself in the dynamic TRON, BTTC, and Huobi Ventures communities. Together, we cultivate an environment of innovation, growth, and camaraderie.
Ignite the Flame of Competition with Our Prize Pool
We're fueling your journey to success with a stellar prize pool of 500,000*, divided as follows:
Judge-Selected Qualifiers (per track)
– 1st Place: 25,000
– 2nd Place: 15,000
– 3rd Place: 10,000
– 4th Place: 8,000
– 5th Place: 6,000
Community-Selected Winners
– 1st Place: 7,000
– 2nd Place: 6,000
– 3rd Place: 5,000
– 4th Place: 4,000
– 5th Place: 3,000
Note: All prizes are issued in USDD, not USD
*Qualifying HackaTRON Season 5 participants are eligible to receive issuance of awards in USDD.
For this season, we've teamed up with Huobi Ventures to ramp up the stakes. They'll award an extra 5,000 to each first-place winner and sponsor a 2,500 bug bounty in the TRON Builder Tour, totaling an additional 27,500.
Note: All grant prizes are in USDD, not USD
HackerEarth, a global developer network with 7.6M+ developers and 1000+ recruiters, will be the official hackathon platform partner for HackaTRON Season 5. This collaboration provides the tools and resources for participants to sharpen their skills and exhibit their talents.
Join us on this trailblazing journey at HackaTRON Season 5, where we converge ambition, creativity, and the power of blockchain to create an unforgettable hackathon experience. Get ready to leave your footprints on the sands of the blockchain world.