Two Major Indian Crypto Exchanges Shuttered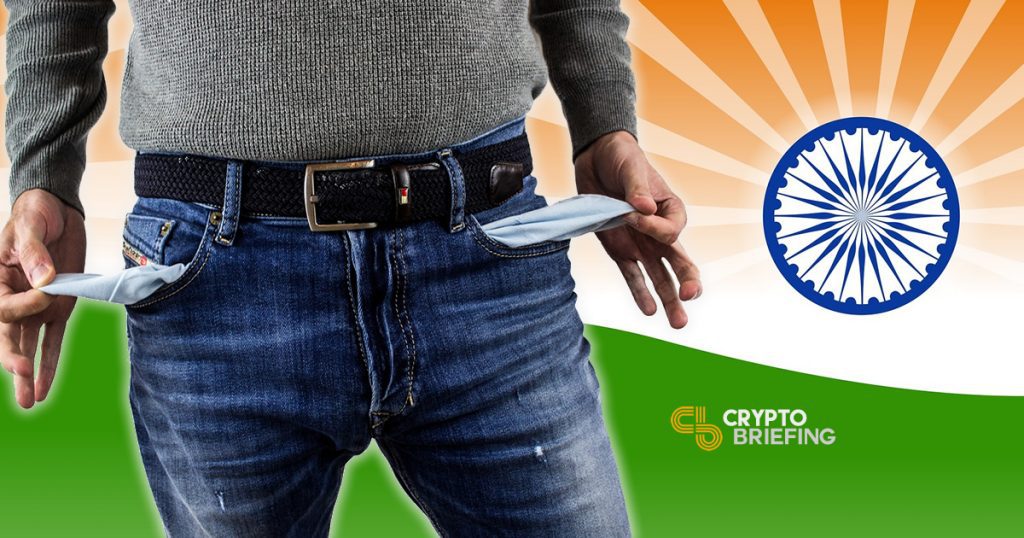 Two Indian crypto exchanges, EthexIndia and BTCXIndia, have officially announced the suspension of all trading activities on their platforms effective immediately. The exchanges sent out an email to users, stating "All trading activity will be halted as of March 5th 2018. Please withdraw all assets from your account before then."
A similar message can be found on the company's website.
Users who do not withdraw their funds could potentially find themselves out of pocket, as the statement explains that if customers don't complete withdrawals before 04 March 2018, "if not will attract an annual wallet maintenance fees."
The email asserts that their parent company was left with no choice but to exit the market given that the Indian government has shown hostility towards the cryptocurrency trading ecosystem in the past year. It also highlighted the statement made by Indian Finance Minister, Arun Jaitley, during his Union Budget speech on February 1, 2018. This is surprising as he did not comment on the aspect of digital currency trading in particular.
Shortly after Mr. Jaitley remarked that the Finance Ministry would be preventing cryptocurrency usage and that bitcoin would not be recognized as legal tender, media confusion suggested that digital currencies were about to be outlawed completely.
In the half hour after the comment was broadcast on national television, the local price of bitcoin plummeted to under $5,000 before rapidly recovering in the minutes that followed. It later turned out that the Indian government had no intention to completely ban cryptocurrencies or their trading in the first place. Furthermore, a regulatory framework, aimed at dealing with the flow and taxation of cryptocurrencies, is expected to be released soon.
Other Factors In Indian Crypto Exchanges Closing
Apart from the remarks made by the Indian Finance Minister, it is likely that the country's Income Tax Department was the key contributing factor to the shutdown of these exchanges. In December 2017, local media reports indicated that the department had conducted surveys across all cryptocurrency exchanges operating for longer than a year. The intentions of the Income Tax department became clear when it sent notices to high net worth individuals who had failed to report capital gains incurred from their cryptocurrency trading activities.
It is rumored that the Income Tax department surveys also stimulated Indian financial institutions and banks to temporarily freeze accounts belonging to cryptocurrency exchanges. For close to a month, most trading platforms disabled the option to deposit or withdraw fiat currency, causing a buildup of uncertainty in the market. Most Indian crypto exchanges resolved the issue fairly quickly but some others, including EthexIndia and BTCXIndia, failed to do so for an extended duration, going as far as disabling deposits altogether since the New Year.
While most cryptocurrency exchanges in India have since recovered from the past few turbulent moths, it is quite evident that the two in question, EthexIndia and BTCXIndia, had to succumb under increasing regulatory pressure. However, larger trading platforms operating in the country, including Zebpay and Koinex, continue trading with little to no downtime or issues.
---
Indian Cryptocurrency Volatility Reduced
One unintended side effect of the regulatory crackdown on cryptocurrencies in India though, is that the price premium on the asset class has almost vanished.
During times of extreme volatility, the prices of popular cryptocurrencies in the country would sometimes deviate as much as 30 percent higher than international prices, akin to what is observed at South Korean exchanges. Otherwise, a positive delta of 10 percent was almost always maintained. However, for the past month or so, local bitcoin prices have been at par with their international counterparts and have even been valued lesser for extended durations.
The reducing price gap in India first became apparent sometime in December 2017 and is likely due to reduced investor confidence in cryptocurrencies. It remains to be seen whether proper regulation will boost digital currency interest in the country once again.