U.S. Treasury's Janet Yellen Will Discuss Stablecoins
Yellen will discuss stablecoin regulations with the Working Group on Financial Markets.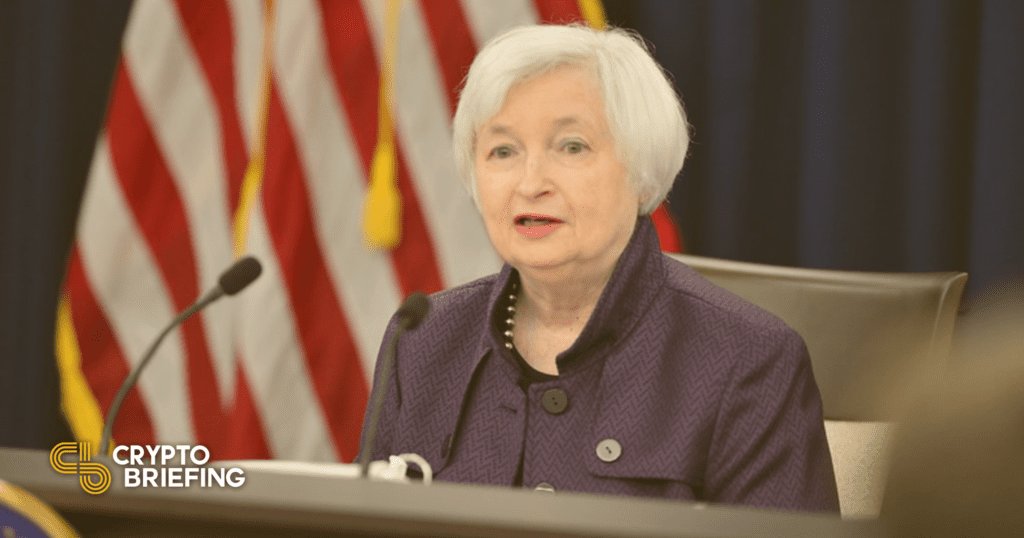 Key Takeaways
Janet Yellen will meet with the Working Group on Financial Markets to discuss stablecoin regulations in the U.S. next week.
Yellen has historically been critical of cryptocurrency; however, she has also acknowledged its potential to improve finance.
It appears that the upcoming discussion will concern commercial stablecoins, not government-backed CBDCs.
U.S. Treasury Secretary Janet Yellen will meet with regulators to discuss stablecoins, according to an announcement today.
Workgroup Will Take Place Monday
According to the U.S. Treasury, Yellen will meet with the President's Working Group on Financial Markets on Monday, July 19.
That group includes members of the Office of the Comptroller of the Currency and the Federal Deposit Insurance Corporation.
"Bringing together regulators will enable us to assess the potential benefits of stablecoins while mitigating risks," Yellen stated. She added that government agencies should work together on regulation and create reccomendations for authorities.
The discussion will build on a 2020 statement from the workgroup that discussed similar regulatory matters around stablecoins.
The workgroup does not seem to be concerned with a central bank digital currency (CBDC) or government-issued stablecoins. Rather, it seems to concern regulations around commercial stablecoins.
Is Yellen For or Against Crypto?
Yellen became Secretary of the U.S. Treasury as President Joe Biden took office earlier this year. She was confirmed on Jan. 25, 2021.
Yellen has historically held an anti-cryptocurrency stance, highlighting its use in criminal activity. However, she has also acknowledged that digital currency has the potential to improve the financial system.
Today's news means that Yellen is slightly more open to digital currency than her past statements may suggest.
However, this news does not necessarily indicate that regulations will change significantly. Currently, entities that simply wish to work with stablecoins are seemingly free to do so. For the most part, cryptocurrency exchanges can legally circulate stablecoins, and the OCC has even granted banks the right to work with stablecoins. Visa has also expressed its intent to offer stablecoin transactions.
One possible regulatory restriction concerns recent guidance from FinCEN that may require stablecoin creators and issuers to operate as Money Service Businesses (MSBs). However, this has not hindered any major stablecoin issuers to date.
Disclaimer: At the time of writing this author held less than $75 of Bitcoin, Ethereum, and altcoins.