UNCHAIN hosts leading blockchain event in Berlin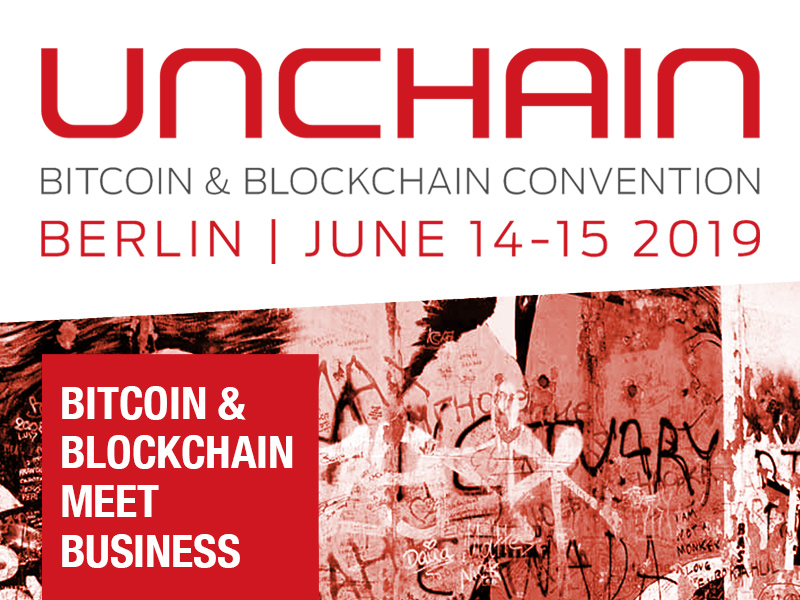 2019's UNCHAIN Convention will bring together the world's leading cryptocurrency and blockchain entrepreneurs in Berlin on June 14-15. The two-day conference will focus on today's challenges for the maturing crypto community, investors and founders of blockchain startups.
The event which has been voted to be one of the top-10 blockchain conferences in the world in 2018, is set to gather valuable knowledge and insights about:
current status of cryptocurrencies and future outlooks;
blockchain use cases and business models;
financial insider viewpoints and strategies;
legislative context;
science & technology.
2019's lineup features popular crypto voices, early crypto investors, leading technologists, founders of blockchain enterprises, developers and regulators, 30+ speakers from 20+ countries altogether, which is even more than last year's lineup included.
Brock Pierce (chairman of Bitcoin Foundation), Tone Vays (Wall Street veteran & Bitcoin enthusiast), Eddy Travia (Coinsilium), Alena Vranova (founder of TREZOR), Riccardo Spagni (MONERO), Christian Decker (Blockstream), Adam Ficsor (Wasabi Bitcoin wallet creator) and others will share best practice insights. The future of crypto payments, privacy and scalability of Bitcoin and blockchains, cryptocurrencies evolution, investment and fundraising issues, politics and future scenarios will be discussed by them. Well-considered exhibition space and intimate networking area will be established for business initiation.
"We celebrate Bitcoin and blockchain real-world solutions with an eclectic state of the art event approach. Our main goal is to bring on business innovations between crypto entrepreneurs, investors and traditional economy leaders from all over the globe – by discussing and exploring the full potential of a decentralized economy," Oskar Giese, UNCHAIN Convention founder says.
Get more info and register
When: June 14-15, 2019
Where: Berlin
Official website: unchain-convention.com
Event's YouTube channel featuring last year's presentations
Early bird tickets are already available on the official website. The access is limited to 500 attendees.
Use the promo code LEV8MPUC to get a 20% discount on Standard and Experience tickets.
This is an unpaid press release provided as a service to interested readers.