U.S. Copyright Office: Craig Wright Authored Bitcoin White Paper And Is Satoshi Nakamoto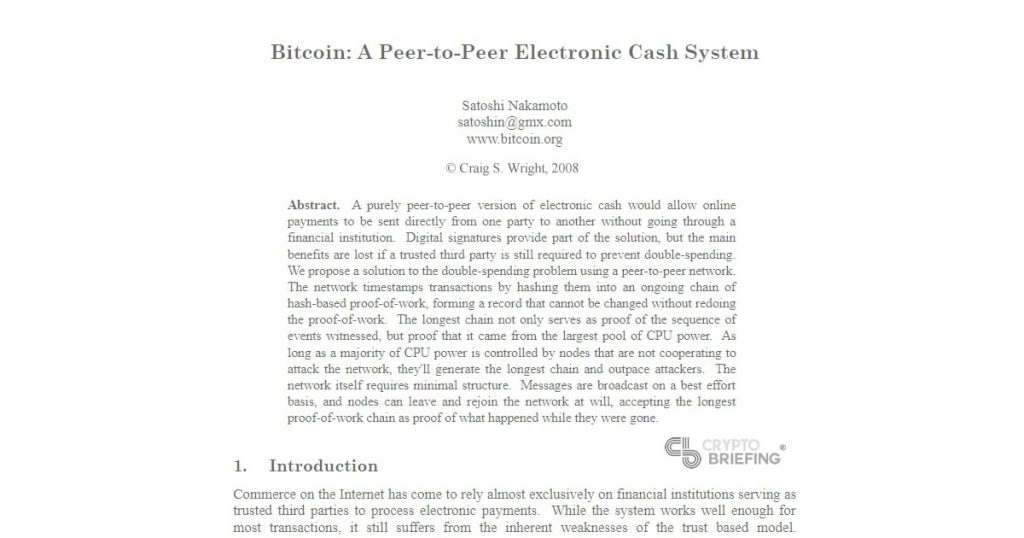 Craig Wright has been granted copyright registrations by the US for the original 2008 Bitcoin (BTC) whitepaper as well as most of the original code, bolstering his claims to be the pseudonymous Satoshi Nakamoto.
The US Copyright Office is the first government agency to recognize Wright as the author of the whitepaper, as well as the main writer behind the code that was published in January 2009.
US officials, aware of the legacy of the Bitcoin whitepaper, reportedly decided to grant Wright two copyrights following his confirmation that he was Satoshi. The copyrights came into effect in mid-April.
"We are thrilled to see Craig Wright recognized as author of the landmark Bitcoin white paper and early code," said Jimmy Nguyen, founder of nChain, the blockchain company where Wright is Chief Scientist. "Better than anyone else, Craig understands that Bitcoin was created be a massively scaled blockchain to power the world's electronic cash for billions of people to use, and be the global data ledger for the biggest enterprise applications."
To be clear these are just registrations. Although an official would have to sign off on the validity of Wright's claims, this is not definitive proof that he is indeed Satoshi or the creator of the Bitcoin code.
Knowingly submitting a false application to the Copyright Office comes with a $2,500 fine, according to its website. The process is handled online, and a PPT guide to submission for literary works is available here.
Wright, an early figure in the space, started claiming he was Satoshi back in 2015. His claims have widely been doubted by other industry figures as well as media outlets. Based in London, he has used the country's strict libel laws to threaten legal action on figures who have disputed his claims. In the US Copyright Office's FAQ, there is a note that "Registered works may be eligible for statutory damages and attorney's fees in successful litigation."
Originally a member of the Bitcoin community, he moved over to Bitcoin Cash (BCH) following the fork in August 2017.
Along with his ally, the gambling billionaire Calvin Ayre, he created Bitcoin Satoshi Vision (BSV), a community supposedly to take the Bitcoin protocol back to what he considers to be the original vision, back in November last year.
Wright's aggressive claims over the origin of the Bitcoin white paper have been considered by many to be detrimental to the industry as a whole. Last month, Kraken and Binance delisted BSV from their servers, in protest over the hostility of the community.
According to CoinGeek, Wright has said he intends to assign copyright registrations over to the Bitcoin Association, a non-profit supporting the BSV ecosystem, sometime in the future.
The Copyright Office is responsible for "administering a complex and dynamic set of laws, which include registration, the recordation of title and licenses, a number of statutory licensing provisions, and other aspects of the 1976 Copyright Act and the 1998 Digital Millennium Copyright Act."