Wall Street Learns to Hodl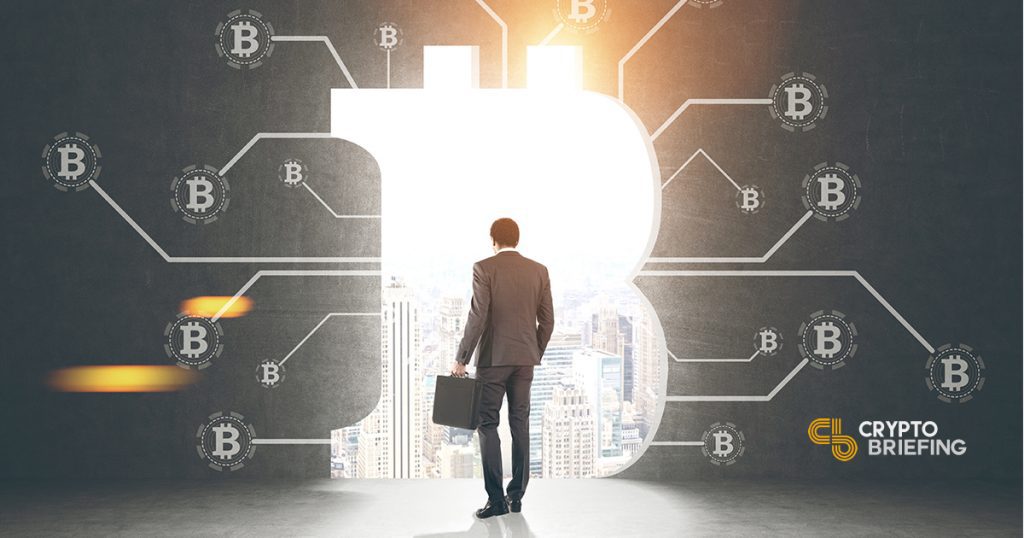 After ten years of watching from the sidelines, Wall Street is dipping more toes into the crypto world.
Bank of America is the latest legacy financial institution to test the waters. On Tuesday the bank was awarded a patent for "systems and devices for hardened remote storage of private cryptographic keys used for authentication" in an Oct. 30 document published by U.S. Patent and Trademark Office (USPTO). That means BofA's secure device may be able to reduce risk to individuals or institutions by holding private keys in one or more remote locations for backup instead of relying on vulnerable devices that connect to the web.
The nation's second-largest bank with $2.3 trillion in assets filed for the patent in August, hinting at possible interest in providing custodianship solutions (or finding partners who can do so) to the growing but risky $203 billion cryptocurrency industry. Moreover, BofA's ability to secure crypto keys may be applicable to other digital assets.
According to the Oct. 30 patent, the storage device is "tamper-responsive" and that physical or non-physical attempts at hacking "results in deletion of the private cryptography key(s) from the memory." It also describes an authentication protocol that makes the device separate from external computing nodes, and that the secured crypto keys are accessible to, but not necessarily communicated to, external computers.
Bank of America did not announce the patent award in its news or social channels. However, the Charlotte, N.C.-based bank is among the largest holders of blockchain-related patents globally at nearly 50. Executives have said that amassing all these blockchain-related intellectual property (IP) is all about preparing for the future. Chief technology officer (CTO) Catherine Bessant said in June at a New York event that "While we've not found large-scale opportunities … we want to be prepared."
Other Wall Street powerhouses aren't standing pat, either.
A year after JPMorgan chairman and CEO Jamie Dimon called Bitcoin (BTC) a "fraud," the nation's largest bank with $2.6 trillion in assets is tokenizing gold bars on its proprietary Quorum blockchain. Quorum is the bank's enterprise version of the Ethereum (ETH) blockchain that allows for automated transactions through the use of smart contracts.
JPMorgan's move is expected to improve liquidity for gold and other assets that are sent within the U.S. and across borders, and its leadership position may influence other trillion-dollar institutions to follow in its footsteps in digitizing the global economy. Tokenization can reduce friction while speeding up settlement times of digital assets. In the case of gold, counterparties would transact in its digital form instead of relying on paper certificates.
It remains to be seen if or when the New York-based bank will tokenize other assets such as silver, real estate, oil and other commodities although the decision to do so (or not) will likely rest on the success of tokenized gold initiative. Investors could see a more liquid market for commodities which could place pressure on inefficiently-run, unbacked fiats.
Meanwhile, Goldman Sachs–one of the most conservative institutions on Wall Street–has begun on boarding clients for bitcoin futures, The Block reports. Although trading in the derivatives is not likely to gain scale before a conclusive ruling on Bitcoin ETF's, it is a strong indication that bank doors are starting to open. If Goldman Sachs–an institution still synonymous with stodgy financial conservatism– can sell Bitcoin futures in a bear market, then they might know something that they're not telling.
The author holds BTC which is mentioned in this article.