Walmart Blockchain To Improve Food Safety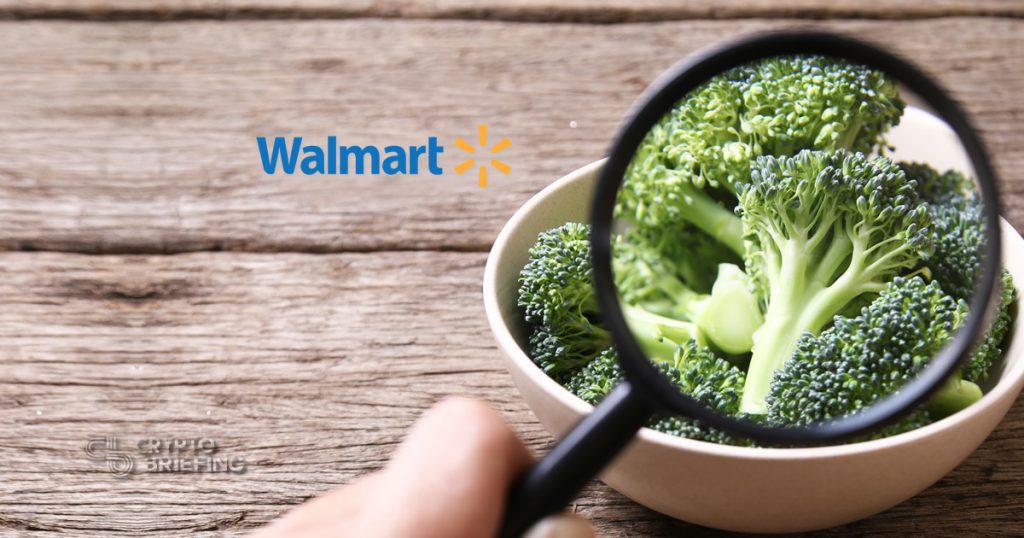 When programmers first developed blockchain tech a decade ago, they were focused on creating new borderless money that could bypass banks and other third parties that were responsible for the Financial Crisis. None knew that years later, the same tech would be applied to radically change food supply chains and protect human health.
Last month, Walmart announced that all suppliers of fresh, leafy greens will be required to install IBM enterprise blockchain and give its North American food supply chain end-to-end traceability. Given its leadership position as the biggest company in the Fortune 100, the new requirement is expected to be a game changer in the $1.5 trillion U.S. food industry.
Rivals (such as Amazon) will be pressured to match the Arkansas-based company's efficiency and health practices, as no competitor wants to hear claims that their fresh foods aren't as safe. Nearly one-third (29%) of U.S consumers prefer foods labeled as "organic" in their purchases, continuing a growing trend over the past few years, according to a May 2018 survey by International Food Information Council (IFIC) Foundation. And 61% want healthy food while 41% perceived fresh food as healthier than frozen items.
Suppliers have until September 2019 to install the blockchain systems which can track millions of green vegetables in real-time from farm to table and everywhere in between, such as transportation, distribution centers and retail.
In the company's Sept. 24 letter to suppliers of fresh greens, Walmart announced its Food Traceability Initiative, which is designed to prevent food-borne outbreaks. It can narrowly target product recalls to identified root sources, which can save the supply chain money, time and legal exposure. The official letter also noted the improvements to Walmart's ability to audit produce, saying:
Using the IBM Food Trust network that relies on blockchain technology, we have shown that we can reduce the amount of time it takes to track a food item from a Walmart Store back to source in seconds, as compared to days or sometimes weeks.
But people's perceptions of fresh groceries have been challenged due to a wave of illnesses. Over the past month, nearly a hundred people have gotten sick from Salmonella from raw chicken, according to the Centers for Disease Control and Prevention (CDC). Fresh, leafy greens can have harmful toxins because these products are typically not cooked.
In April, nearly 60 people in America and Canada became sick from E. coli bacteria. But investigators took weeks to arrive at inconclusive findings: They suspected that romaine lettuce was the culprit but couldn't be sure. These cases led to hospitalizations and even a few deaths.
Walmart is leveraging enterprise blockchain to protect its reputation as well as keep millions of consumers safe. This year, the CDC listed nearly a dozen food-borne illnesses that affected American consumers. These derived from leafy greens, ground beef, eggs, turkey meat, pre-cut melon, dried coconut and raw sprouts, among others.
Walmart is America's largest company with $500 billion revenue in 2018 and employs 1.4 million workers in the U.S. That's 1% of the nation's entire working population earning an average of $14 per hour. The company also has smaller-size Neighborhood Markets that offer fresh produce, meat and dairy products, bakery and deli items.
Management guru Peter Drucker observed that innovation is about breaking away from the past. "Innovation requires us to systematically identify changes that have already occurred in a business – in demographics, in values, in technology or science – and then to look at them as opportunities. It also requires something that is most difficult for existing companies to do: to abandon rather than defend yesterday."
Walmart has already identified one of the biggest changes in the world of business technology. By seizing the opportunities of digital ledger technology, Walmart might give its shoppers a healthy future on the brocc-chain.
The author holds digital assets but none mentioned in this article.