Warren Likens Crypto to Drugs, Snake Oil in Latest Tirade
In her latest interview for CNBC, Senator Elizabeth Warren compared cryptocurrencies to drugs and snake oil, calling for urgent and more stringent regulation of the market.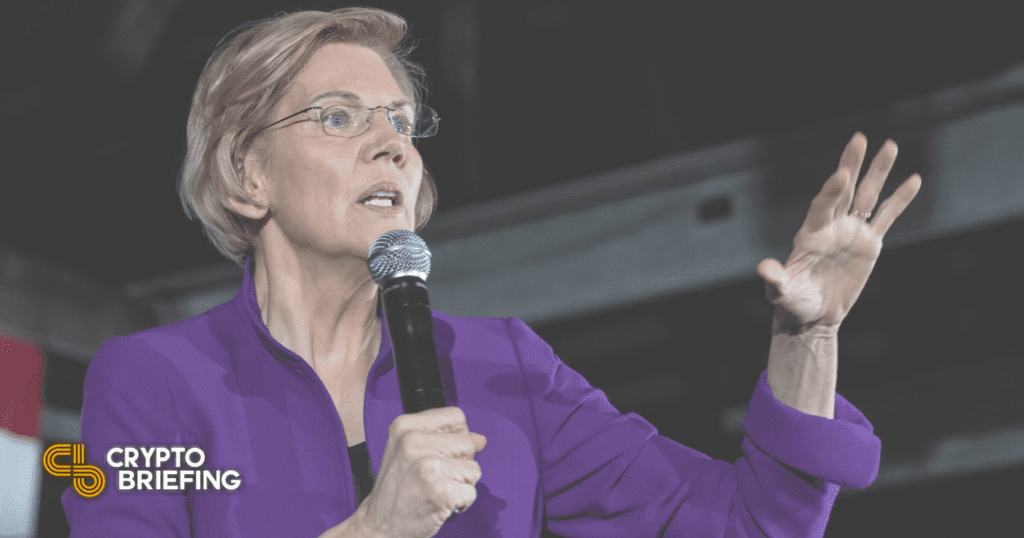 Key Takeaways
Senator Warren believes the current state of play in crypto recalls the early years of the pharmaceutical industry before the FDA stepped in.
Warren, also a member of the Senate Committee on Banking, Housing, and Urban Affairs, thinks the cryptocurrency industry should be regulated now.
She also suggested that crypto miners and developers could control the system.
Senator Warren expressed concern for retail investors facing financial losses and becoming "completely wiped out" in a Wednesday Squawk Box interview.
Warren Decries Crypto Industry
Senator Warren has criticized the cryptocurrency space yet again.
In a Wednesday interview for CNBC, Warren—likely the most vocal proponent for an urgent, coordinated, and holistic policy response to the risks posed by crypto assets in the U.S. Senate—likened the current state of affairs in crypto to the unregulated days of the pharmaceuticals industry, when anyone could manufacture and sell drugs and customers had virtually no protection against snake oil salesmen. She said:
"Look at the lesson from history about when do we regulate drugs. As long as people can sell snake oil, it turns out that nobody really invested in having good drugs that were safe and that helped people."
She added that it was only after the FDA intervened that pharmaceutical drugs helped the world. Furthermore, The Senator said that the early unregulated days of the Internet are not a good model for the U.S. to structure its regulatory approach to the crypto markets, stating that she doesn't want to wait until "a whole lot of small investors and traders have been completely wiped out."
When asked whether retail investors need any top-down protection and whether stringent financial regulators are in fact hurting small-time investors whilst protecting larger players, Warren said:
"I want people to have the freedom to invest. I just don't want a system where the big guys, the shadowy guys, the guys you never quite see, can go out there and do pump and dump, can defraud people, can take a lot of folks' money, and then disappear."
Warren argued that the question is not "just regulation," but rather how it's aimed and who takes advantage of there being no rules. Judging from the Senator's recent comments on cryptocurrencies in Tuesday's hearing of the Senate's Banking Committee, Warren believes the real beneficiaries of the lack of regulations are the big "phony populist" crypto companies, cryptocurrency miners, and "shadowy, faceless super-coders" who—she gathers—control the system.
When asked whether she believes crypto will positively disrupt the financial industry, Senator Warren deflected the question, conceding that "there's been an enormous failure by big banks to reach consumers all across the country," and that "digital currency and Central Bank Digital Currency may be an answer there."
Warren: Cryptocurrencies May Face Inflationary Pressures
Addressing the issue of an increasing number of people buying Bitcoin as a hedge against inflation, Warren said that, while people are free to make their own investment decisions, treating Bitcoin as an inflationary hedge assumes two things:
"One, that what's happening with Bitcoin or any other cryptocurrency is somehow going to be divorced from what's happening elsewhere in the economy, and secondly that crypto coins are not going to have their own inflationary pressures."
When reasoning as to how cryptocurrencies may face their own inflationary pressures, she argued that "they may come from a different source than what happens with dollars," and pointed out the high price volatility of cryptocurrencies as a clear example against their purported benefit as a form of protection or hedge against inflation.
Warren's latest comments are only the latest in a series of statements in which she has painted crypto in a negative light. On Jun. 10, Warren slammed Bitcoin's energy consumption during a Senate Banking Committee, and on Jul. 9, she published a letter to the Securities and Exchange Commission asking the regulator to address the potential risks of cryptocurrencies and answer questions about current regulation. On Jul. 26, Warren also sent a letter to Treasury Secretary Janet Yellen, urging her to bring about a "coordinated and holistic" policy response to the risks of crypto.