WAX Blockchain Decentralizing Billion Dollar In-Game Asset Industry
WAX has the tech specs to compete in the gaming arena.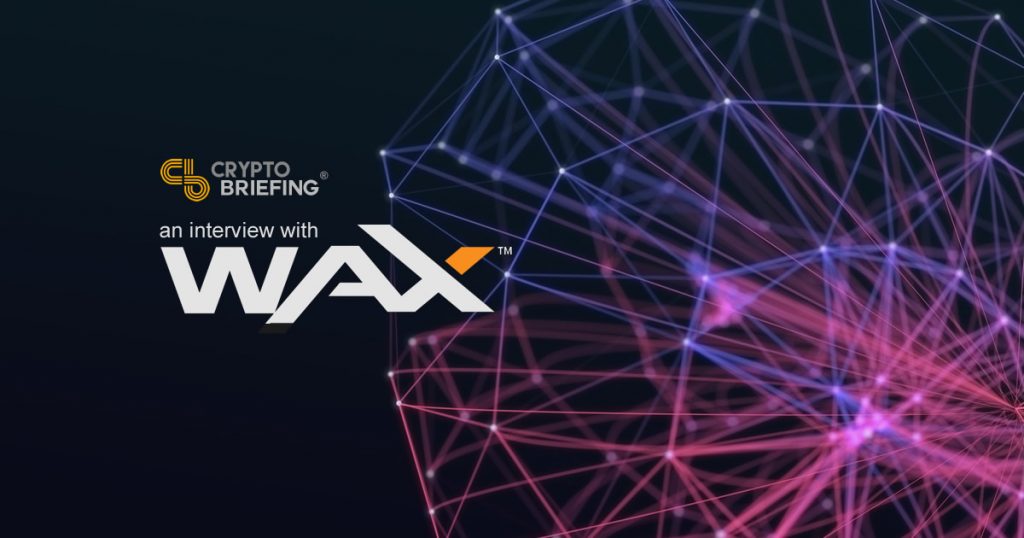 Last year Hacker Noon reported, "In 2017, sales of virtual goods raked in more than $80 billion of total gaming industry revenue of $103 billion." And some of these virtual goods have sold for a pretty penny.
In 2011, SEE Virtual Worlds purchased a virtual planet on Entropia, Planet Calypso, for $6 million. The second most expensive virtual planet sold for $635,000.
---
To remove the barriers of trading in-game assets such as items of clothing, weaponry, or virtual landscapes, World Asset eXchange (WAX) has launched its marketplace platform, built on top of its blockchain. The WAX marketplace offers dApps the ability to sell non-fungible tokens (NFT) for both fiat and cryptocurrency.
Through its blockchain, WAX offers a "suite of microservices designed to make creating, buying, selling and trading virtual items and tokenized assets fast, inexpensive, and easy."
Alternatively, as William Quigley, CEO of WAX, said in a conversation with Crypto Briefing, the platform aims to "give everybody the same experience they would expect if they were trying to log in to an app into a website – and replicate that on the blockchain."
Quigley is also the CEO of Opskins, an online marketplace for gaming and virtual goods with an international reach. The site is written in 16 different languages and operates in about 100 different countries. In the past six months, the site has seen at least 1.5 million desktop and mobile visitors per month, often significantly exceeding those numbers.
Now, WAX is incorporating every set of services on Opskins, and integrating them on top of the WAX blockchain.
At the end of June, the exchange is planning to open its MainNet block producing nodes, called WAX Guilds, to the public. Meaning any individual, company, or entity can become a block producer and act as a consensus node if they meet the correct requirements.
---
A Blockchain in Use
WAX initially began as an ERC-20 token but migrated on June 1st, 2018. To mitigate surge pricing issues with proof of work blockchains, the WAX development team opted to utilize a delegated proof of stake consensus mechanism.
Beyond offering a game seller's market and in-game asset trading exchange, WAX has also launched the NFT creator.
The NFT creator was designed to be as simple a process as possible, implementing OAuth (think: logging into a new website using Google or Facebook credentials) and an intuitive drag-and-drop style interface. Using the NFT creator, companies or individuals can launch a card, sticker, or piece of digital art onto the WAX blockchain.
Shortly after the launch of the NFT creator in mid-June 2019, the WAX CEO iterated 1,500 companies had begun to create NFTs.
WAX isn't just witnessing an increase in NFTs, but also in its blockchain use statistics. At one point, Quigley said, "[WAX was the] number one transacted blockchain on Blocktivity, we were doing about six million transactions a day, and between seventy-five and two hundred transactions a second."
Today, WAX has achieved stability of its PrivateNet nodes.
On June 30th, WAX will begin its process towards decentralization. External partners will manage three of its 21 block producing nodes.
---
The Path to Decentralization
As the development team has implemented changes, upgrades, and patches to the blockchain over the past year, WAX maintained all 21 of the block producing nodes. The team is confident the blockchain can handle delegating block producing responsibility to StrongBlock, HyperBlocks, and Magnetic Capital.
StrongBlock is often associated with Block.One and offers enterprise-level solutions for business operations and models.
HyperBlocks is a subsidiary of Hyperchain Capital, that got its start running "one of the biggest mining facilities in Asia." Now, the infrastructure security research firm focuses on projects that utilize proof of staking consensus mechanism protocols.
Lastly, Magnetic Capital will be the third block producer assuming responsibility on the 30th. Magnetic Capital is a cryptocurrency fund, in which Quigley is both a limited and general partner.
With further decentralization, WAX token holders have the opportunity to vote on WAX Guild block producers. WAX states, "in the future WAX Staking Rewards will be tied to the performance of the WAX Guilds."
---
Addressing Voter Apathy
For the right to vote on block producers, users must stake their tokens. However, voter apathy has been an issue for public blockchains.
For example, out of 1.2 million EOS accounts, roughly 61,000 accounts are used to vote. At the time of press, that's only 4.78% of token holding accounts.
WAX plans to solve voter apathy by weighting the amount of rewards users receive, determined by levels of participation in on-chain voting processes. The more the user votes, the more likely they will receive 100% of their staking rewards; and, vice versa.
Quigley went on to say, "I think that will fix the voting problem. I'll be surprised if it doesn't. I'm very, very confident that we're going to get more than one to three percent of the community voting. I would dare say it will be fifty percent at least."
---
WAX has built a blockchain from scratch, which it believes can handle the needs of its business model and platform, Opskins, as well as an active governance and voting mechanism.
The team aims to provide a service for people to send and receive digital assets through a blockchain account with "no instruction manual and nothing but intuition," according to Quigley.
Perhaps the 100,000-plus NFTs created on its blockchain indicate the platform's potential.
Now comes a real test for any blockchain project: can it decentralize?
(June 27th, 2019: This article has been updated to note that there over 100,000 NFTs have been created on the WAX blockchain, not 1,500 as previous described.)