Web 3.0 Powered, Social-Creator Platform Raiinmaker Announces New CFO and $COIIN Token Launch
Raiinmaker has integrated more than 20 blockchains.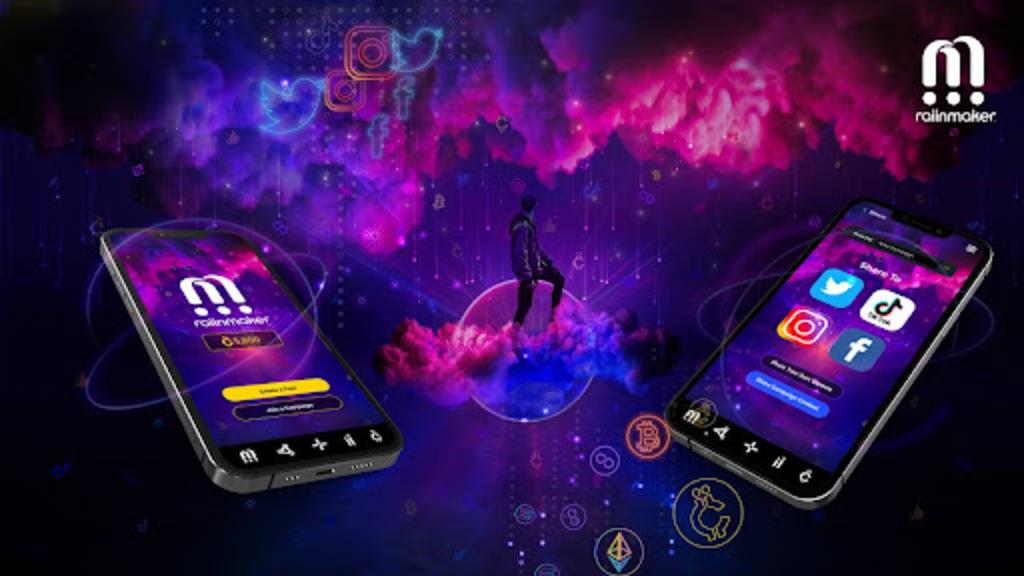 Raiinmaker will allow Web2 social media users to earn COIIN by posting valued content as determined by an algorithm.
New CFO and Token
Raiinmaker has over 20 blockchains currently integrated to reward users in crypto & NFT's for their social capital
Raiinmaker today announced that Krystal Gracier has been named Chief Financial Officer and Co-Founder on the eve of the launch of the platform's native token, $COIIN, which will debut publicly on March 14, 2022 on Pancake Swap and MEXC.
Krystal joins Raiinmaker from Morgan Stanley, where she was a technology investment banker. While at Morgan Stanley, Gracier had the privilege of advising on key transactions including the IPO of Udemy, Inc., Legalzoom, Inc., NightDragon Acquisition Corp., and Honest Co. Prior to Morgan Stanley, Krystal was a technology investment banker for Citigroup and had the privilege of supporting a number of successful transactions including most notably the $3.4 billion IPO of Snowflake, Inc.- the largest software IPO in history – and advising Apollo Capital's leveraged buyout of Tech Data for $6.0 billion. Before her foray into investment banking, Krystal was the youngest vice president and risk officer to receive credit initials at CitiGroup. She has over 10 years and $70 billion in capital raising experience across public and private technology companies, ranging in size from venture backed startups to large corporations.
"For us to create our vision, it's vital to attract the best talent and create the strongest team. We are thrilled to add such a dynamic and seasoned executive to our ranks, and with the addition of Krystal, Raiinmaker is poised for exponential growth in 2022. It's always a plus to officially convert someone from the legacy financial world to the decentralized finance revolution," said J.D. Seraphine, CEO/Founder of Raiinmaker.
Since 2019, Krystal has become an active investor in various web 3.0 and crypto projects, ultimately leading her to discover Raiinmaker through Seraphine. She quickly realized that Raiinmaker is a once-in-a-generation opportunity that aligned with her passion for innovation and impact.
"Today, over 4.6 billion people use social media platforms, the social creator economy is booming, and crypto adoption is rapidly accelerating globally. The aforementioned forces are converging to form a perfect storm and Raiinmaker is positioned to be a leader in how digital content creators engage with their communities and earn the digital social value they create equitably. I am incredibly excited to harness my past experience working alongside some of the largest and most innovative technology companies for the advancement of Raiinmaker and the greater Web3 community," Gracier shared.
Krystal's hiring comes as the company prepares for the token generation event ("TGE") for their native token, $COIIN.
$COIIN is an ERC20 standard Ethereum token and BEP20 standard Binance token that powers the Raiinmaker ecosystem. Users can Create to Earn™ $COIIN by posting original or curated content through the Raiinmaker app on web2 social channels including Instagram, TikTok, Twitter, and Facebook. The distribution of $COIIN is determined by Raiinmaker's proprietary algorithm, Proof of InfluenceTM, which incentivizes and rewards users for social and app engagement.
The $COIIN TGE will take place March 14, 2022 on Pancake Swap and MEXC.
Raiinmaker is the Web 3.0 social creator platform bridging the gap between legacy social media communities and the new cryptocurrency metaverse. The platform revolutionizes the monetization and distribution of social value driven by user generated content. Raiinmaker has over 20 blockchains currently integrated to reward users in crypto & NFT's for their social capital with a fully scalable Web 3.0 platform that has the speed to match the transaction volume of the Visa network, while leveraging the security and hash power of public Blockchains. Additionally, Raiinmaker has committed 4% of the profits to support global impact initiatives including entrepreneurship, youth empowerment and climate change.