Wemade announces Partnership with Space and Time to Power Blockchain and Gaming Services
The partnership will allow Wemade to power its blockchain and gaming services with Space and Time's decentralized suite of developer tools.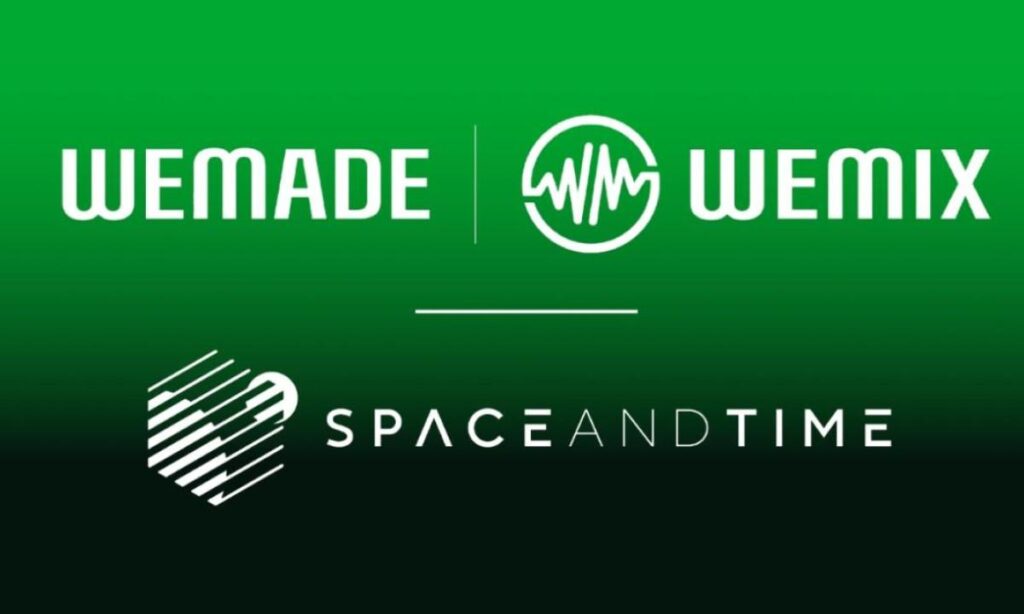 Wemade Co., Ltd (KOSDAQ:112040), one of the largest publicly-listed gaming companies in South Korea with a market capitalization of US$1.4 billion, has announced a strategic partnership with Space and Time (SxT), a leader in decentralized data warehousing. The partnership will allow Wemade to power its blockchain and gaming services with Space and Time's decentralized suite of developer tools.
New crypto gaming initiative
Today, Wemade services more than 20 different play-to-earn (P2E) games across all genres, including MIR M and the world's no. 1 blockchain game MIR4, on its global open blockchain gaming platform WEMIX PLAY. This is part of the mega-ecosystem that its blockchain developer subsidiary, WEMIX is building which encompasses its own mainnet, WEMIX 3.0; an extensive range of services like NFTs and DeFi; and WEMIX coin – the bridge that connects all of the components of the mega-ecosystem. WEMIX has also announced plans to launch an Ethereum layer-2 utilizing zero knowledge proof (ZKP) protocols that will improve scalability while still ensuring users' privacy and security. Space and Time and Wemade are planning to closely collaborate in the future with next-generation decentralized infrastructure for more robust and scalable GameFi development. WEMIX CEO Shane Kim said,
"We believe that blockchain is the future of gaming, offering gamers greater ownership and control over their digital assets.As the blockchain transformation of traditional games continues to grow, the partnership with Space and Time will help strengthen our blockchain infrastructure capabilities and contribute to our commitment to building an inter-game economy."
Space and Time packages a full suite of developer tools in a single decentralized deployment. The platform provides developers with real-time, tamperproof indexed blockchain data, a hybrid transactional and analytic (HTAP) data warehouse, and a serverless API gateway for simplified building of fully decentralized applications and faster dApp time-to-market.
Queries run in the Space and Time data warehouse are verifiably tamperproof. Space and Time's novel cryptography, Proof of SQL, allows smart contracts to run tamperproof queries directly, opening up a wealth of powerful use cases built on blockchain technology and a fully decentralized stack.
Game developers building on Space and Time can join real-time blockchain data with off-chain game-generated data in a single query and connect the results back to smart contracts on-chain. Space and Time will enable Wemade to facilitate more complex earning schemes for its P2E games, run tamperproof analytics against game activity, and reduce on-chain storage costs by connecting a scalable decentralized data warehouse to the blockchain-based platform. Nate Holiday, CEO and Co-Founder of Space and Time said,
"We're thrilled to partner with one of the biggest and most respected gaming companies in the world. Space and Time is committed to advancing the blockchain gaming industry with essential next-generation infrastructure and developer tools. This partnership is a huge step forward for the Web3 gaming industry. Together, Wemade and Space and Time are building a new blockchain gaming ecosystem to onboard the next wave of game developers."
Wemade is known for its blockbuster title The Legend of Mir 2, which is one of the most successful RPG titles in the history of Chinese gaming. Within years of its 2002 launch in China, The Legend of Mir 2 dominated the Chinese gaming market with a 64% market share.
In addition to its Web3 GameFi initiatives, the Wemade platform also supports DEXs, NFT marketplaces, and more on its L1 mainnet. Wemade remains committed to actively expanding its blockchain ecosystem beyond GameFi. By partnering with Space and Time, Wemade will provide more secure and decentralized services to developers building GameFi, DeFi, and other Web3 applications.