What Is GSENetwork? Introduction to GSE Token
Is this a network that you can trust?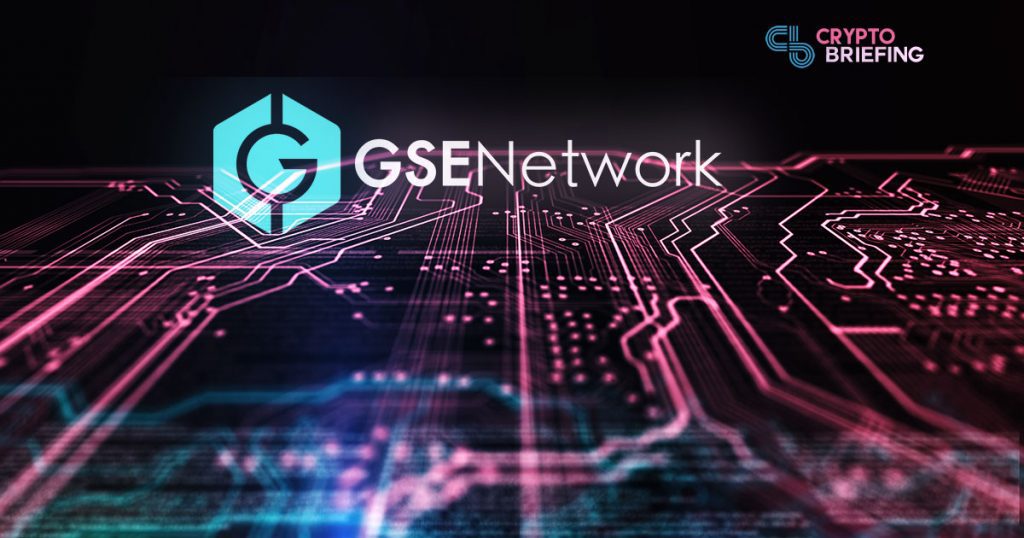 What Is GSENetwork?
The GSENetwork is a decentralized trust network that tokenizes and tracks user interactions with smart devices on the blockchain. Trust is built by interacting with IoT, the sharing economy, and more, similar to rating systems used in Lyft, Doordash, and Airbnb. The native GSE token was issued as an ERC-20 token on June 20, 2018 on the Ethereum blockchain. The testnet preview launched on November 26, 2018.
Relationships, whether personal or business, are all about trust.
Online marketplaces from Craiglist and Facebook Marketplace to ridesharing, roomsharing, couchsurfing, and other forums rely on trust. You need to trust that your personal and payment information is secure. You need to trust your Uber driver will reliably and comfortably get you where you need to go.
This trust system keeps our networks secure too. Publishers like Crypto Briefing only work with people we trust (although even that can bite us in the ass), and that's because we care about the trust of our readers. You only read content from sources you trust, and I need to build and maintain a history of trust between both you and Crypto Briefing.
These trust-based economies are what GSENetwork is being developed to serve. The only question is whether such a new project in an industry that itself is in its infancy can build the necessary trust to pull it off. After all, the idiom "I wasn't born yesterday!" has been used since the 1800s to mean "I'm not gullible."
Let's start our exploration of the GSENetwork with an examination of the GSE token, and its performance on the cryptocurrency market.
---
GSE Cryptocurrency Summary
As of March 28, 2019, the circulating supply of GSE is approximately 19,631,563,564 out of a total supply of 100,000,000,000. Its peak price so far was $0.009168 on August 17, 2018, and it's divisible to a minimum unit of 0.0001 GSE.
The initial launch of GSENetwork is in the form of an ERC-20 token on the Ethereum blockchain. Instead of an ICO, the project followed a more traditional startup investment route, with strategic partners like LD Capital, H Capital, Bixin, LINKVC, and more.
For initial distribution, the GSENetwork team performed a series of airdrops to users of a variety of crypto partners, including 2,500,000 GSE awarded to the top 100 Gate.io traders in summer 2018. A Dropbox-like "Airdrop Round A" ended June 20, 2018 and awarded 200 GSE for registering and 80 GSE for referring a friend.
Of the initial supply, 40 percent was set aside for airdrops and building the ecosystem, 20 percent was allocated to the GSENetwork Foundation for community support, 20 percent was released to private investors, 15 percent was allocated to the founding team, and 5 percent was allocated to the advisors.
GSE ERC-20 tokens are expected to be converted to GSE cryptocurrency coins on the mainnet at some point during its public development phases. The alpha is scheduled for launch before the end of 2018.
GSE is mined using a process called "Green-Mining." Instead of resolving a hashing algorithm like Proof-of-Work or an interest-based system like Proof-of-Stake, Green-mining airdrops GSE tokens as rewards for interacting with shared-economy assets. It also wants to include a DPoS-based validator system, but there are no mentions of them receiving rewards, meaning that they will be essentially expected to do it for free.
Much like Amazon's Mechanical Turk crowdsourcing platform, as trust is built within the GSE framework, more powerful options are unlocked. Think of it as moving up a tier in a rewards program or going from user to administrator privileges on devices.
---
Tokenizing IoT and the Sharing Economy
At its core, the selling point of GSENetwork is its trust network more than the token itself. As you participate in the GSENetwork, you build trust in the form of tokens. The trust algorithm is a mix of how much GSE you hold (PoS) and how you're participating in the economy as a user or servicer (PoW).
As you complete more transactions, your personal digital ledger grows, and your trust rating improves, much like a credit rating. And, like a credit rating, your GSE trust rating determines what you're allowed to do on the platform. Trust levels can be set by anyone, and even the network itself requires a minimum trust level to vote.
Trust is becoming more important as the IoT and shared economies grow. Whether you use them or not, you've heard of these markets. There are an estimated 66.2 million people using shared economies like Uber and Airbnb.
Nearly $17 billion of revenue is expected to be generated by food delivery services, either from grocery stores or services like Doordash, Postmates, and Plated.
The reason corporations and brands are so valuable these days is because of consistent quality control. Whether it makes you eat at McDonald's or avoid it, you generally know what you're getting at any McDonald's anywhere you go. When you stay at a Hilton, for better or worse, you know what you're getting. It's harder for a service like Postmates, Uber, or Airbnb.
GSENetwork's mainnet promises to resolve these issues through its tokenized trust economy. Simply put, the same rating and tipping systems already implemented into the Uber app would be extended beyond the platform, if Uber were a GSENetwork partner.
Meanwhile, there are over 20 billion connected devices composing the Internet of Things, and that number is expected to exponentially grow to over 75 billion by 2025. These devices range from smarlights and smartlocks to DVRs, connected speakers, video game consoles, security cameras, and more. Everything is smart these days, and we barely put firewalls, antivirus, and other malware protection on our laptops, desktops, and mobile devices.
The Mirai botnet was the first of many malware attacks to leverage unsecure IoT devices to launch a distributed denial-of-service (DDoS) attacks that crippled some of the Internet's most trusted services.
Using the GSENetwork's trust ecosystem, trusted networks, servers, devices, and users are easier to track and trace. AI-assisted system like Google's Nest Aware uses a similar system to determine trust for a monthly fee. The $300 Nest IQ camera uses facial recognition to determine trusted people in and around your house.
It's a great idea on the surface, but there are problems. Until proven otherwise, GSENetwork is a workaround to a well-known issue with shared ecomonies.
---
Shortcomings of a False-Bottomed Economy
While it sounds great, for GSE to work, there's a lot of acceptance and trust that needs to be built in a short amount of time.
Because it's airdropped to both sides of two-sided marketplaces (i.e. both drivers and riders would receive GSE "tips" for using the service), GSENetwork holds a large pool of reserves to basically replenish the supply forever. This is where the idea starts to show cracks.
It's great for utility, but that makes GSE risky as a pure investment. Control over the monetary supply is an important power tool in a society. Do you trust GSENetwork with full control?
What's to stop the developers from creating value in the way USDT was allegedly used to manipulate the price of BTC?
I would love to create the next Uber, but these two-sided marketplaces are very expensive to build. Uber is widely publicized as a unicorn startup for its $69 billion valuation as of December 2017. This is based on the $10.7 billion it raised from 2009-2017, and all of that money is long gone. As of May 2018, Uber is still losing money on every ride.
Meanwhile, Uber's drivers are being choked for resources and lawsuits have been flying over working conditions. Peak pricing issues created a lane for competitor Lyft to become a unicorn in its own right, but not without facing its own legal problems too.
The sharing economy industry is brutal, a lesson Helios and Matheson learned the hard way. The firm is the majority investor in MoviePass, a subscription-based movie ticketing service that aimed to be Netflix for theaters. It seemed like a home run that quickly turned into a money pit as theaters like AMC introduced competing subscription plans.
GSENetwork has a lot of promise, but so did MoviePass, and the temptation to artificially manipulate its own economy is both great and readily available. Invest with caution – this one is for those who love to take risks.
---
Summary
GSENetwork is a decentralized trust network that tokenizes IoT and shared-economy transactions. This trust platform can increase efficiency and security of the Internet for consumers and enterprises and make two-sided marketplaces easier to launch. However, as a two-sided marketplace itself, GSENetwork will need to brave one of the hardest industries on the planet.
GSENetwork is currently in development, and a functional, stand-alone product has yet to launch as of March 28, 2019. In fact, the project is giving few signs of life as its latest tweet is from December 2018. GSE tokens exist as an ERC-20 token in the interim.
GSE is awarded to both the user and service provider of transactions in two-sided marketplaces. Trust is built similar to rating marketplaces like Yelp.
The GSENetwork is building a two-sided marketplace like Uber that's a lot more ambitious, using a lot less money. Whether it's a lean model that's leveraging blockchain and crypto to build a powerful economy or a pyramid scheme remains to be seen. Just know that it's not as easy as every founder in a startup competition thinks to create the "Uber of ____." A lot of money has been burned learning this lesson.
The author is not currently invested in any coin, token, or asset mentioned in this article.