What Is QuarkChain Network?  Introduction to QKC Token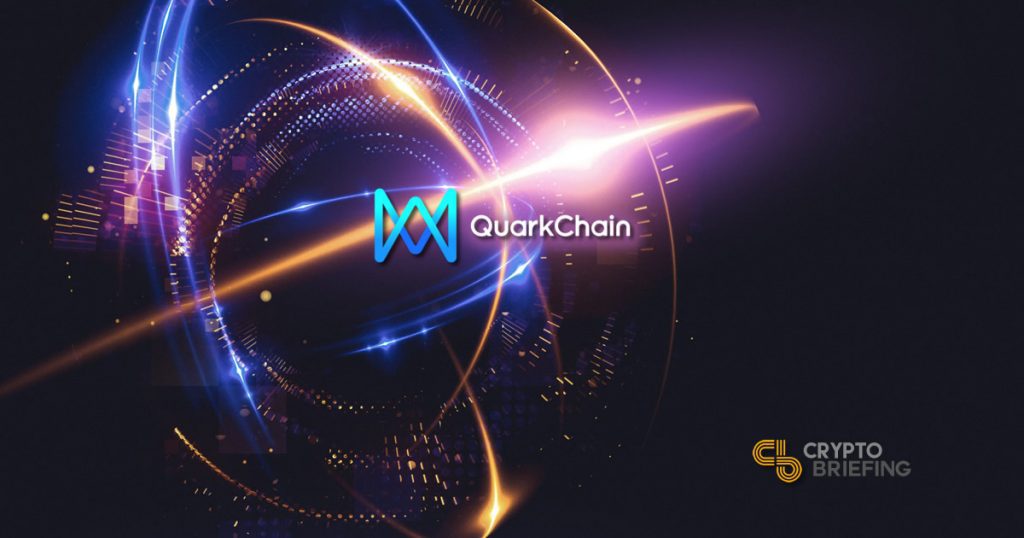 What Is QuarkChain?
QuarkChain is a multi-layer, permissionless blockchain designed to enable peer-to-peer transactions. It was developed to address key concerns in scalability that crippled Ethereum's initial release. QuarkChain uses sharding to enable sidechain interoperability and achieve over 10,000 transactions per second (TPS). QKC, QuarkChain's native cryptocurrency, is currently an ERC-20 token on the Ethereum-based testnet.
QuarkChain's testnet was in 2.0 on Ethereum as of December 31, 2018. A mainnet launched April 20, 2019 and is still in early development.
It was founded by Qi Zhou with a promise of reaching one million TPS (a claim our staff has very strong opinions on). Even without ever reaching such a target, the current testnet shows a lot of promise for the mainnet launch.
The project is often compared with Zilliqa, which uses a similar sharding technique. We'll discuss a little of their similarities, but we'll also do so in perspective of the hundreds of other sidechain and interoperability solutions created over the past two years, including the Lightning Network, MOAC, etc.
Before examining the technical and business prospects of QuarkChain, let's review the performance of QKC, QuarkChain's proprietary ERC-20 cryptocurrency token.
---
QKC Cryptocurrency Summary
The total supply of QuarkChain is 10,000,000,000 QKC. The peak price so far was $0.286953 on June 4, 2018. Throughout the testnet phase, QKC is an ERC-20 token on the Ethereum blockchain, and the token swap is scheduled for late 2019.
The QuarkChain testnet 2.0 tested several different mining algorithms to implement when the mainnet launches. Once functional for three months, a token swap should occur to exchange the ERC-20 token for a native cryptocurrency, presumably at a 1:1 exchange ratio.
The QuarkChain ICO ended on June 3, 2018, raising $20 million worth of ETH, which represents 20 percent of the total QKC supply. Of the remaining supply, 15 percent was retained by the Foundation, 15 percent was retained by the founding team, and the remaining 50 percent is allocated toward mining, marketing, and community rewards.
QKC is currently mined using a combination of Proof of Work (PoW) algorithms enabled by Boson sharding.
Ethash, Double SHA256, Qkchash, and Ethash with Guardian have all been bug-tested on the QuarkChain testnet. The team uses Boson consensus in the mainnet to ensure each works correctly for wide interoperability.
QuarkChain is traded on a variety of cryptocurrency exchange markets, including Binance, Bilaxy, Coineal, CoinBene, Bitrue, and Hotbit. Over $3 million worth of QKC is traded on a daily basis, and its trading pairs include BTC, ETH, XRP, and USDT.
As an ERC-20 token, QKC is supported by any ERC20-compatible wallet, including MyEtherWallet and Trezor hardware wallets.
---
Quarky Stuff on the Blockchain
We have two very good code reviews already done on QuarkChain if you want to know more detail about the nuts and bolts. They've followed their roadmap quite well (as have we), so I won't get too wonky on the technical stuff here.
What you do need to know is it's a dual-layer blockchain. The first layer tracks all the sharded blockchains, which means it's where all the sidechains are processed independently. This is the ledger layer. QuarkChain's second layer is the root chain, which confirms all the sharded chain transactions.
This setup enables both in-shard and cross-shard transactions on the Quarkchain network. It's hitting high (although nowhere near a million) 10,000 TPS speeds on both types of transactions, and it'll continue scaling as more miners are added to the network.
The platform is built to enable load capacity distribution between each layer (and among each shard) to ensure maximum efficiency. Load balancing multiple chains isn't easy to accomplish, but in some ways it doesn't look like QuarkChain is doing anything revolutionary. They're just willing to pull the trigger faster than Ethereum.
QuarkChain is compatible with the Ethereum Virtual Machine in both testnets, and this isn't likely to change in the mainnet release. And, like Ethereum, QuarkChain is ultimately a smart-contract platform hoping to spark development of decentralized applications (dApps).
Addressing the key concerns of blockchain (scalability, security, decentralization) isn't easy, but the developers have quite the pedigree. QuarkChain's China-based team has roots at tech giants like Facebook, Google, and Microsoft, as well as IEEE and several academic institutions.
QuarkChain's team sees the Lightning Network as a threat to cryptocurrency decentralization and envisions a world where many cryptos work in tangent with each other.
What QuarkChain is missing is an active dApp ecosystem and enterprise support. No major partners have been announced, and there aren't many completed projects on the platform. These weaknesses will make it hard to compete against bigger, more well-known projects.
---
QuarkChain Summary
QuarkChain is a dual-layer blockchain network that uses sharding to support cross-platform transactions. While many blockchains (including the Lightning Network) support this, the QuarkChain team believes multiple choices are essential to maintaining decentralization in cryptocurrency. The success of this project relies on these key ingredients.
QuarkChain has cross-shard processing rates over 10,000 TPS. This speed and scalability makes it an early mover in an industry moving toward interoperability.

QKC, the native cryptocurrency token of QuarkChain, is an ERC-20 token during testnet that's expected to convert to a proprietary cryptocurrency coin on the mainnet launch.

QuarkChain supports several mining algorithms already, and it boasts one of the fastest throughputs in blockchain.
With these pieces in place, QuarkChain is a blockchain project to watch in 2019. It lacks massive enterprise and development support, but it's still a solid project with strong technical chops and utility. It also hints that enterprise clients are using the platform, although we don't know who yet.