What Is Siacoin? Introduction to SC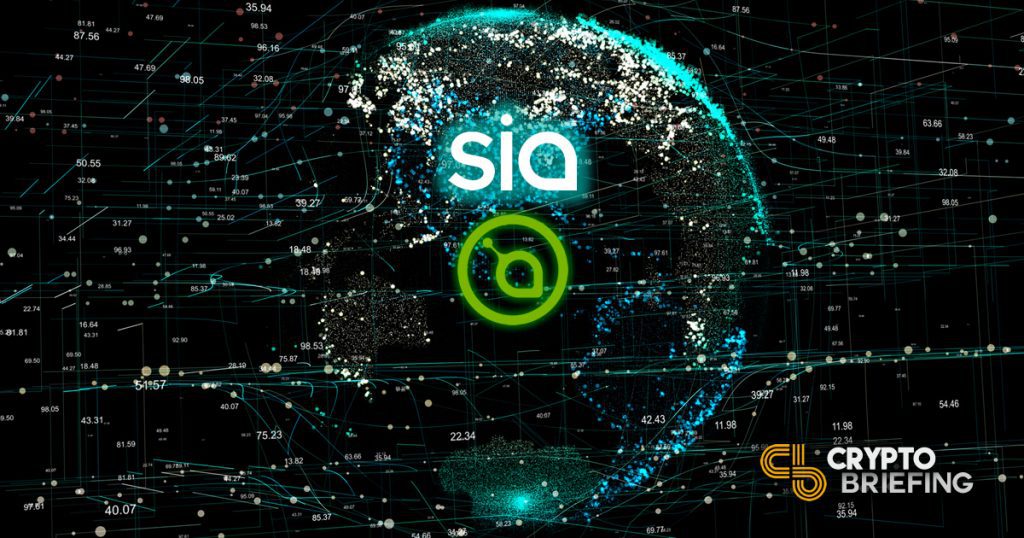 What is Siacoin?
Sia is a peer-to-peer distributed ledger that allows users to "rent" data center-levels of storage. It hopes to disrupt the online Cloud system with a more secure, blockchain-based alternative in the multi-billion dollar data storage industry. Siacoin (SC) is the proprietary cryptocurrency coin used by the Sia network.
---
Introduction to Siacoin
Sia was created by Nebulous Labs, which found a niche worth billions when it settled on storage space. Cloud storage is a big business, estimated at $178 billion as of late 2017. Amazon, Dropbox, Microsoft, and Google compete with other heavy hitters to convince users to store data on their cloud servers.
Despite general perception, cloud storage is just a buzzword for "give me your data," as the "cloud" is just storage space on someone else's server. A storage platform was just like any other, until now.
Sia looks to disrupt the cloud-storage industry with a truly decentralized data storage option. Instead of a centralized static server address, the Sia network offers decentralized blockchain storage, the exact technology discussed in "Silicon Valley."
The idea of separate computers and networks sharing data with each other isn't far-fetched. In fact, it's the entire basis of the modern Internet. So, has Sia invented Internet 4.0 by creating a peer-to-peer storage-as-a-service solution for the blockchain?
Before answering that question, let's review the Siacoin cryptocurrency and its history.
---
About the Siacoin
The peak price so far of Siacoin was $0.104318 on January 6, 2018. There is no max supply, and SC is mined using a Proof of Work-like mining algorithm called Proof of Storage (PoSt). Mining reward is expontentially decreased. In addition, a Proof of Burn (PoB) algorithm is implemented to control inflation.
Siacoin's wallet is the only way to store SC, and the currency is used to power transactions in the Sia ecosystem. Essentially host servers are providers and client servers are users. Users compensate hosts in Siacoin for hosting user data in a free-market crypto-economy.
While a strong technology, Sia is still struggling to pull the type of mass adoption numbers startup Dropbox did. Dropbox built a great product and great company, using referral bonuses to incentivize users to spread the word. It now generates around a billion dollars a year in revenue.
Meanwhile $2 million worth of Siacoin is traded every day, and investors wonder if the coin has any value unless the Sia network gains a billion users. If it does, the market cap will go through the roof, but it's a real mountain to climb between now and then.
SC is accepted on a variety of cryptocurrency exchanges, including Binance, LBank, Upbit, HitBTC, and Bittrex. Trading pairs include BTC, ETH, and USDT.
We can only speculate how strong the business is, but indicators show the product has a strong chance of survival, so long as its equipped to handle tomorrow's security problems.
---
The Internet of Crazy Things
According to Symantec's 2018 Internet Security Threat Report, cryptojacking (a stealth hijacking that turns your device into a swarming-crypto-miner) and botnets are the biggest modern cybersecurity threats.
Cisco Systems estimates over 50 billion smart devices will be connected to the Internet by 2020, compared to just under 8 billion people living on the planet right now. Botnets and cryptojackers exploit unsecured devices like security cameras, video game consoles, smart lights, and DVRs in addition to our computers and mobile devices.
While an individual device is limited in its power and capability, we've seen botnets like Srizbi, Reaper, and Mirai threaten to take the Internet to its knees. Even major storage providers like Amazon (and Dyn, who hosts the Internet's domain name system (DNS) infrastructure), have been crippled by these powerful cloud-computing options.
Sia isn't wrong in what it hopes to create, and the technology is solid. P2P file storage is a proven model, as seen with torrents, the Tor browser, and other models.
However, Sia may need to create a botnet of its own to force fast enough adoption of its storage platforms. And while its encryption is impressive, it's only a matter of time before a new botnet, this time powered by artificial intelligence, hits the scene with ways to exploit the Sia network.
If our lights and phones can be used against us, who's to say the Sia network is 100% impervious to manipulation, infection, etc.?
The bottom line is nothing connected to the Internet is ever 100% safe, but there are legal checks and balances in place to protect us alongside technical ones.
Sia's storage ecosystem is brilliant in design, but its as-yet unproven in execution on a mass adoption scale to compete with Amazon, Microsoft, Google Drive, and Dropbox. That's a tough crowd for any storage platform, and marketing is an essential part of the process if the Sia coin is set to make any kind of impact.
Don't buy Siacoin without doing your own research and make sure you follow the blockchain news, not just the cryptocurrency news. The decentralized network tech is the key to the cryptocurrency market for the Siacoin SC.
---
Sia's Roadmap to the Future
While Sia isn't being mass adopted yet, it's not exactly a ghost town. And it's not the only project Siatech is working on.
Siacoin founder David Vorick also runs Nebulous Labs, which, in turn, owns ASIC manufacturing company called Obelisk, a competitor to ASIC-mining giant Bitmain. When Monero pushed back against Bitmain's ASIC mining rigs, Siacoin welcomed the miners, so long as they didn't compromise the Sia network and values (i.e. Sia controls them).
Nebulous Labs, however, is the subject of a class action lawsuit from miners upset with its focus on proprietary mining rigs. The community split multiple times over divisive issues involving mining algorithms to create Hyperspace, Sia Classic, and Sia Prime.
Like many in the crypto industry, Sia is focused on decentralization, and mining rigs specially built for a blockchain's algorithms can quickly monopolize an entire cryptocurrency. Of course, Nebulous Labs created its own competitive forks by not decentralizing.
Sia's file contract system is like an Airbnb or Lyft of cloud storage, and the miners will only be processing these storage agreements between users and providers. Security measures are in place to ensure the provider has the service promised. Using proof of storage, proofs must be sent to the network within a certain timeframe before penalizing the provider.
The provider can't ever access the user's data without a key and simply acts as a storage facility. Free-market pricing in an eBay-like environment are sure to drive costs down from major providers like Amazon, which can charge up to $23 a month for 1TB of data storage, along with transfer fees for upload/download.
Sia's unique p2p storage model could disrupt the cloud industry just like the transportation industry was disrupted by ride-sharing platforms like Uber.
The major hurdle, however, is convincing people to adopt not only cloud storage, but blockchain technology.
Like the two older cats at the pound who must be adopted together, it's a tough sell to most… but there's always that person who falls in love with at first sight.
---
Siacoin Summary
Sia has a lot going for it, and it's not hard to see why investors and early adopters got excited. This blockchain-based cloud-storage solution is a trend in every industry. Sia is poised for success with a mix of these key ingredients:
The Sia network is a P2P cloud storage marketplace that uses blockchain technology to track smart contracts between users and providers.
Sia uses a proof of storage validation model, along with strong encryption to provide data security.
Siacoin is used to pay storage providers, and it can also be mined by contract processors.
Sia is best described as the blockchain-based lovechild of Airbnb and Dropbox and can only succeed if it pushes for quick mass adoption.
Should Sia succeed in its mission, it's going to make a lot of people very wealthy in the process. However, until it does, it's going to enjoy a healthy shelf life as an altcoin pair with Bitcoin and Ethereum. Before you buy Siacoin, do your own research and make sure the blockchain is as healthy as the coin itself.