What Is the Quoine Liquid Platform?  Introduction to QASH Token
Can Liquid improve crypto liquidity?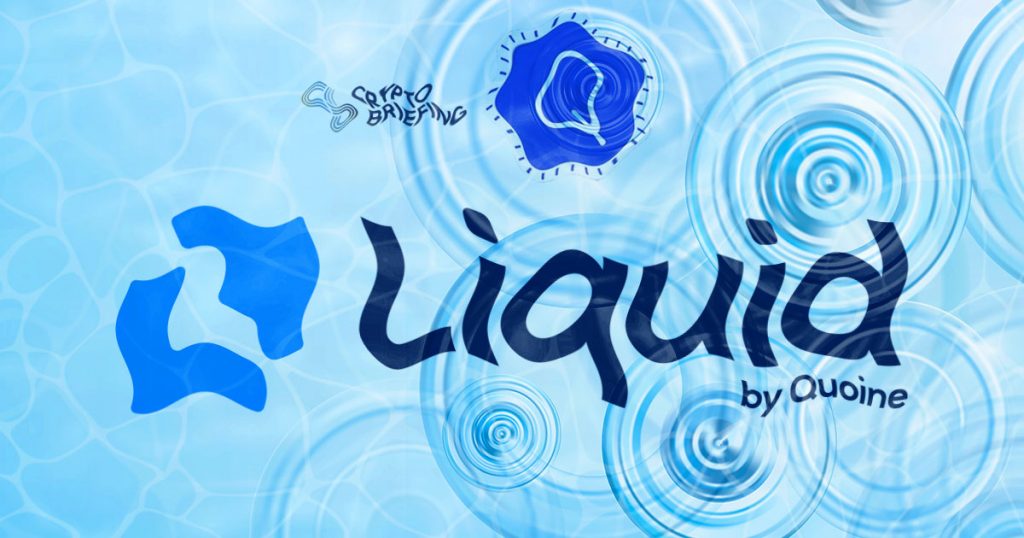 What Is Quoine?
Quoine (pronounced "coin") is a cryptocurrency fintech firm that created the Liquid platform. This Ethereum-based blockchain makes it easier to cash out cryptocurrency coins to fiat cash by compiling orders and prices from multiple exchanges into one world book. Qash (QASH) is the proprietary ERC-20 token used by Quoine's Liquid platform.
Cryptocurrency investment is still popular, with over $2.5 billion each worth of bitcoin and ether being traded on a daily basis at the end of 2018. But investing in crypto is easier said than done.
Downloading a wallet for a popular coin like Bitcoin or Litecoin often means spending weeks updating the digital ledger before you can even begin. We underestimate how much technical savvy is needed to manage crypto keys, much less the time it takes to buy or sell some cryptos.
You can't just bring crypto to a bank and exchange it into a fiat currency like USD. You have to sell it on an exchange, and that transaction requires a buyer. If nobody buys, you can sit on a crypto investment for days, even months, and if the project crumbles in that timeframe, you could be stuck holding a dead coin.
This is the exact problem Jordan Belfort exacerbated to become the Wolf of Wall Street (and a thorn in the side of crypto).
Quoine was founded in 2014 by CEO Mike Kayamori and CTO Mario Gomez Lozada to make it easier to cash out cryptos. It's the first cryptocurrency firm to be officially licensed by the Japan Financial Services Agency (FSA), and its platform also combines the Quoinex and Qryptos cryptocurrency exchanges.
We'll begin our look at Quoine's Liquid platform by researching Qash (pronounced "cash"), the native ERC-20 cryptocurrency token used by the Liquid platform.
---
QASH Cryptocurrency Summary
As of June 6, 2019, the circulating supply of Qash is 350,000,000 out of a total supply of 1,000,000,000 QASH. The peak price of Qash so far was $2.33 on January 14, 2018.
The Singapore-based Quoine ICO token crowdsale was held from November 6-8, 2017, raising $106,400,000 by selling 350,000,000 QASH. Of the remaining supply:
300,000,000 QASH was withheld for ecosystem and community rewards,

200,000,000 QASH was allocated to the Quoine team and shareholders, and

150,000,000 QASH was held by strategic partners and institutional investors.
Qash is used to pay for transactions and services on the Liquid platform. Quoine also gives discounts (5 percent trading discounts as of this writing) and promotions to hodlers. Purchasing QASH tokens requires a Liquid account, to which all Quoinex and Qryptos accounts were migrated. It isn't mineable.
QASH is accepted on a variety of cryptocurrency exchange markets, including Liquid itself, EXX, Hotbit, Huobi, Ethfinex, and Gate.io.
As an ERC-20 token, QASH can be stored in any ERC20-compatible cryptocurrency wallet, including MyEtherWallet and the Ledger and Trezor hardware wallets.
---
Qashing Out Your Qryptoqurrencies
We've thrown out a lot of information, but there are two basic functions Quoine is focusing on here. The Liquid platform acts as an exchange and lender, in order to make it easy to buy cryptocurrencies with fiat, exchange cryptos among each other, and cash out back to fiat seamlessly.
It does this through three main products: World Book, Prime Brokerage, and ICO Market.
Liquid World Book aggregates orders and prices from cryptocurrency exchanges around the world. This is done with an Internal Order Book and External Aggregate Order Book that create unique trading pairs not found on any other exchange. Think of it as doing for cryptocurrency exchanges what Indeed does for job postings.
When an exchange creates a trading pair, like BTC to ETH, it needs a liquidity silo of each coin to ensure trades can be initiated. Liquid removes these barriers on the foreign exchange market with a matching engine, smart order routing, and a currency conversion engine.
As new pairings emerge, Liquid's World Book updates the index to ensure the fastest exchanges into the most currencies possible.
Liquid Prime Brokerage makes all the functionality of the World Book accessible to users through reports, charts, and a GUI. The Prime Brokerage lets you initiate trades and extend lines of credit using your cryptocurrency balances. QASH tokens are used to pay fees, collateralize credit, and perform transactions on Quoinex and Qryptos, which have been rolled into the Liquid platform.
ICO Market is an ICO investment platform that lets users learn about upcoming cryptocurrency and blockchain projects. It works similar to the Prime Brokerage, but with a focus on projects in earlier stages of development. With a push toward more regulator-friendly STO's, this project is sure to evolve and rebrand over the next few years.
Liquid is currently part of the Ethereum blockchain, but it's expected to launch its own blockchain alpha release in 2019.
Quoine partnered with Bitfinex and Binance to provide better aggregated results, and it seems focused more on working with other exchanges than against them.
Just like Indeed coexisted for decades with sites like Monster, LinkedIn, and CareerBuilder, Liquid aims to strengthen the bond cryptocurrency exchanges have in 2019 and beyond.
---
Summary
Quoine created the Liquid platform to bring faster liquidity to cryptocurrency by aggregating trade orders and pricing from every source possible. This creates trading pairs not normally available and faster cashouts to fiat currencies. The success of Liquid depends on these key factors.
Liquid is an amalgam of the Quoinex and Qryptos cryptocurrency exchanges. It pools data into its World Book and uses a Prime Brokerage platform to provide user access.

Qash (QASH) is the native cryptocurrency used by the Liquid platform. QASH is currently an Ethereum-based ERC-20 token, but it's expected to convert to its own coin and blockchain in 2019.

Quoine is actively working on partnerships with other cryptocurrency exchanges like Binance and Bitfinex, along with data aggregators, to bring the most up-to-date information possible.
With these pieces in place, Quoine positioned Liquid as a formidable investment tool in the cryptocurrency and blockchain markets. So long as the software continues evolving and serving the needs of the crypto investment community (both personal and institutional), it may have a sustainable business model.