Why The Color Of Joe Lubin's T-Shirt Matters: ConsenSys Prediction Markets
Visitors to the Ethereal Summit will be given tokens for Helena Prediction Markets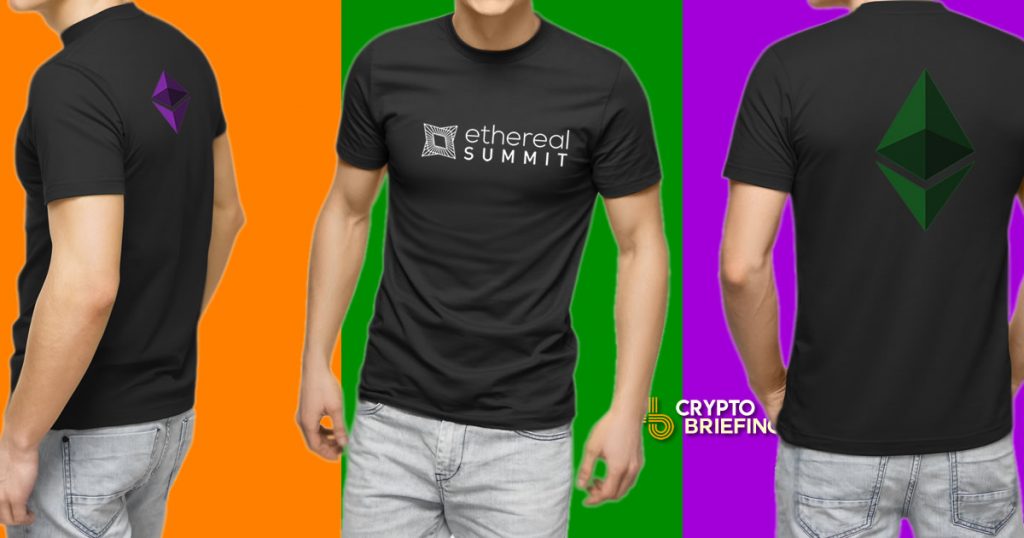 ConsenSys is doing its best to onboard new users, demonstrating innovative blockchain tech at this weekend's Ethereal Summit. In addition to the usual conference swag—including water bottles, stickers, and programs – attendees at the annual summit were given an unusual form of payment: a single-use wallet, containing voucher tokens to pay for food.
We've previously covered Austin Griffith's Burner Wallet, which was used as a convenient means of payment at this year's ETHDenver. Visitors were given wallets laden with xDai, a special stable coin created specifically for the conference, which could be used to pay food vendors at the conference.
The latest incarnation is a little different. In addition to a pair of meal tokens for lunch trucks, users are also given 1000 tokens of xP+, which cannot be exchanged for food…. But can be used to fund bets on the Helena Prediction Markets.
"Each Ether Card will have 1000 xP+ (Proton) tokens to participate in the Helena prediction markets," ConsenSys announced before the Summit. "After the Summit, markets will be resolved and users ranked based on performance."
Owners of the three top-performing wallets will be awarded 100 Dai.
There are presently ten markets for Conference-goers to bet on, ranging from the results of the NBA Playoffs to who's still going to be alive in the next Game of Thrones. Others will be resolved at Ethereal, such as a bet on what kind of T-shirt Joe Lubin will be wearing.
I'm trying to find the options for Razzmatazz or Gamboge… but maybe I'll just go with 'Ethereum green'.
Helena is a decentralized forecasting platform, based on the Gnosis protocol. Founded early last year in the ConsenSys Labs Venture Studio, the protocol recently launched on the Ethereum Mainnet.