World Digital Asset Summit to Debut in the United States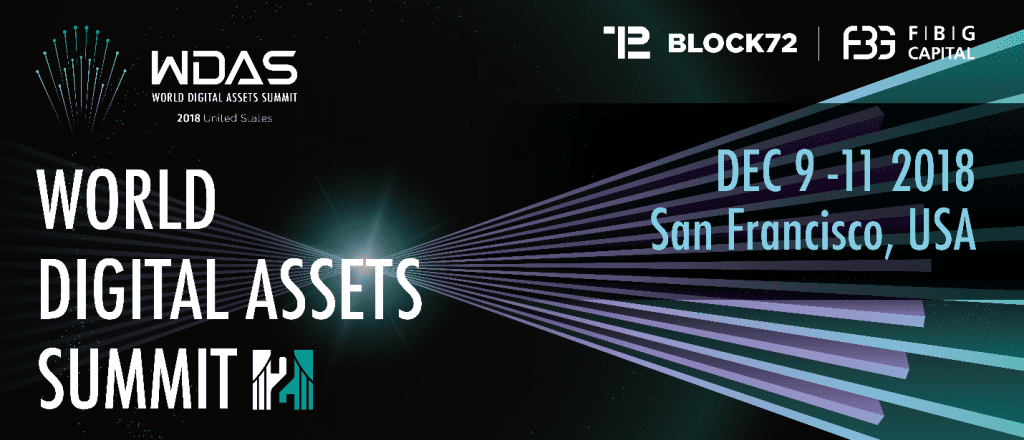 Block72 and FBG Capital have announced dates for World Digital Asset Summit 2 ("WDAS2"), an annual summit designed to showcase the most cutting-edge and forward-thinking trends, technology and projects within the blockchain space.
The three-day event will be held at the Hyatt Regency in San Francisco from December 9th to December 11th. It aims to explore the potential of the blockchain industry by bringing together investors, thought leaders, educators, legislators, and enthusiasts, as well as combine innovation with real-life applications.
WDAS2 will host a collective of the most progressive, innovative, and pioneering individuals—not only those from the blockchain industry, but the world overall. The list of key speakers includes prominent leaders within tech, venture capital, media, and other areas.
Olaf Carlson-Wee, Founder and CEO of Polychain Capital, Hao Wang, Vice President at Sequoia Capital, Balaji S. Srinivasan, CTO of Coinbase, Michael Arrington, Founder of TechCrunch and Partner at XRP Capital, Nathaniel Popper, New York Times Tech and Finance Reporter, and Dawn Song, CEO of Oasis Labs are amongst the 80+ notable speakers and presenters as part of the impressive WDAS2 lineup. The full list of speakers can be found on the WDAS2 website.
The summit will feature over 30 panels and keynotes on topics such as "Traditional VCs Branching out into Blockchain", "Asian Involvement in the Blockchain Market", and "Regional Regulations", among others. The event will also bring forward real-life applications relating to social improvement, gaming, and traditional enterprises, to name a few.
Additionally, in partnership with DoraHacks, one of the world's leading hackathon organizations, WDAS2 will host its own 200-person hackathon on December 11th to unite developers from around the globe to solve the most difficult and cutting-edge problems currently facing the blockchain industry.
WDAS2 will focus on every aspect of the blockchain ecosystem, from investments and development to real-life applications. The intention is to showcase the brightest minds, ideas, and products that will shift the trajectory of our society and revolutionize the way the world views the blockchain industry.
Organizers Block72, FBG Capital, and GBIC are proud and excited to unveil WDAS2 to the world, an event one year in the making.
For more information, follow on:
Website: https://wdas.world
Twitter: https://twitter.com/wdas2018
Medium: https://medium.com/@wdas2018