Yellen Acknowledges "Benefits From Crypto"
In an interview today, the Secretary of the Treasury said that crypto has benefits, but called for regulations as well.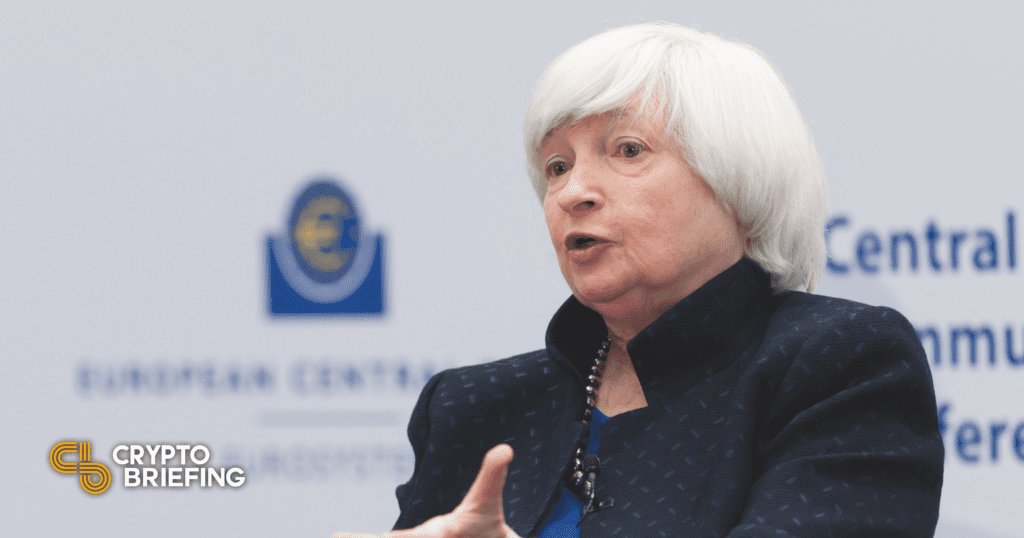 Key Takeaways
Treasury Secretary Janet Yellen made several positive statements about Bitcoin during a CNBC interview today.
She noted that more Americans are investing in cryptocurrency and admitted that the technology has benefits.
However, she also said that there are concerns around legitimate crypto use and called for regulations.
U.S. Secretary of the Treasury Janet Yellen made positive statements concerning cryptocurrencies today after a history of more critical remarks.
Yellen Says Crypto Is Growing Quickly
Treasury Secretary Janet Yellen may have softened her stance on cryptocurrency, if public remarks today are any indication.
During a CNBC interview on Mar. 25, Yellen admitted that "crypto has obviously grown by leaps and bounds." When asked whether she was less skeptical about cryptocurrency than she once was, Yellen admitted that there are "benefits from crypto." She also said that the Treasury "recognizes that innovation in the payments system can be a healthy thing."
She argued that, although she does not think that cryptocurrency's use in payments has significantly increased, cryptocurrency is now part of many Americans' investment strategies.
However, Yellen also said that she has "a little bit of skepticism" around the improper use of cryptocurrencies. She argued that there are still valid concerns and risks around financial stability, consumer and investor protection, and illicit transactions.
She said that the Treasury would like to produce recommendations that create a regulatory environment for crypto while also encouraging responsible development and innovation.
Yellen also mentioned that the Biden administration recently issued an executive order that tasks the Treasury and other agencies with working toward new crypto regulations.
Earlier Statements Were Critical
Yellen has historically been very critical of cryptocurrency. In January 2021, Yellen suggested that cryptocurrencies "are used at least in a transaction sense mainly for illicit finance."
In February 2021, she called Bitcoin an "extremely inefficient" way to carry out financial transactions, drawing attention to the amount of energy involved in Bitcoin mining. She also called it an "extremely volatile" and "highly speculative" investment.
Earlier, in 2018, Yellen said during a fintech forum that she was "not a fan" of Bitcoin for similar reasons.
Yellen's concerns around illicit finance seem to be at odds with other findings. Recent reports from the analytics firm Chainalysis suggest that each year between 2017 and 2021, just 0.15%-3.4% of crypto transactions involved illegal finance.
Yellen took on the role of Secretary of the Treasury in January 2021 following the election of President Joe Biden.
Disclosure: At the time of writing, the author of this piece owned BTC, ETH, and other cryptocurrencies.