Crypto.com Exchange: The Comprehensive Review
Crypto.com's new exchange offers low fees, staking, along with institutional-grade security and deep liquidity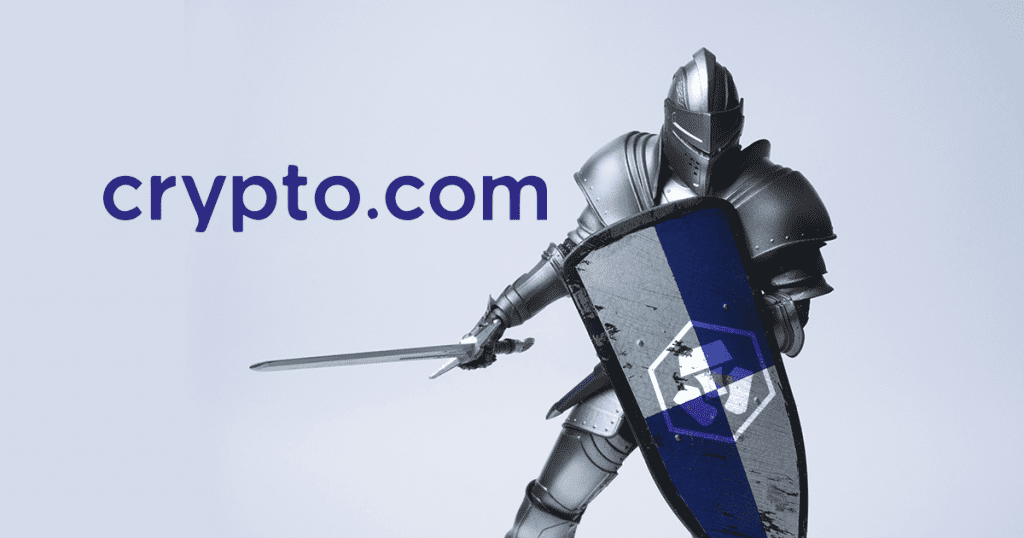 Key Takeaways
Crypto.com exchange brings trading features to the company's comprehensive range of digital finance options
Trade for lower fees and get other rewards when you stake the native CRO token
The platform also offers deep liquidity and high security compared to other options
Crypto.com is known for its popular crypto-powered MCO Visa debit card, recently expanding that offering to Europe. However, the company has also been reaching into new verticals, in the form of the latest Crypto.com Exchange.
For a company seeking to establish itself as a one-stop-shop for digital finance, a move into the exchange market seems like an obvious choice.
Nevertheless, the crypto exchange market is both crowded and highly competitive in 2020. Therefore, Crypto.com has introduced several features in an attempt to set its exchange apart.
Starting With Crypto.com Exchange
To start using the exchange, you'll need to create an account.
The Crypto.com Exchange is currently in Beta mode, so it isn't integrated into the suite of services available within the app. You'll need to access it via desktop.
If you're already an app user, you can enter your email address, which will prompt you to create a password to log into the exchange. If you're starting from scratch, then just use the sign-up button and follow the steps.
It's easy compared to many other exchange sign-up processes.
At sign-up, you'll need to undergo verification to access all the features of the exchange. The starter level verification requires that you provide basic information such as name, date of birth, and nationality. At this level, withdrawals are limited to $5,000 worth of crypto per day.
If you undergo the full KYC check by providing an ID and a selfie, the withdrawal limit increases to a maximum of 100 BTC or equivalent, per day.
There is no fiat onboarding available via the Crypto.com Exchange.
If you're starting with fiat, then you can onboard to crypto using the Crypto.com App. You'll need to deposit fiat using a credit card or bank transfer, and then transfer it to crypto. You can then deposit on the exchange from the app.
If you're not using the Crypto.com App, then you can also deposit on the exchange from any other external wallets.
New User and Staking Benefits
Crypto.com is trying to increase the adoption of its native CRO token, so it offers significant benefits to users who agree to stake the token. It's also offering bonuses to new users for signing up for and using the exchange.
As of June 2020, the available benefits are:
2% bonus on exchange deposits, paid in CRO, and automatically staked for 180 days.

0% trading fees for new users for the first 90 days.

Earn up to 20% interest APR on CRO tokens staked for more than 180 days.

Trading fee discount on a sliding scale for staking a minimum of 10,000 CRO tokens.

50% discount on coins listed in the bi-weekly Syndicate events, for those who stake a minimum of 10,000 CRO tokens. Syndicate is the exchange's new listing and fundraising platform, comparable to Binance's Launchpad.
Crypto.com also offers a "soft staking" program to users who keep their funds on the exchange. There is a minimum holding amount, and you can increase the staking rewards for all available coins by staking over 100,000 CRO tokens. Take USDT for example, the interest rate (APR) is 4% if you've staked 100,000 or more CRO instead of 2%.
Fee Structure
There are zero deposit fees. For withdrawals, there is a flat fee charged for the coin being withdrawn, and there's also a minimum withdrawal amount applied in all cases. For example, the minimum withdrawal for BTC is 0.003, and the fee is a flat 0.0004 BTC.
Trading fees start at 0.10% for maker orders and 0.16% for taker orders. These are already competitive compared to the market. Huobi trading fees, for instance, start at 0.20% for both maker and taker orders.
Users who stake CRO tokens are eligible for rebates on trading fees, up to a maximum of 100%. However, to benefit from zero-fee trading, you'll need to stake a cool 50 million CRO⁠—over $6 million at today's prices.
The minimum stake to qualify for the lowest rebate of 20% is 10,000 CRO. If you're trading large volumes, you can also benefit from lower fees. You can see the level of discounts for a 10,000 CRO stake below.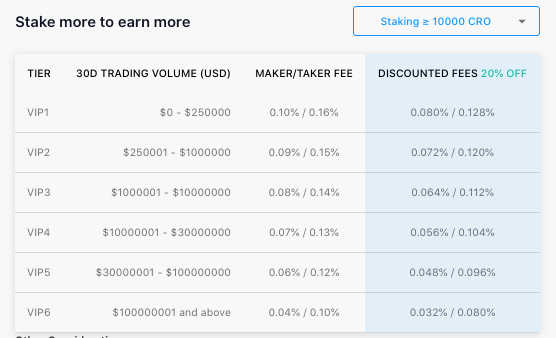 Trading Pairs and Liquidity
The Crypto.com exchange offers pairs for most major cryptocurrencies, paired with either BTC, USDT, or CRO. The snapshot below shows the available pairs with USDT.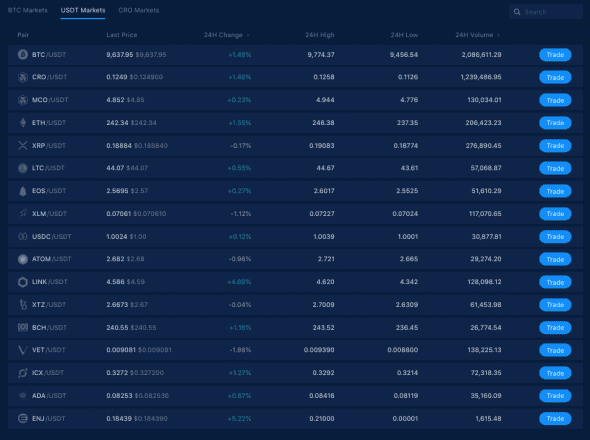 The company uses its proprietary Vortex Liquidity Engine to pool liquidity from various trading venues, which it claims offers some of the best prices on the market.
Security
Security is an area in which Crypto.com excels. The platform has obtained various certifications that attest to its ability to meet institutional-grade custody and security standards. It's the first crypto company in the world to achieve both the ISO27001:2013 and the PCI:DSS 3.2.1, Level 1 Compliance standards.
These cover information security and payment card security, respectively. The company also partners with Ledger Vault, which provides cold storage in the form of a hardware security module protecting both assets and private keys, with $360 million in insurance coverage for these deposits.
Customer Support
There is an FAQ section on the exchange that answers most general questions a user may have. For additional support, users have to leave the exchange interface and go to Crypto.com's main site. There is no phone support, which is perhaps a drawback for some people.
You can raise a request using the onsite chat feature. If you're a Crypto.com App user, then you can also do this within the app. The chat support feature states that replies usually take a few hours.
Summary
Crypto.com has launched an impressive range of services in its bid to become the only venue that a crypto enthusiast needs. By offering such a broad suite of services, it can ensure that users don't need to leave the platform.
This means that, if you go all-in with the company and buy into its MCO and CRO tokens, you can access some significant benefits and bonuses. The Crypto.com Exchange is fully aligned with this approach.
However, even if you don't want to buy and stake CRO tokens, the overall verdict is that the Crypto.com Exchange is a robust trading venue offering deep liquidity, exceptional security, and competitive trading fees.
Disclosure: Crypto.com is a sponsor of Crypto Briefing.