Crypto.com Is Bringing Bitcoin Mass Adoption to Europe, One Country at a Time
Since leaving Binance in 2019, Mariana Gospodinova has taken the lead as Crypto.com's General Manager of Europe. Via a combination of attractive products and localized efforts, she and her team are making it easier for the continent to use crypto.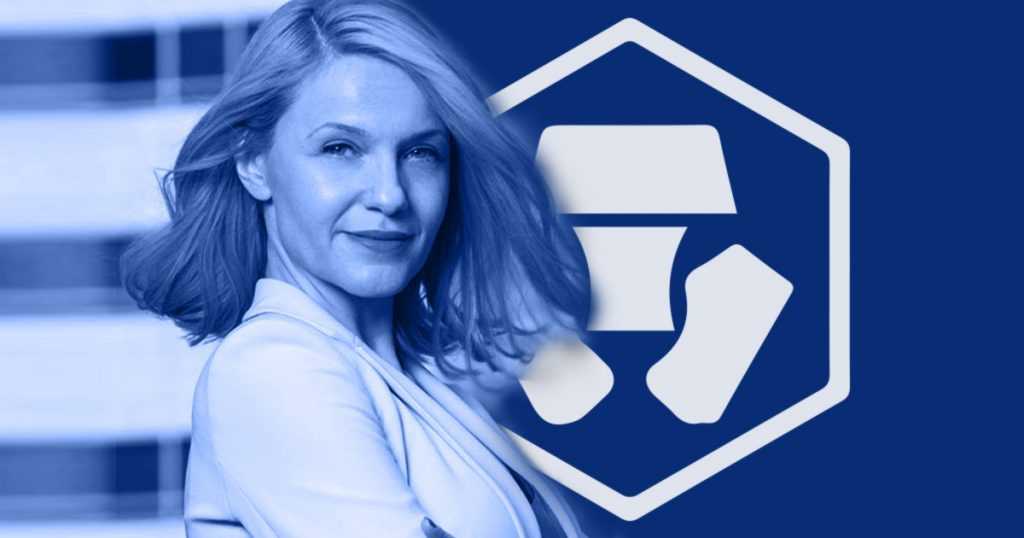 Key Takeaways
Crypto.com offers support to more than 30 European countries.
Adoption has been a coordinated effort of localized campaigns and enticing rewards.
Despite the patchwork of regulations on the continent, Gospodinova and her team are making it easier for Europeans to access cryptocurrencies.
Since joining Crypto.com in January, Mariana Gospodinova has had one objective: accelerate crypto adoption in Europe.
And in a few months' time, she has done just that. This is evidenced by the number of supported citizens throughout the EU that will soon be receiving their MCO Visa Cards, Crypto.com's flagship payments product.
Onboarding the world's second-largest economy has been a multi-tiered campaign.
Outside of enticing users with attractive returns and lucrative cashback opportunities, Gospodinova and her team have opened local channels to help users get their questions answered no matter the language.
Equipped with soft skills, experience in the traditional payments space, and an industry-leading suite of crypto products, Gospodinova told Crypto Briefing her plans for 2020 and beyond.
Interview with Mariana Gospodinova, Crypto.com's General Manager of Europe
[Crypto Briefing]: Since joining in January of this year, what have been the top objectives for Crypto.com in Europe?
[Mariana Gospodinova]: Since the beginning of the year, we worked hard to scale up a team of European community managers who helped us with the localization of our products and content.
Europe is the home of 44 countries and its inhabitants speak 24+ different languages.
While we have unofficially accepted English as our common language, we open-heartedly welcome diversity and believe in the utmost importance of engaging and supporting our local communities in their native language.
We have launched our official Telegram communities across the world, supporting more than 13 local languages. Any Crypto.com supporter or user may address their questions or concerns in these channels and get instant feedback and support.
Clearly, one of our top objectives remained the launch of our European MCO Visa card program – an event eagerly anticipated by all Crypto.com users on the continent. Despite the challenges, we managed to launch shipping of the UK cards last week.
Excited to see #MCOVisaCard arriving in the hands of UK 🇬🇧customers. Time to get the card working! Enjoy up to 10% back on Groceries and Food Delivery with newly added brands:

Aldi
Deliveroo
Dominos
Lidl
M&S
Pret
Sainsbury's
Tesco
UberEATS
Waitrose
Whole Foods Market
And more! pic.twitter.com/0NTr3vwcsc

— Crypto.com (@cryptocom) April 28, 2020
We will soon commence shipping across the rest of the 30 supported countries in Europe.
We continue adding new assets to the list of supported cryptocurrencies for purchase on the Crypto.com app and we keep enhancing the rest of the functionalities accessible in various European countries, such as our Credit and Earn products.
[CB]: What are the biggest challenges for a fiat and crypto payments platform when working in the EU?
[Mariana]: Europe has one huge advantage over the rest of the world when it comes to fiat options: SEPA or the Single Euro Payments Area.
SEPA transfers are low cost and are executed almost instantaneously in a number of supported jurisdictions. On a separate note, card payments also have a high adoption rate and European consumers are very familiar with the use of both SEPA and card payments.
While SEPA payments are only used for euro-denominated transactions, there are over 25 other local currencies in Europe, which require efforts to be integrated and supported on a local level. All this while ensuring cost and transfer time efficiency.
Europe is technologically advanced and offers a myriad of payment options.
But the biggest challenge we should take into account is the number of regulatory requirements that anyone providing fund transfers must adhere to.
This includes, but is not limited to, requirements under the new Payments Services Directive (PSD2), data privacy obligations as mandated by the General Data Protection Regulation (GDPR), and other laws and regulations that may come from the European Central Bank (ECB) and other authorities and/ or regulatory bodies.
[CB]: Compared to competitors like WireX, Cryptopay, Swipe, and Coinbase, what advantages does Crypto.com bring to European users?
[Mariana]: Crypto.com has no match when it comes to offering a high-quality product that works great both its app support functionality and the card itself.
The MCO Visa card addresses key aspects of personal finance, especially the economic factor.
Our cards are issued free of charge, no monthly commitments, no annual fees, free of charge ATM limits, up to 5% cashback, free Spotify, Netflix, and Amazon Prime subscription, free access to over 1,000 airport lounges, 10% rebate on Airbnb and Expedia bookings and access to our MCO Visa Private service for obsidian black cardholders.
The card comes in five different tiers tailored to the taste of different user categories. The card supports multiple fiat balances, and offers at cost interbank rates, crypto and fiat top-ups, and works anywhere Visa cards are accepted.
To support Europe's fight against the COVID19's outbreak we recently introduced a series of measures applicable to all MCO Visa cardholders securing up to 10% in rebates for purchases of food delivery and groceries made with their card.
[CB]: Of all the EU member states, where have you seen the most user interest?
[Mariana]: Our cards are very popular and on-demand in countries where cryptocurrencies are already established or are gaining popularity in recent years.
Naturally, the bigger and more advanced the country, the higher the number of people who sign up for the service.
[CB]: Where have users shown less interest in payment products like Crypto.com?
[Mariana]: A lesser interest in our cards is usually associated with external factors such as local restrictions over the use of cryptocurrencies, lack of support of the jurisdiction by the VISA Pan-European issuing capabilities, or lower overall penetration of card-based products in the country.
[CB]: What can you do to help "convert" these users?
[Mariana]: Providing local card issuing capabilities certainly remains on the top of our priority list.
As previously mentioned, localization efforts are key in our expansion plan across Europe and globally.
[CB]: Moving ahead, what are the larger objectives for Crypto.com in Europe for 2020? For the next five years?
[Mariana]: Europe is a highly regulated place and any customer-facing business operations require securing and maintenance of applicable licenses in multiple jurisdictions.
We are working relentlessly to support regulatory compliant operations across all regions and we will continue to do so as we believe that this is the basic premise for providing a secure and trustworthy product.
Ensuring regulatory compliance across all regions allows us to offer the full range of our services to European consumers.
Cybersecurity is at the forefront of running viable operations in our industry, thus the continuous strengthening of our security infrastructure takes a core place in our agenda.
As the cryptocurrency industry continues to evolve we are putting up best efforts to stay at the forefront in terms of security. We are ISO/IEC 27001:2013 and Cryptocurrency Security Standard (Level 3) certified across all platforms, and we are Level 1 PCI DSS compliant.
We continue our efforts in maintaining the above certifications and obtaining new ones where needed.
Adding more supported jurisdictions where MCO Visа cards can be issued, as well as supporting an array of local currencies through local payment methods is another key aspect of our European strategy, as well as providing more perks and discounts from popular local retailers across different countries.
We thank Ms. Gospodinova and the Crypto.com team for taking the time to answer these questions.
Disclosure: Crypto.com is a sponsor of Crypto Briefing.