What Is Crypto.com? Introduction to CRO and MCO Tokens
Crypto.com is a cryptocurrency company that began its life by offering VISA-powered payment cards in 2017. Since then, it has expanded its line of services in several new directions.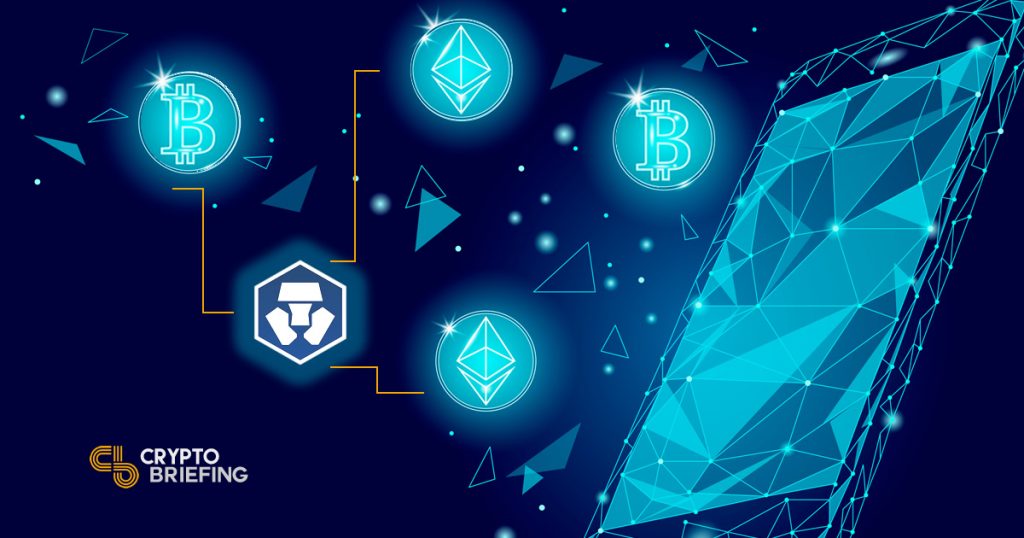 Key Takeaways
Crypto.com offers attractive VISA-backed rewards cards and an easy-to-use payment app.
Other competitive Crypto.com features include trading, lending, borrowing, and staking.
Investors have two tokens to choose from: MCO and CRO. Both of which provide various benefits.
Crypto.com is bringing cryptocurrency to the mainstream by making it easy for anyone to earn, trade, borrow, and pay in crypto.
Crypto.com is best known for its MCO Visa card, which offers a hard-to-beat 5% cashback paid in cryptocurrency. Beyond that, the company offers an expansive line-up of crypto-oriented services:
Payment cards: Users can choose from five tiers of VISA-backed reward cards.
Trading: Investors can buy and sell 50 coins on Crypto.com or trade 35 market pairs on Crypto.com Exchange, available through desktop.
Mobile app: Users can download a mobile app that is integrated with Crypto.com's card.
Credit lines: Users can borrow stablecoins at a 50% loan-to-value ratio.
Earning: Users can stake coins and earn 2-16% on the deposited value.
Payment processing: Merchants can accept crypto payments through Crypto.com.
MCO Token Summary
Crypto.com (formerly known as Monaco) has two tokens: MCO and Crypto.com Coin, or CRO. Both tokens rank highly on CoinMarketCap based on market capitalization.
The MCO token is based on Ethereum's ERC-20 standard. MCO is mainly aimed at Crypto.com's end users, who can earn higher rewards and lower rates by staking the token. MCO has been available since 2017, following Crypto.com's $26.7 million ICO.
Of the total supply, 30% was sold in a crowdsale, 25% was retained by the company's founders, 10% was held by the company, and 30% was held as reserve tokens.
CRO is Crypto.com's newest token. It is also based on the ERC-20 token standard. It is mainly intended as a means of payment and settlement on the company's native blockchain. There are several benefits for staking CRO on the Crypto.com Exchange, such as reduced trading fees. Like MCO, it is issued on Ethereum's ERC-20 token standard.
As ERC-20 tokens, MCO and CRO can be held in any ERC-20 compatible wallet, including hardware wallets Trezor and Ledger, and interfaces like MetaMask and MyEtherWallet.
Payment Card and App
Crypto.com's flagship product is its VISA-backed prepaid debit card. These cards are as legitimate as other prepaid cards, except they're a lot more crypto-friendly.
Cardholders can manage their balance through Crypto.com's mobile app, either by adding crypto or by making fiat deposits.
Additionally, cardholders receive MCO tokens with every purchase that they make. Those who hold and stake a greater amount of MCO receive higher rewards and greater access to partner benefits.
Crypto.com's five tiers of card are shown below: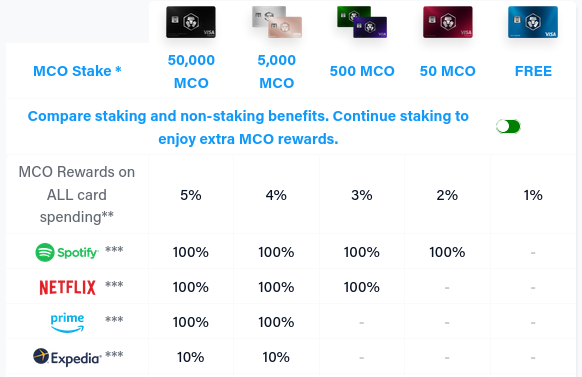 MCO Rewards, comparable to cashback on traditional credit cards, are highly competitive in an industry where 1% to 2% is the norm.
To access the premium card tiers, it's necessary to buy (or earn) the listed amount of MCO and "stake" it. While the card is usable immediately after it is unlocked, staked MCO is locked-up for six months. At the end of these six months, the staked MCO tokens are returned to the cardholder.
Keep in mind that this represents a considerable investment for higher tier cards. To gain access to the third card tier with 3% rewards, it's necessary to lock up $2,500 in MCO for six months. This is equivalent to about $100 in foregone interest if those same tokens were deposited in Crypto.com Earn.
But the attractive benefits of the card will make it worth it for many. Rebates for Netflix and Spotify subscriptions would quickly recoup that initial investment in lost interest.
Another benefit is that these cards do not have the fees typically associated with a prepaid card. There are no minimum balance requirements, annual fees, or international transaction fees. Nor are there fees for using ATMs or making withdrawals.
The card comes with other promotional benefits as well. For example, Crypto.com is offering 10% "cashback" on groceries and food delivery for tiers above the 50 MCO stake card, and 5% rewards for its free tier until the end of June.
The MCO Card is always topped-up and settled in fiat, not in cryptocurrency. That said, what Crypto.com offers is competitive crypto-cashback, a convenient on and off-ramp into cryptocurrency, as well as access to a variety of crypto-related financial services in an easy to use interface.
through its mobile app is a convenient on and off-ramp into fiat, as well as access to a variety of crypto-related financial services in a convenient interface.
Currently, these cards are available in Singapore, the United States, and the European Union. Customers outside of those regions can still use Crypto.com's other services.
Crypto.com Exchange
In November 2019, Crypto.com launched an on-site exchange.
The trading platform supports many major cryptocurrencies, including Bitcoin, Ethereum, XRP, Litecoin, EOS, Stellar Lumens, MCO and CRO, and several other tokens and stablecoins.
Crypto.com's exchange promises features such as deep liquidity, competitive trading fees, and institution-grade security, plus special rates for users who hold the CRO token.
Crypto.com also runs "The Syndicate." This fundraising platform allows CRO holders to buy select tokens at a discount, while Crypto.com donates the proceeds back to the relevant crypto project.
Credit and Loans
Crypto.com allows borrowers to take out loans or lines of credit by depositing various tokens, including Bitcoin, Ethereum, CRO, and MCO.
This service offers a 50% loan-to-value ratio. For example, if someone deposits $1,000 worth of Bitcoin, they can receive a $500 line of credit. They can also choose to receive their line of credit in four different stablecoins, including Tether and USDC.
Borrowers pay 8-12% interest annually based on how much MCO they have staked. It is not necessary to stake MCO to obtain a loan.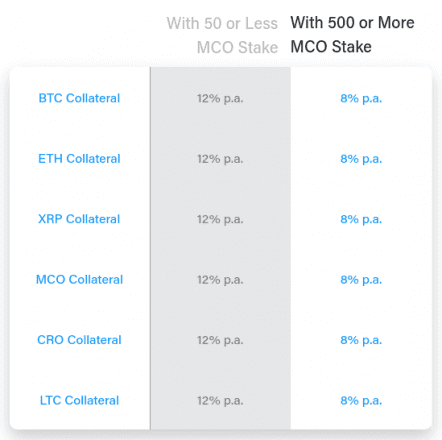 Crypto.com promises minimal restrictions: no credit check, no repayment deadlines, and instant credit. However, one's original deposit may be liquidated depending on market conditions.
Earning and Staking
Crypto.com's Earn feature allows users to invest over 20 different cryptocurrencies, including Bitcoin, Ethereum, Litecoin, and Tether.
Users can earn 2%-16% per year depending on which tokens they deposit, how many MCO tokens they stake, and the duration of the earning contract that they sign up for.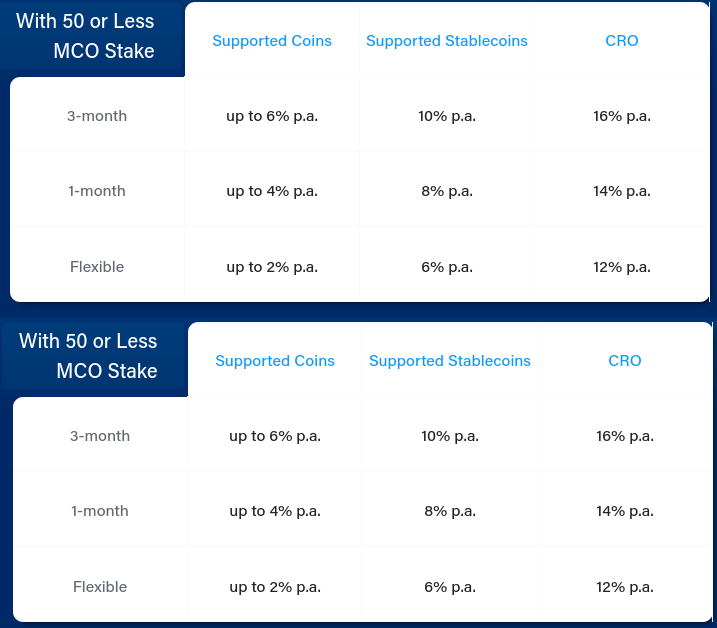 With an MCO stake, these rates are some of the industry's highest when compared to BlockFi, Celsius, and Nexo. Crypto.com separately offers staking rewards through its exchange. This feature pays out interest daily and reduces trading fees, but it is only compatible with the CRO token.
Cryptocurrency Payment Processing
Crypto.com Pay allows businesses and merchants to accept cryptocurrency payments in their online store.
The service offers merchants 0% processing fees on payments settled in crypto, or 0.5% fees for payments settled in fiat currency. This represents a roughly 80% discount on the 2-3% settlement fees that most payment processors offer.
Consumers can also use Crypto.com Pay to make purchases at select stores. For example, the hardware wallet company Ledger and some WooCommerce stores accept payments via Crypto.com.
Other Crypto.com Features
Crypto.com has a number of other features underway as well.
Major improvements on Crypto.com's roadmap include more types of crypto trading, such as margin trading, derivatives trading, OTC trading, and decentralized token swaps.
The company also plans to integrate Crypto.com Pay into more websites, add more features to its card, and introduce support for Latin America and other regions.
In the meantime, Crypto.com is running campaigns such as trading contests, quizzes, and other promotions to distribute free crypto to participants. In 2020, the company offered extra rewards on grocery purchases to provide relief from COVID-19.
Finally, Crypto.com plans to launch its own blockchain, which aims to provide fast transactions, enhanced privacy, and profitable roles for node operators. The blockchain is currently in its testnet phase.
Summary of Crypto.com's Features
Crypto.com has come a long way since its start in 2016. Those looking to try their app should consider the following:
Variety of services: Crypto.com mainly offers crypto rewards and payment tools, but it is rapidly expanding its product line to offer new features.
Freemium model: Users generally need to hold MCO or CRO to get the best deals and rates, but the site generally offers competitive free options as well.
Token model: Though there is some overlap between MCO and CRO tokens, each has distinct applications, so users should invest carefully.
Availability: Crypto.com features are not available universally, and users should check which services are available in their region before signing up.
Node operator roles: Though most users should use simple stake rewards, larger investors will soon be able to truly stake on the Crypto.com blockchain by running a node, earning interest that way.
Crypto.com is, overall, one of the most ambitious companies in blockchain given the scope of the services they offer. They also offer one of the most lucrative reward cards, not just in crypto, but among all credit and debit cards.
Given these features, those looking for a single place to earn, borrow, and spend cryptocurrency should consider what Crypto.com has to offer.
Disclosure: Crypto.com is a sponsor of Crypto Briefing.