Crypto.com Announces Crypto Exchange Launch: Interview with CEO Kris Marszalek
Crypto.com announces the launch of its cryptocurrency exchange.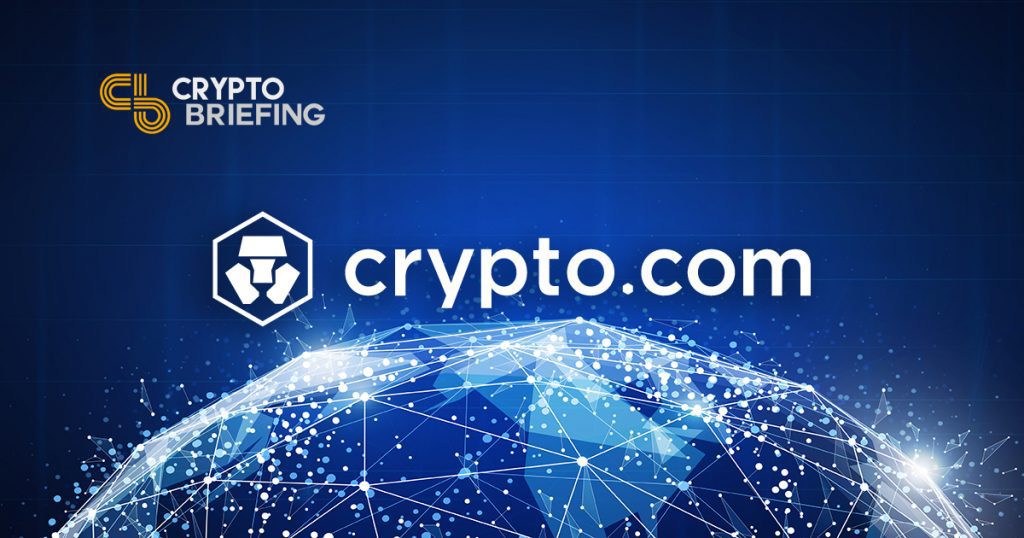 Crypto Briefing's CEO, Han Kao sits down with Crypto.com's CEO Kris Marszalek to discuss the future of money and the role blockchain will play.
"Work on the stuff that matters. If you work on the stuff that matters, people will join you, and people will fund you." – Kris Marszalek
This week at The Capital by CoinMarketCap conference in Singapore, the CEO and founder of Crypto.com sat down for an exclusive interview with Crypto Briefing. The discussion centered around the inner-workings of Crypto.com and the future of how financial transactions are moving forward with blockchain technology.
Additionally, Crypto.com announced in a press release the launch of its cryptocurrency exchange. Boasting over a million users, the platform may become a competitive exchange.
The Crypto.com exchange would initially support BTC, ETH, XRP, LTC, EOS, XLM, USDT, CRO, and MCO across three base currencies: BTC, CRO, and USDT.
The Crypto.com Coin (CRO) will power the exchange with extra utility, similar to other exchange coins like Binance Coin and Huobi Token. CRO would provide discounts on trading fees, offer priority token allocation, and incorporate CRO trading pairs.
Interview Highlights
Han Kao: "Can you share some insights that you might have gained on the demographic of your users?"
Kris Marszalek: "So it's a global offering, so right now we are shipping the card product in Singapore and out of Singapore to all Asia-Pacific markets and 49 states in the US… and we recently announced a green light for Europe…. So the whole user base… we have roughly a little over a million users on the platform… is split probably 30% US, if you add all of Europe maybe 25%, and the rest is the rest of the world, Asia being a big chunk. And, the entire crypto space is heavily skewed towards, you know, 25-35 year old males."
Han Kao: "What is crypto.com's primary revenue source? Can you tell us a little more about how you guys make money?"
Kris Marzalek: "Sure… there's more than 50 coins on the app, you can buy it with fiat, you can trade between them, and you can withdraw your fiat so it's a fully functional, custodial wallet. So, of course when you trade there's always some sort of spread — we don't charge any fees — there is a spread, so we [charge] 0.08% or 0.25%, depending on the coin that we earn in this spread, right? It's very competitive compared to anybody out there. Also we've got an interest-earning product and an instant loan backed by a crypto product so… we can earn interest revenue when we lend to our users."
Han Kao: "What are your plans for increasing user adoption on the platform?"
Kris Marszalek: "So first of all you need to start with solving real customers' problems, right? And giving them a value prop is kind of a no-brainer and they see… the benefits of switching over from, say, a regular bank. So our cards have up to five percent cash back on all transactions. If you use our interest products you get… six, eight percent, sometimes twelve percent interest rate on the coins that you deposit. So those are very powerful economic incentives. And… how you acquire users is predominantly through word of mouth, so new people coming to the platform see that the user experience is good."
Han Kao: "So it's like [having] a bank in my phone right?"
Kris Marszalek: "It's a fully functional product. If you look at the entire crypto landscape, there's nothing like it out there. Our vision is to build an entire ecosystem. If you are crypto-curious or are a crypto-pro you [can] get anything and everything that you want, whether it's in the payment space, or finance, or even trading — we will have everything."
Han Kao: "How do you address some of the really complicated money trans vending laws in the US? How do you allow us to be able to use this?"
Kris Marszalek: "We are in the process of applying for licenses in all the states. But in the meantime, you just need a partner. So we partner with banks and trust companies to operate in a way that we are exempted from it — just piggy-backing off existing infrastructure. But long-term you need to obtain your own licenses. So for us 2020 is to a large extent about getting multiple licenses all over the world."
Han Kao: "What is the perfect scenario over the next twelve months?"
Kris: Marszalek: "Here's what I believe… in the next bull run, which, given the cyclical nature of this industry is going to come, the players who are going to thrive are the ecosystem players who have basically everything and do a great job for their customers. It seems like an easy thing to say, but actually building this stuff is very complex — especially if you are trying to bridge the gap from the old world of the fiat to crypto."
Han Kao: "What advice would you give to somebody looking to start a crypto company right now?"
Kris Marszalek: "It's actually getting harder and harder [because] the barriers to entry… are getting higher and higher. It's probably easier than ever to create a coin. But creating a coin that people care about has never been more difficult. So my advice is to go back to the why? Why are we here? What are we actually trying to accomplish in this industry? Which is again this question of your basic human rights — to control your money, data, and identity."