What Is EOS? An Introduction to the EOS Blockchain
The EOS blockchain is an Ethereum competitor that has developed its own identity.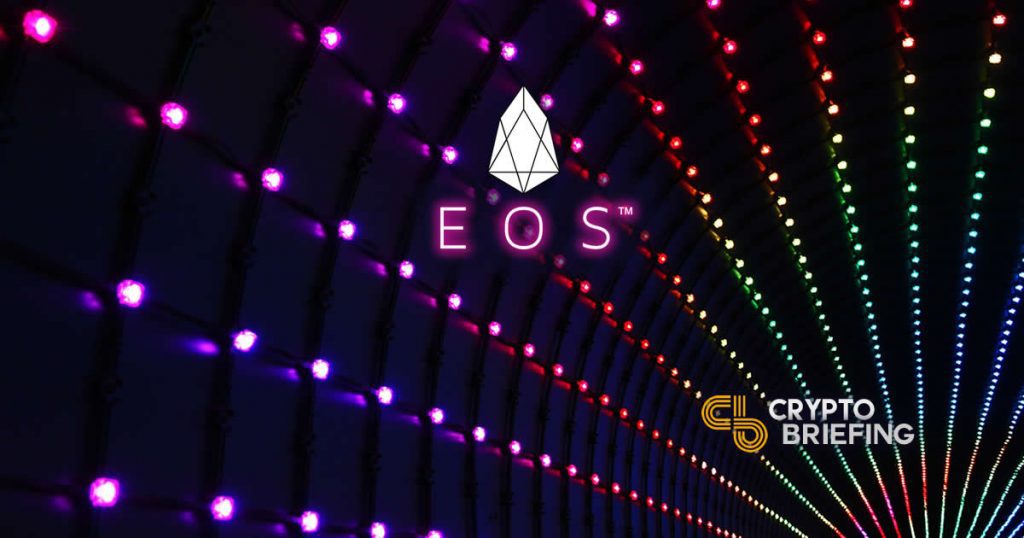 Key Takeaways
EOS is a blockchain designed to compete with Ethereum.
It offers free transactions, unique governance, and high transaction throughput.
EOS popularized the delegated proof-of-stake governance model.
EOS is a blockchain designed to compete with Ethereum. Like Ethereum, it supports smart contracts and DApps, while also providing high transaction throughput, free transactions, and improved performance.
Beyond those goals, EOS has taken on a life of its own: it is now best known for popularizing delegated proof-of-stake, which adds an element of democracy to the blockchain.
Token Summary
EOS raised $4 billion during its 2017 ICO. When the blockchain went live in June 2018, it became the fifth largest token on the crypto market, boasting a market cap of $13 billion. Today, EOS has a roughly $2.5 billion market capitalization, putting it in the top 10 on CoinMarketCap.
The EOS cryptocurrency is listed on several major exchanges, including Binance, Bitfinex, Bithumb, Bittrex, Coinbase Pro, Gate.io, HitBTC, Huobi, Kraken, KuCoin, OKEx, Poloniex, and Switcheo.
Token Use Cases
There are a few different applications for the EOS token:
DApp developers can use the token to reserve transaction resources
Block producers can earn the token from inflation
EOS holders can stake their coins and elect block producers
Coinholders can earn rewards by staking on EOS REX
Users can spend the token in DApps and on other websites
Delegated Proof-of-Stake
EOS relies on delegated proof-of-stake (DPoS) consensus. Coinholders continuously elect 21 block producers, who process transactions and make governance decisions.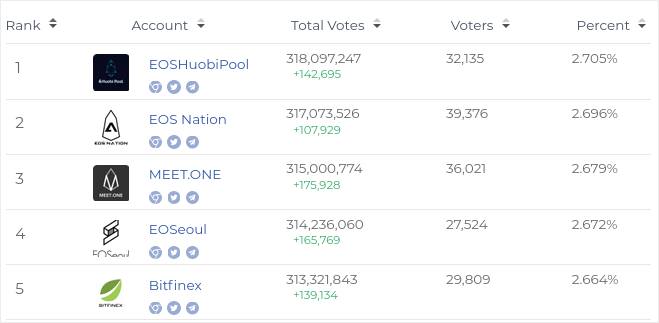 Typically, individuals do not run block producer nodes. Block producers are usually companies that are capable of providing substantial computer resources and consistent uptime.
Reliable block producers earn rewards. Block producers that fail to provide a minimum level of service are generally voted out of the top 21 "active" rankings and fall into a list of candidates for the top 21.
Accusations of Centralization
Though EOS's DPoS model allows coinholders to have a say in the blockchain's governance, it has been criticized on several fronts.
One issue is that block producers can vote alongside regular users, which has led to accusations of vote collusion and vote-buying among block producers. Furthermore, block producers can create "sock puppets" and fill more than one position in the block producers list.
Reforms and alternative vote weighting systems such as "one token, one vote" have been suggested as a solution to corruption.
The fact that the system puts power into the hands of just a few block producers is another issue. Recent referendums have proposed increasing the number of active block producers from 21 to 43, which could distribute power more widely.
Referendums and Voting
In addition to electing block producers, EOS allows users to vote on matters through a referendum system directly.
Through this system, voters have persuaded block producers to revise the EOS constitution and abolish an unpopular dispute resolution group, called ECAF.
In other referendums, users have voted to burn funds in the EOS savings account to counteract inflation. At least $200 million has been burned in two separate events. Another proposal, the Worker Proposal System, could allow users to vote on developer funding decisions is also under consideration.
Zero-Fee Transactions
EOS does not charge transaction fees to end-users.
Instead, DApp developers must stake EOS to reserve resources such as RAM, CPU, and NET. Then, they can use those resources to reserve bandwidth for their DApp transactions.
In theory, these limitations should prevent "spam" transactions from overloading the blockchain, but in reality, issues still arise.
In 2019, an airdrop called EIDOS began to congest the network. Though EIDOS has not overburdened the blockchain in terms of the number of transactions it can handle, it exploits EOS's economic model in a way that makes CPU very expensive for developers.
EOS block producers and developers have not settled on a solution, but most of the platform's DApp developers have chosen to stay on the platform because the situation appears manageable.
DApps Built on EOS
EOS features a vibrant network of notable apps and services, such as:
Scatter, which provides an EOS wallet and developer tools
Everipedia, a Wikipedia-like site that uses EOS as its token reward
EOS Dynasty, an RPG/PvP game that allows users to earn rewards through battles, trading, collecting, and more
Newdex, a decentralized cryptocurrency exchange
Upland, a Monopoly-like property trading game
EOS Dice and several other gambling apps
pEOS, a tool for private EOS transactions
On May 10, 2020, EOS DApps had 22,000 daily active users, $27 million worth of transacted value, and 1.7 million transactions, according to DAppReview. (Though, a large part of that activity may be due to the EIDOS airdrop.)
Block.one and Related Projects
Block.one is the company behind EOS. Block.one is led by Brendan Blumer (CEO) and Dan Larimer (CTO), who also act as figureheads for the blockchain.
Larimer is arguably the reason for much of the cryptocurrency's success. Before EOS and Block.one, Dan Larimer created Bitshares and Steemit, two other popular blockchain platforms.
Block.one's role is continually expanding; in 2020, it acquired one of EOS's largest block producers. Since then, it has also announced its own plans to serve as a block producer.
It has additionally announced a social media project called Voice, which has been widely criticized for its potential privacy shortcomings.
Block.one is also responsible for EOSIO, the underlying software that comprises EOS. Independent developers have used this software to launch their own "sister" chains, such as WAX, Telos, and Worbli. Finally, Block.one runs a venture capital arm, which has funded hackathons, grant programs, and other projects.
EOS in Review
EOS is a popular blockchain with unique benefits:
High transaction throughput
Free transactions for end-users
Governance based on user votes
A robust DApp ecosystem
However, the blockchain has a few obstacles:
DApp developers must pay for transaction bandwidth
Power is centralized to some extent
Block producer corruption is still a concern
Spam transactions are an ongoing issue
It's hard to say whether EOS will ever replace Ethereum. Both blockchains have vastly different communities and are used for different kinds of applications. But, with its own set of benefits and a strong community, it seems like EOS is here to stay.