EOS Worker Proposal System Will Fund Ecosystem Development
EOS may turn to a DAO-like model to fund ecosystem development, but Block.one CEO Brendan Blumer has expressed concerns.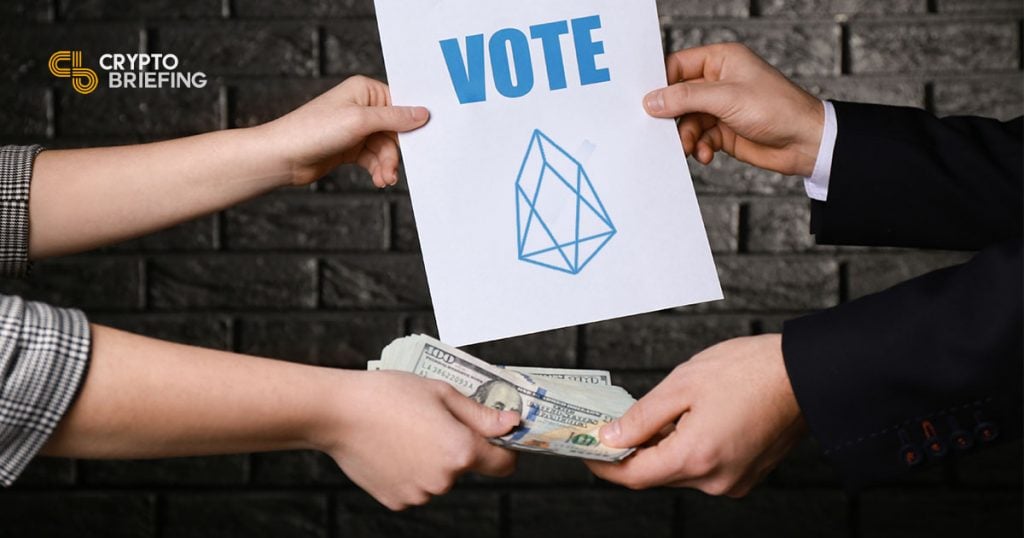 Two block producers have revealed the details of EOS's Worker Proposal System, which will allocate funding to developers and creators that wish to build on the EOS blockchain.
EOS Nation and Attic Labs revealed the specs for WPS in a Mar. 9 YouTube video, which was released alongside a new website that demonstrates a testnet version of WPS.
EOS WPS In a Nutshell
WPS allows any EOS coinholder to propose and vote on funding proposals. Once a 30-day voting period concludes, funds will be paid out based on rules coded in a smart contract.
Funding for winning proposals will be drawn from EOSIO accounts that originally gathered revenue from account name auctions and RAM fees. Right now, 50,000 EOS ($100,000) has been set aside for WPS, but the balance may be topped up with another 25,000 EOS in the future.
To prevent spam, users who wish to request funds for their own projects or another project will need to pay a 100 EOS fee. Proposals will also need to pass certain voting and budget thresholds.
WPS will act as a supplement to current funding sources, such as VC backing and in-app revenue.
Two Years In the Making
WPS has gained plenty of support since it was first outlined in EOS's original whitepaper.
Previously, it was mainly held back by the fact that EOS needed to burn tokens in a "savings" account and slash inflation rates from 5% to 1% before launching WPS. Those changes were necessary to prevent future WPS users and block producers from abusing a constantly-growing reserve of funds.
The EOS community performed the required EOS burns in May 2019 and February 2020, destroying $300 million worth of EOS in the process. They also agreed to reduce inflation during the second burn.
This means that WPS is finally viable, and as such, it seems likely that it will go live on the EOS mainnet.
Block.one Leader Is Concerned
Brendan Blumer, the founder and CEO of EOS parent company Block.one, has criticized the plan.
While I greatly appreciate and applaud the work and thought that @EOS_Nation and @atticlab_it put into ways of potentially advancing the #EOS ecosystem, I am personally concerned of the effects the recently proposed EOS Worker Proposal System may have on the network.

— Brendan Blumer (@BrendanBlumer) March 15, 2020
He argues that allowing block producers to control funds without guaranteeing that they will provide a return on value is "risky" and could lead to corruption. He adds that WPS could alienate the blockchain community and make EOS's success overly dependent on the new funding system.
However, Blumer admits that he "appreciates and applauds the work" that was put into WPS, and says that he will support whichever outcome the community settles on.
A Tried and True Method?
Despite the possible downsides, WPS-like systems are fairly common among blockchain projects.
Developers note that WPS is closely modeled after Dash's Budget Proposal System, which has supported the development of Dash's ecosystem for several years.
More broadly, WPS can be considered a Decentralized Autonomous Organization (DAO) in that it relies on coinholder voting and enforces decisions through smart contract code. Other projects that have recently adopted DAOs for ecosystem funding include Augur, Metacartel, and Synthetix.
Though WPS's model appears to be a tried-and-true approach to community funding, block producers still need to agree to launch WPS on the EOS mainnet—and that is not yet guaranteed.