Coinbase Claims EOS Is Experiencing "Degraded Performance"
Some exchange transactions will face delays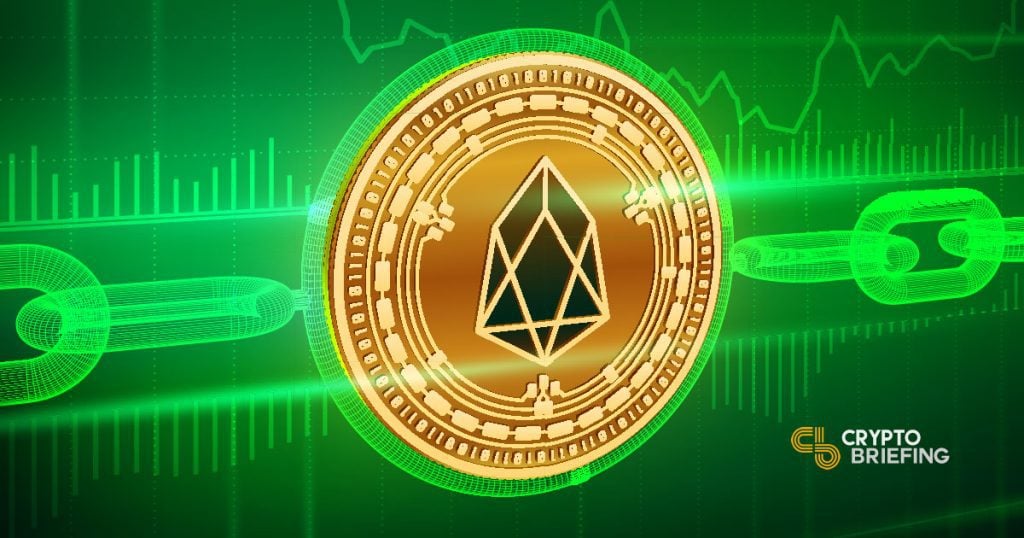 Coinbase has published a status update which suggests that the EOS blockchain has been suffering from "degraded performance" and a "major outage" for the past four days.
These problems have affected Coinbase's services in certain ways, according to the company itself:
The EOS network is currently experiencing degraded performance levels. EOS sends have been temporarily disabled and receives may be delayed. Buys and sells of EOS within Coinbase are functioning normally. We'll keep you posted as service returns to normal. https://t.co/p91KykCnsE

— Coinbase Support (@CoinbaseSupport) February 21, 2020
This is not the first time that Coinbase has observed problems. On Feb. 14 and 17, Coinbase reported similar outages, noting that it is working through a backlog of outgoing EOS transactions.
Is EOS Really Causing Problems?
Outside of Coinbase's issues, EOS appears to be operating as normal.
EOS Nation, which is currently one of EOS's top three block producers, has observed a few temporary issues on the blockchain. It admits that EOS experienced a number of microforks and missed blocks on Feb. 20, but it claims that the EOS mainnet is nevertheless "extremely reliable."
EOS New York, another major EOS block producer, claims that the network is fully functional and that Coinbase itself is entirely at fault. It responded to Coinbase's claims on Reddit today:
"Untrue. The network is operating fine and Coinbase is shifting blame away from their internal infrastructure problems. No other entity is reporting issues. None of our monitoring shows any issues. They could reach out to any of two dozen knowledgeable block producers for free help but instead they do this. Exactly what are the problems they see? They provide absolutely no details."
Coinbase has not publicly responded to either block producer's offers of assistance.
EIDOS Airdrop Continues
EOS may technically be operational, but the platform is still experiencing congestion caused by an ongoing airdrop called EIDOS, explained in full by Coinbase here.
The motivations behind EIDOS are unclear, but some believe that it is being run to make a point about EOS's shortcomings.
EIDOS's incentive model encourages individuals to make many transactions for financial gain, and it is currently responsible for over 45 million EOS transactions per day.
The resulting congestion means that EOS dApp developers must pay higher prices for transaction bandwidth. EIDOS began to drive up CPU prices last November, and those prices are still as high as they were then. Note that, on the chart below, lower values represent higher prices: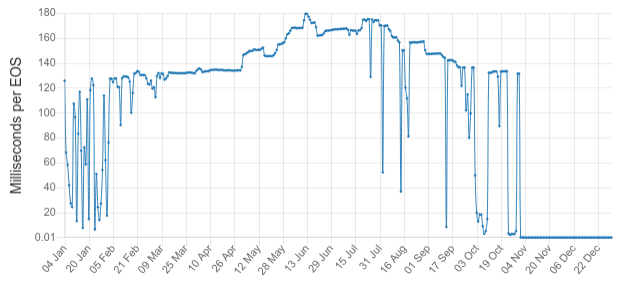 Though it is possible that Coinbase's investigations will reveal another issue entirely, it seems likely that Coinbase's current issues are related to EIDOS given its concerns in the past.
Coinbase's EOS problems should also be distinguished from IOTA's recent issues, which caused the IOTA network to shut down entirely—without directly impacting IOTA trading on exchanges.
Update: Block.one has announced that it is working with Coinbase to resolve the issue as of Feb. 29