A Shitcoin Index: The Most Overhyped Underperformers In Crypto?
Some tokens just need a lot more luvvin'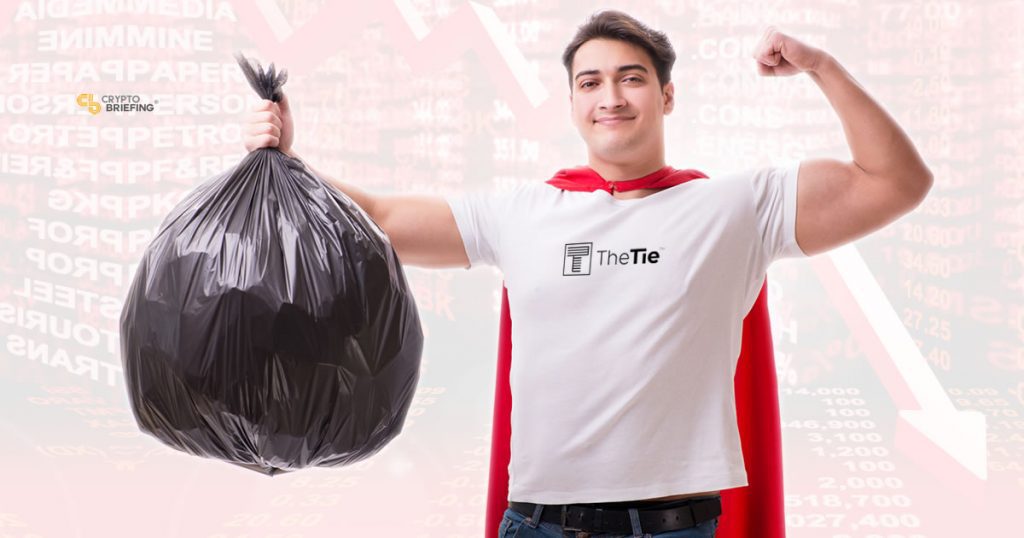 Warren Davidson and Meltem Demirors may have brought shitcoins to the attention of the United States Congress, but crypto insiders have long used the term to describe projects that are heavy on hype – and light on substance.
While some blockchain projects combine exemplary marketing with top-notch tech, such as [insert your favorite coin here], projects such as [insert your least-favorite coin here] are essentially hype machines that capitalized on investor excitement to enrich their founders, without delivering anything of value to their token holders. And just like [current flavor of the month with the SEC] they'll eventually dissipate into oblivion.
But how can we tell the viable from the unreliable?
Joshua Frank of TheTIE, a crypto analytics firm, examined the data to create what we at Crypto Briefing are dubbing The Shitcoin Index (a term he would never use, because he's a professional).
After all, he reasoned, "Just like trading volume manipulation, many of these coins are similarly being manipulated on Twitter by hoards of bot accounts, fake followers, and manipulated engagement."
---
The Shitcoin Index
While Frank acknowledges that there are plenty of deserving projects that receive more attention from Crypto Twitter than their trading volume suggests, there are also outliers that gave him the idea to see if there was any correlation between tweet volume and trading volume.
"We created a metric called Hype-to-Activity Ratio, which measures the # of tweets each crypto has per $1M in trading volume. Across the 450 cryptos we investigated, there were an average of 1.02 tweets per $1M in volume. We used 30-day averages for tweet and trading volumes," explained Frank, who examined coins with a minimum of 50 tweets per day.
"Some cryptocurrencies had astronomical tweet volumes vs. trading activity. TokenPay, Electroneum, and Dragonchain all had more than 500 times more tweets per $1M in trading volume than the average crypto. Telcoin and DigiByte were similarly overhyped."
But it wasn't just tokens that have been almost universally-panned by the crypto community that showed a disconnect. For example, although most of the large-cap coins showed a fairly average correlation between the two volumes, XRP was a (shocking) outlier.
"If we include the hashtags #XRPCommunity, #XRPTheStandard, and #XRPArmy, the hype to activity ratio of XRP spikes to 6.66. >33% of all XRP tweets use those hashtags and XRP accounts for 6x more tweets/trading than the average coin," said Frank.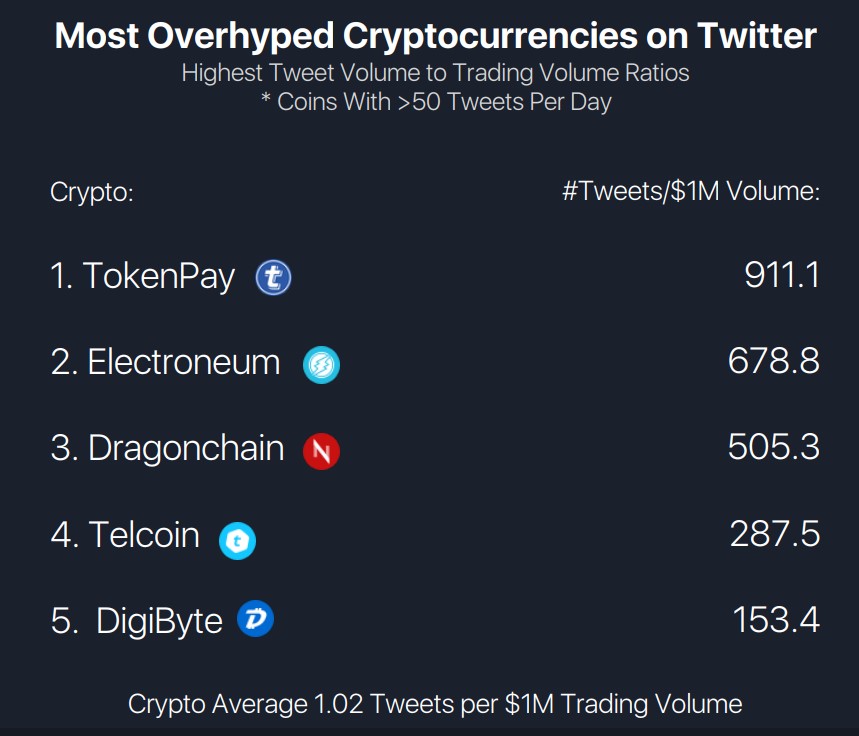 The least-hyped coin on Twitter turned out to be long-suffering Tether, which was outshone by a factor of 33 million percent by TokenPay.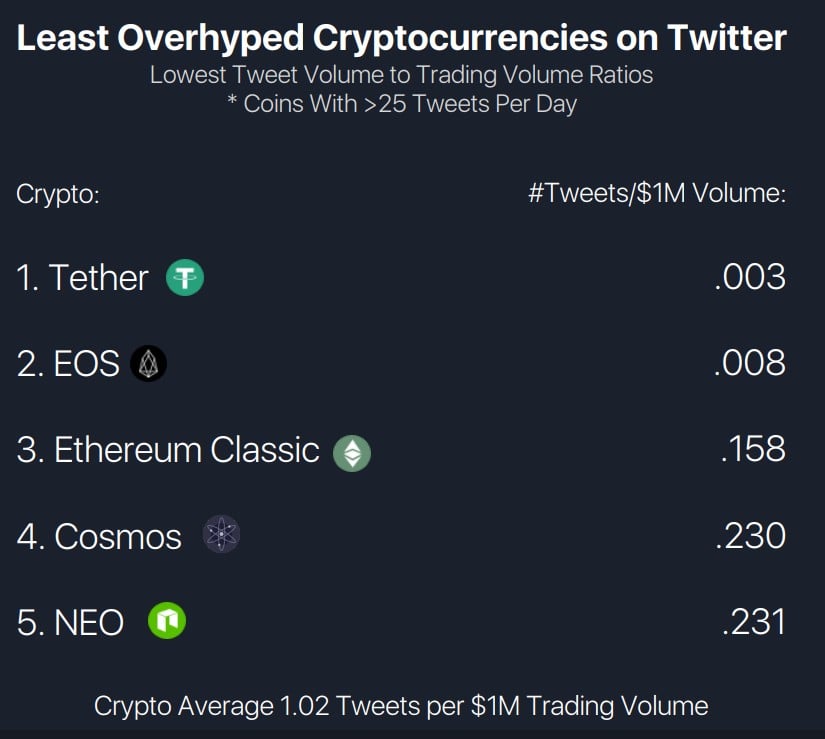 Frank noted that certain Twitter accounts had an "absurdly" high number of Twitter followers – noting for example that Electroneum, boasting an ROI of -96.3% on volume of around $200k per day according to CoinMarketCap, has twice as many followers as BitMEX – a platform that founder Arthur Hayes claims was responsible for $1 trillion in trading over the last year* (See update below).
---
It's Not Perfect… #DYOR
This is just one correlation among thousands – and of course, it takes no account of technical prowess, late entrants to the market, or even the time at which these 'followers' came to hold their bags. Frank is the first to admit that "While this metric is not perfect, we think its a good tool for identifying massive outliers."
Other coins with significant hype-to-volume ratios, such as IOTA, Nash, Tezos, and Chainlink, are well-established tech leaders that may simply have earned their kudos.
Bitcoin, Zcash, Ethereum, Stellar and Litecoin were among the coins that performed as expected – their tweet volumes were in line with their trading volume.
Perhaps surprisingly, one of the coins with the most neutral bias was Binance Coin – although this may be partly because its high trading volume within the Binance ecosystem is functional, like Tether's, rather than because of any specific restraint by its creators.
And even more astonishingly, two of the biggest shitcoins of all (and here I'm editorializing heavily – JR) – Tron and Bitcoin SV – actually ranked extremely low on Frank's index.
With that said, Justin Sun has six million followers on Facebook… while Binance has only 90,000.
Who says you can't buy love?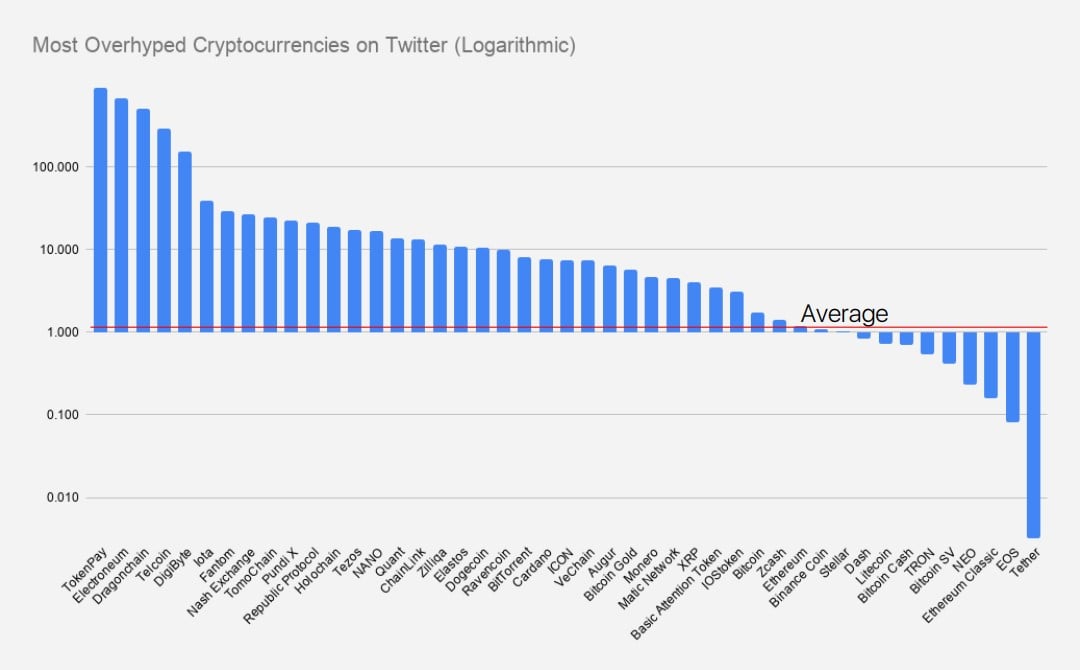 (Note: thanks to Joshua Frank of TheTIE.io for the data analysis, which he has made available as a spreadsheet. And sorry for repeatedly using the word 'shitcoin'.)
*(Update: In defense of his project, Electroneum's PR Director has supplied a number of metrics, including an Alexa verified number of web visitors of 322,000 per month, and a Twitter audit that showed that 96% of their 122,000 Twitter followers are real people.)