Adobe Will Offer NFT Verification in Photoshop
The initiative aims to prevent content theft that afflicts digital art and NFTs.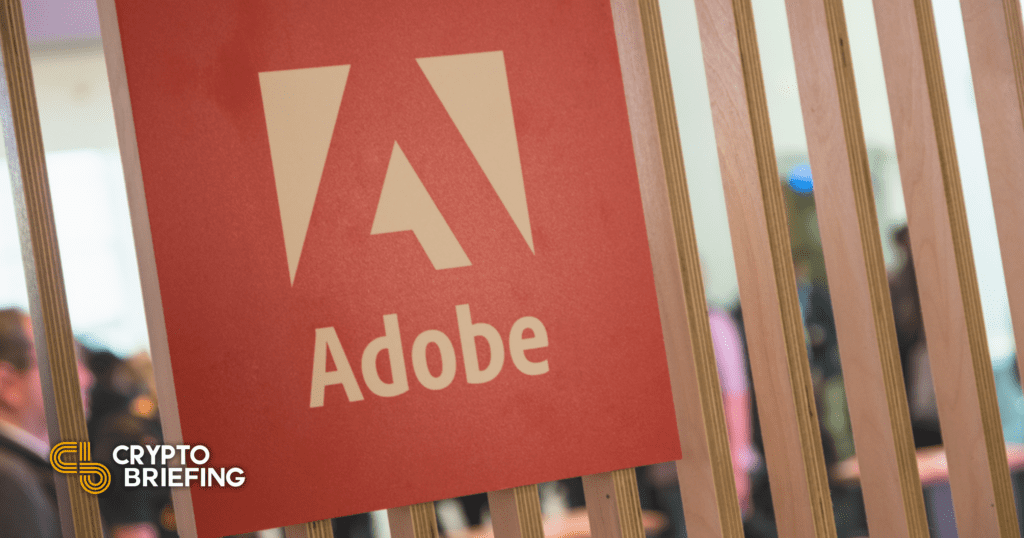 Key Takeaways
Adobe has announced a feature called Content Credentials that will allow users to add verifiable metadata to their work.
The company will allow NFT creators to use this feature in its apps, including Photoshop, Behance, and Stock.
Various NFT marketplaces including Rarible will support the feature.
NFT buyers will be able to verify that the token minter and original artist share the same blockchain address.
Adobe has announced an initiative that will provide creators of non-fungible tokens (NFTs) with verification tools.
Content Credentials Will Power Verification
Adobe's new system, called Content Credentials, allows users to attach metadata to their work. Though all images feature metadata, Adobe's system aims to prevent fraud by identifying the creator of a work in a way that is verifiable and secure.
Adobe intends for NFT creators to use this feature. A digital artist can put their cryptocurrency address in their image's metadata. Then, buyers can ensure that the address that minted the NFT is the same as the address that created the image. If the addresses differ, the image may have been plagiarized by the minter.
The effort is part of an initiative that has been underway for two years called the Content Authenticity Initiative (CAI). The program, which is headed by Adobe, has attracted several noteworthy members including the BBC, Microsoft, and Nikon.
Feature Will Be Available In Photoshop and More
Content Credentials will be supported in many of Adobe's applications, including its flagship image-editing software Photoshop. Reportedly, the feature will be available as an option called "prepare as NFT" in the app's next batch of beta features.
Related features will also be available on Adobe's social media platform Behance and its photo-hosting platform Stock.
On the marketplace end, four sites have partnered with Adobe to support the feature. Rarible, KnownOrigin, OpenSea, and SuperRare will all do so by displaying metadata in a tab on NFT listings.
Adobe Executive Praises NFTs
Adobe executive Scott Belsky also discussed the broader potential of NFTs this week. In a Verge interview, Belsky stated that he has "never seen a more empowering and better-aligned system for creativity than NFTs." He praised the fact that NFT creators can get primary sale revenue as well as a cut of secondary sales.
Belsky did, however, express concern over the possibility of a decline in the NFT market. "In fact, my opinion would be that there's going to be more crashes before more booms," he said.
On Twitter, Belsky drew attention to the problem of NFT theft, noting that "artists have seen their work copied and minted with no benefit or attribution to the original artist" due to the ease of copying and pasting existing artwork. It remains to be seen whether artists will turn to Adobe's solution to solve the problem.
Adobe is just the latest company to embrace NFTs. Other major companies including TIME Magazine, TikTok, Twitter, Visa have all announced NFT initiatives in recent months.
Disclaimer: At the time of writing this author held less than $100 of Bitcoin, Ethereum, and altcoins.