Airdrops Mean It's Raining Free Money In Crypto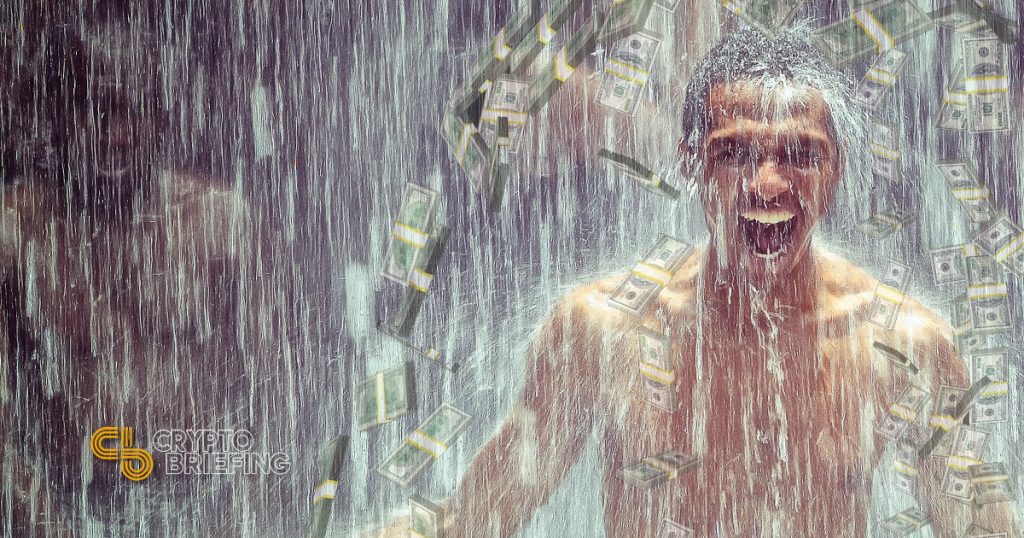 Airdrops are one of 2018's biggest crypto trends. For some, they can quickly add up to be worth thousands of dollars – and as the name suggests, they fall from the sky like rain, drenching the fortunate (and well-briefed) with showers of free money.
But why? One sentence sums it up: The Securities and Exchanges Commission (along with along with just about every other government regulator around the world) is scrutinizing Initial Coin Offerings. Crypto airdrops are just one answer.
ICOs act very much like Initial Public Offerings on the public-facing side. They don't, however, go through the vigorous auditing measures and mounds of paperwork required for an IPO, nor do coin hodlers receive the same security and benefits as stock holders
Although cryptocurrencies are regulated as commodities in the U.S., it's only because the Commodity Futures Trading Commission is the only regulator so far to actually claim jurisdiction. The SEC so far hasn't regulated ICOs and crypto exchanges, but it announced its intention to do so in early March.
It also started cracking down on ICO fraud, as we saw then Sam Sharma and Robert Farkas were arrested in relation to Centra's $32 million ICO. Centra had a huge marketing blitz that included paying celebrities Floyd Mayweather and DJ Khaled to hawk its crypto-based debit card. The SEC alleges the company doesn't actually have the relationships with Visa and MasterCard that it advertised.
These moves have the crypto world scrambling to stay out of the government's crosshairs. Nobody wants to end up in federal prison just for believing in the crypto industry.
Coinbase, for example, is already trying to register with the SEC as a licensed securities brokerage. If approved, the platform will be limited only to trading of SEC-approved securities tokens (although it's unclear yet which coins that will include). Meanwhile, newer coin offerings are eschewing the ICO process altogether, instead using Airdrops to get their digital tokens in the hands of the public without finding themselves on the wrong side of the law.
This tug of war between crypto organizations and government regulators means one thing for consumers – it's raining free money.
(An acquaintance received over 1000 ONT tokens in an airdrop just by following some basic instructions in a Telegram group… those free coins are worth around $4,300 right now.)
Airdrops – A Better Way to Market Cryptocurrencies?
Early adopters of Ethereum are already familiar with crypto airdrops. Because the Ethereum blockchain hosts hundreds of proprietary tokens, and they've been airdropping them to ETH hodlers from the beginning. Open your wallet on Etherscan, and you'll have a Token Tracker that shows some random tokens you probably never heard of. They are free coins and some of them might take off.
The concept has been used as a marketing gimmick by tokens like Polymath trying to gain recognition in a crowded marketplace. ICO ad bans by major companies like Facebook, Google, Twitter, and MailChimp forced crypto companies to seek alternative means for advertising. Many poured their resources into content marketing, flooding sites like Medium, Forbes, and HuffPost with advertisements disguised as editorials.
Of course, that's a discussion for another day…
The rest embraced the cryptocurrency airdrop. By giving away free tokens, you immediately gain market traction by getting your product in the hands of users already interested in cryptocurrency. Free sampling is the tactic Red Bull used to become a market leader in the energy drink market. Now crypto startups like Mainframe are basically mimicking Red Bull's buzzworthy tactics by holding exclusive events featuring the biggest crypto airdrops, sometimes of actual physical coins.
Free cryptocurrency is a great way to entice new people into the cryptocurrency market as a whole.It is also a simple way to generate a buzz for an initial coin offering, as sharp traders are signed up for crypto news on upcoming airdrops.
Mainframe's crypto airdrop is meant to raise awareness for its blockchain-based messaging app. BreadWallet airdrops to promote its cryptocurrency wallet. Acorn airdrops to promote its blockchain-based crowdfunding platform. Everipedia airdrops to promote its decentralized Wikipedia competitor, and so on. These organizations understand that building a user base for their platforms may even be worth more money than could be raised by an ICO.
So how do you claim free money in a crypto airdrop?
Free Money Means Being In The Right Place At The Right Time
The biggest trick to profiting from an airdrop is to hodl coins on blockchains that host other tokens, like Ethereum, NEO, and EOS. Most airdrops have requirements and reward those who actively use cryptocurrencies and maintain wallet balances. Diversifying your crypto balances between exchanges and wallets provides the most exposure to cryptocurrency airdrops.
Many crypto airdrops also require user engagement. This typically means following the crypto and communicating with (or for) them on social platforms like Telegram and Twitter. Crypto airdrops could take months to complete, so be sure to continue following throughout the promotional period.
Forums like Bitcoin Talk and SteemIt frequently list airdrops, and checking these on a daily basis will keep you informed of any new ones coming. There's also a new website on the block called Airdrop Alert that maintains a list of active, upcoming, and completed airdrops to learn more about them.
The problem is many airdropped tokens are about as valuable as Itchy & Scratchy dollars. Like those money machines you see on TV, they look like they're giving more money than they actually are. Finding exchanges that accept some of these airdropped tokens can be difficult.
Still, airdrops are gaining steam as the preferred way to raise brand awareness without gaining the ire of the SEC and other government regulators.
Maybe there really IS no such thing as a free lunch… but in the crypto world in 2018, it certainly seems to be raining free money. Go out and catch some.