Alchemint ICO Review and SDT Token Analysis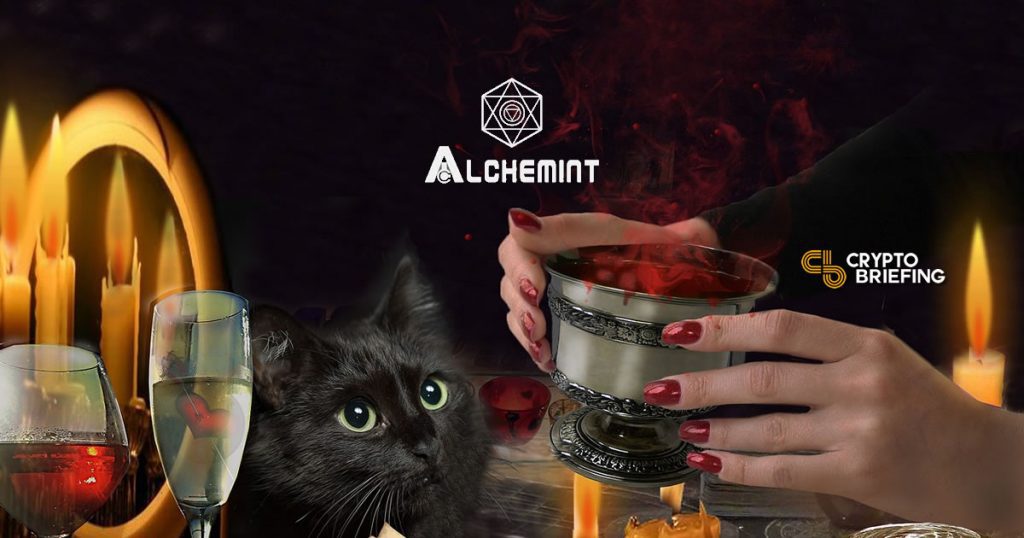 Alchemint ICO Overview (SDT Token)
The Alchemint ICO and SDT Token offer a stablecoin management system built on the NEO platform. Alchemint aims to offer a multitude of fiat-pegged cryptocurrencies via a decentralized and transparent system of collateralized digital assets.
The need for a viable stablecoin system persists in the crypto space as one of the main roadblocks to mass adoption. Widely used digital assets such as BTC, ETH and NEO do not function well as a means of payment because of their volatility.
Attempting to address this issue head on, Alchemint will initially issue a stablecoin pegged to USD, collateralized by NEO, and backed by a system of economic safeguards to ensure value stability.
Alchemint ICO Value Proposition
Alchemint offers an opportunity to mortgage NEO holdings to access price stability. Initially targeting exchanges, the team envision a stablecoin that will be used for p2p payments, asset securitization and e-commerce.
The Alchemint roadmap is not only limited to the creation of a USD-pegged stablecoin (SDUSD), but also includes plans for other fiat-pegged currencies such as SDRMB (Chinese Yuan) and SDEUR (Euro) to scale the ecosystem. All stablecoins issued on the platform will initially be collateralized by NEO.
Decentralization is a key component of Alchemint in contrast to other stablecoins like USDT. Alchemint will neither be controlled by any organization nor require regular publication of reserved assets. Anyone can access the real time market value of all collateralized assets, the circulation of each stable currency and the overall condition of the system via the blockchain.
As a core component of this decentralized approach, anyone can issue a stablecoin by mortgaging NEO assets (or other digital assets approved by the Alchemint Governance Committee). Alchemint refer to this approach as "decentralized collateralization". Below is an excerpt from the white paper describing the approach:
"The principle of this mode is to collateralize digital assets through smart contracts on the blockchain, so as to issue digital currencies that are anchored to the price of legal tender. Under this mode, every stable digital currency that is issued is backed by collateralizing the corresponding digital assets, and the collateral is transparent and cannot be appropriated or blocked. Alchemint also has a set of risk control measures to manage the collateral market value so that fluctuations will not trigger crisis of the whole system."
The Alchemint team has architected the stablecoin system based on the following three assets:
Stablecoin (ex. SDUSD)- a fiat-pegged cryptocurrency issued on the platform that is collateralized by NEO. The issuance and price stabilization are facilitated by the Smart Assets Reserve (SAR).
Smart Asset Reserve (SAR)- a smart contract which enables the collateralization of NEO to issue fiat-pegged currencies. When a user wishes to issue SDUSD, NEO is sent to an SAR to mortgage. The SAR will evaluate the value of the NEO and issue a corresponding amount of SDUSD to the user's account.
To illustrate- if a user sends 10 NEO (worth 100 USD per NEO) to an SAR, at a mortgage rate of 200%, the SAR will in turn issue 500 SDUSD. When the user wishes to redeem those 10 NEO, he or she must return 500 SDUSD back to the SAR and pay a commission in SDT. If the price of NEO drops below the collateral threshold, an additional amount of NEO must be sent to the SAR or the assets will be liquidated to ensure stability of the system.
SDT- when a user redeems collateralized NEO, he or she pays a commission charge in SDT. The amount of SDT is based on how much NEO is held in the SAR. SDT used to claim NEO will be burned in the process. Therefore, the amount of SDT will decrease over time, which could lead to an increase in value as a result of growing use and adoption. As the value of SDT rises, the amount of SDT required to redeem NEO from an SAR will decrease. Holders of SDT will also participate in governance of the risk management system behind Alchemint.
Alchemint ICO Team
CEO Zhang Ting is the Founder of Alchemint. Previous to Alchemint, Ting founded and served as CEO of Honeymoney, a community financial platform, which was later acquired. She also served as COO at Jili Wealth p2p, a lending platform in China similar to Lending Club.
Qi Feng is CTO of Alchemint. Feng has over 10 years of experience in the IT and finance sectors. He previously served as CTO with Harmonia Capital. Other experiences include serving as General Manager of E-commerce at Sinosoft and as Senior Consultant for Neusoft Group's Financial Division.

Zhang Wei is CPO of Alchemint. Wei has experience with derivatives investment management and risk control. For 8 years, he served as Product Manager and Investment Advisor at one of China's largest state-owned banks.
Notable advisors to the project include Founder of Hayek Capital, Pauline Xu, Founder of Juxiu Capital, Chen Yu, and the NEO Council.
Full details on the team and advisors can be found in the white paper.
Alchemint ICO Strengths and Opportunities
Alchemint is the sole stablecoin project built on NEO. In terms of progress milestones, Alchemint have already established a promising partnership with Switcheo for use on the DEX. From a more macro-level perspective, Alchemint represents a crucial step toward the advancement of the NEO Smart Economy.
As the NEO ecosystem grows, Alchemint could find use not just on exchanges but as a reliable means of facilitating payments on Dapps. As the token metrics indicate, the amount of SDT will reduce as it is spent to redeem mortgaged NEO. If Alchemint remains the sole stablecoin on the NEO platform, the sustained growth of usage within the ecosystem could result in a significant demand for SDT.
Alchemint ICO Weaknesses and Threats
The future of stablecoins in general continues to prove elusive. Of the many coins that have been launched, time has yet to prove the viability of any one system. In this sense, Alchemint is a welcome and much needed attempt at creating a stable crypto asset.
What remains untested are the myriad of scenarios that could play out as the demand, circulation and value of each asset within the ecosystem fluctuates. At this early stage of product inception, it would be prudent to create a test model of various economic scenarios for public evaluation to foster more confidence in the project.
Some voices within the crypto space remain skeptical of the idea that stablecoins are even feasible in the long-run. Adding a level of uncertainty to the project, the economic model and safeguard mechanisms underlying Alchemint remain uncharted territory in the crypto space and can only truly be proven through a fully-deployed, functional product.
Regardless, the promise of success represents an unprecedented opportunity to seize the myriad of use cases for which volatile currencies remain impractical.
The Verdict on Alchemint ICO
From the creation of a p2p lending platform to years of experience in the banking sector, we feel the team behind the Alchemint ICO are well equipped for the task at hand. A critical component of the NEO Smart Economy hinges on their ability to succeed, and to this accord, it is a welcome sign that the NEO Council are advising the project.
Still, at this stage, we are left to make a call with very little to show in the way of actual product progress and will keep a close eye on any developments to come.
Learn more about the Alchemint ICO from our Telegram Community by clicking here.
As a Top 10% rated ICO, we will be placing a small bet on the Alchemint ICO (SDT Token).
---
We have rated hundreds of projects to unearth ICOs in which members of our team intend to invest.
We won't often go into further depth on projects that we don't consider as candidates for our investments after the initial rating process, which is why you will usually see our stamp on our detailed ICO reviews – they are the best we have found. However, on occasion, we might also rate a well-hyped project that does not meet our personal investing criteria.
The Crypto Briefing Top 10 stamp is awarded to ICO projects that we rate in the top 10% of all projects.
ALCHEMINT ICO REVIEW SCORES
SUMMARY
The Alchemint ICO (SDT Token) wants to create a stablecoin for the NEO Smart Economy, tied to various currencies including the US Dollar, Chinese Yuan, and the Euro. Their intention is to do this without the centralization issues that have plagued the most well-known stablecoin, Tether. While the concept remains hallowed within the cryptocurrency market, a stablecoin economic model that works in reality has yet to be fully demonstrated. We see opportunity to solve the problem, but the execution against the idea is what will really count.
Founding Team……………………….8.6
Product…………………………………..4.5
Token Utility…………………………..8.8
Market…………………………………..9.3
Competition…………………………..6.2
Timing……………………………………8.5
Progress To Date……………………5.9
Community Support & Hype…..6.5
Price & Token Distribution……..6.3
Communication……………………..10.0
FINAL SCORE……………………….7.5
UPSIDES
CEO has prior success with fintech startups

Lead team members possess expertise in finance

Concept addresses fundamental demand in crypto space
DOWNSIDES
Very little product development

Economic model remains untested
Today's Date: 4/5/18
Project Name: Alchemint
Token Symbol: SDT
Website: http://alchemint.io/
White Paper: http://alchemint.io/pdf/Alchemint_WhitePaper_EN_v0.9.2.pdf
Crowdsale Hard Cap: TBA
Total Supply: 1 billion
Token Distribution: 30% Community Development Fund, 20% Public Sale, 15% Private Investors, 10% Cornerstone Investors, 10% Founding and Development Team, 10% Commercial Promotion, 5% Consultancy Fees
Price per Token: TBA
Maximum Market Cap (at crowdsale price): TBA
Accepted Payments: TBA
Countries Excluded: TBA
Bonus Structure: N/A
Presale Terms: N/A
Whitelist: TBA
Important Dates: Crowdsale- TBA
Expected Token Release: TBA
Additional Information: https://t.me/Alchemint
---
ICO Review Disclaimer
The team at Crypto Briefing analyzes an initial coin offering (ICO) against ten criteria, as shown above. These criteria are not, however, weighted evenly – our proprietary rating system attributes different degrees of importance to each of the criteria, based on our experience of how directly they can lead to the success of the ICO in question, and its investors.
Crypto Briefing provides general information about cryptocurrency news, ICOs, and blockchain technology. The information on this website (including any websites or files that may be linked or otherwise accessed through this website) is provided solely as general information to the public. We do not give personalized investment advice or other financial advice.
Decentral Media LLC, the publisher of Crypto Briefing, is not an investment advisor and does not offer or provide investment advice or other financial advice. Accordingly, nothing on this website constitutes, or should be relied on as, investment advice or financial advice of any kind. Specifically, none of the information on this website constitutes, or should be relied on as, a suggestion, offer, or other solicitation to engage in, or refrain from engaging in, any purchase, sale, or any other any investment-related activity with respect to any ICO or other transaction.
The information on or accessed through this website is obtained from independent sources we believe to be accurate and reliable, but Decentral Media LLC makes no representation or warranty as to the timeliness, completeness, or accuracy of any information on or accessed through this website. Decentral Media LLC expressly disclaims any and all responsibility from any loss or damage of any kind whatsoever arising directly or indirectly from reliance on any information on or accessed through this website, any error, omission, or inaccuracy in any such information, or any action or inaction resulting therefrom.
Cryptocurrencies and blockchain are emerging technologies that carry inherent risks of high volatility, and ICOs can be highly speculative and offer few – if any – guarantees. You should never make an investment decision on an ICO or other investment based solely on the information on this website, and you should never interpret or otherwise rely on any of the information on this website as investment advice. We strongly recommend that you consult a licensed investment advisor or other qualified financial professional of your choosing if you are seeking investment advice on an ICO or other investment.
See full terms and conditions for more.
Founding Team
This category accounts for the leaders, developers, and advisors.
Poor quality, weak, or inexperienced leadership can doom a project from the outset. Advisors who serve only to pad their own resumes and who have ill-defined roles can be concerning. But great leadership, with relevant industry experience and contacts, can make the difference between a successful and profitable ICO, and a flub.
If you don't have a team willing and able to build the thing, it won't matter who is at the helm. Good talent is hard to find. Developer profiles should be scrutinized to ensure that they have a proven history of working in a field where they should be able to succeed.
Product
What is the technology behind this ICO, what product are they creating, and is it new, innovative, different – and needed?
The IOTA project is a spectacular example of engineers run amok. The technology described or in use must be maintainable, achievable, and realistic, otherwise the risk of it never coming into existence is incredibly high.
Token Utility
Tokens which have no actual use case are probably the worst off, although speculation can still make them have some form of value.
The best tokens we review are the ones that have a forced use case – you must have this token to play in some game that you will probably desire to play in. The very best utility tokens are the ones which put the token holder in the position of supplying tokens to businesses who would be able to effectively make use of the platforms in question.
Market
There doesn't have to be a market in order for an ICO to score well in this category – but if it intends to create one, the argument has to be extremely compelling.
If there is an existing market, questions here involve whether it is ripe for disruption, whether the technology enables something better, cheaper, or faster (for example) than existing solutions, and whether the market is historically amenable to new ideas.
Competition
Most ideas have several implementations. If there are others in the same field, the analyst needs to ensure that the others don't have obvious advantages over the company in question.
Moreover, this is the place where the analyst should identify any potential weaknesses in the company's position moving forward. For instance, a fundamental weakness in the STORJ system is that the token is not required for purchasing storage.
Timing
With many ICO ideas, the timing may be too late or too early. It's important for the analyst to consider how much demand there is for the product in question. While the IPO boom funded a lot of great ideas that eventually did come to fruition, a good analyst would recognize when an idea is too early, too late, or just right.
Progress To Date
Some of the least compelling ICO propositions are those that claim their founders will achieve some far-off goal, sometime in the future, just so long as they have your cash with which to do it.
More interesting (usually) is the ICO that seeks to further some progress along the path to success, and which has a clearly-identified roadmap with achievable and reasonable milestones along the way. Founders who are already partially-invested in their products are generally more invested in their futures.
Community Support & Hype
Having a strong community is one of the fundamental building blocks of any strong blockchain project. It is important that the project demonstrates early on that it is able to generate and build a strong and empowered support base.
The ICO marketplace is becoming more crowded and more competitive. While in the past it was enough to merely announce an offering, today's successful ICO's work hard to build awareness and excitement around their offering.
Price & Token Distribution
One of the biggest factors weighing any analysis is price. The lower the price the more there is to gain. But too low of a price may result in an under capitalized project. It is therefore important to evaluate price relative to the individual project, its maturity and the market it is going after.
The total supply of tokens should also be justified by the needs of the project. Issuing a billion tokens for no reason will do nobody any good.
Communication
Communication is key. The success of a project is strongly tied to the project leaders' ability to communicate their goals and achievements.
Things don't always go as planned but addressing issues and keeping the community and investors in the loop can make or break a project.