All You Need to Know About Crypto.com's Europe MCO Visa Card
European citizens finally get a card with generous benefits.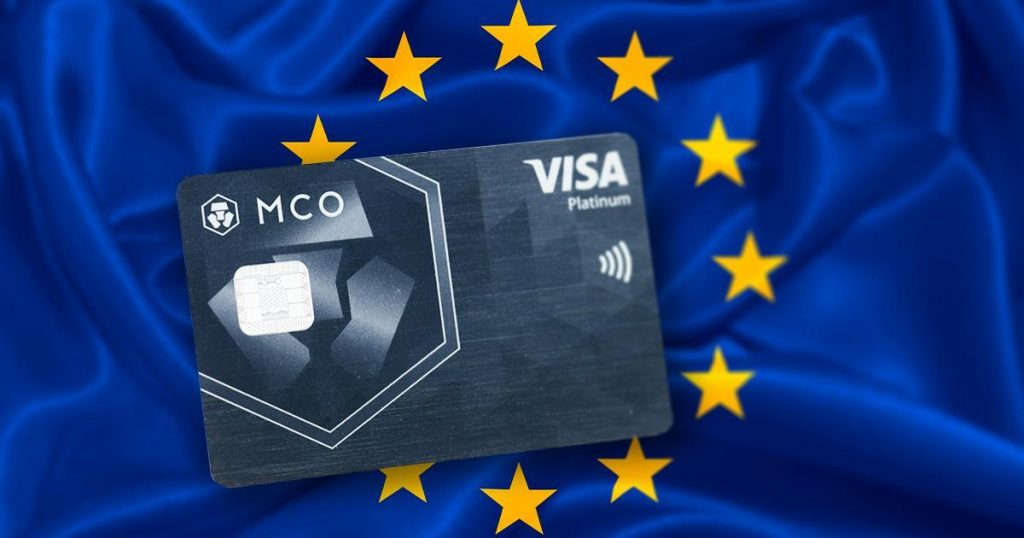 Key Takeaways
The Europe MCO Visa Card offers comparable benefits to the U.S. version of the card.
Users are eligible to receive up to 5% cashback in return for staking MCO.
Other benefits such as airport lounge access and rebates on streaming subscriptions are also available.
European citizens usually get a raw deal on credit cards compared to their US counterparts. American card users enjoy generous rewards such as air miles and hotel points bestowed on them by the finance giants. In contrast, thanks in part to EU regulations limiting fees charged by the card issuers, Europeans are far less incentivized to swipe.
However, for cryptocurrency enthusiasts, the playing field is starting to look a little more level, now that Crypto.com has launched its pre-paid MCO Visa card to citizens in 31 European countries. Following a successful launch in the US and Asia, does the European card measure up? Here's our review.
Please note that this review is based on the Europe MCO Visa card issued to a French resident.
Rewards and Benefits of the MCO Visa Card
The Europe MCO Card offers all the same benefits as the US version of the card, under many of the same terms. Users are eligible for cashback of up to 5%, along with rebates on Netflix and Spotify subscriptions, and global airport lounge access.
Anyone can apply for the first tier of the card – the plastic "Midnight Blue" edition – and start earning 1% cashback. Rewards are paid in Crypto.com's MCO token.
However, like the US version of the card, the rewards become progressively more generous, the more MCO you stake. To unlock the full benefits of the highest tier, called Obsidian Black, you're required to stake 50,000 MCO tokens⁠—worth around €190,000 or £170,000 at the time of writing.
The cards that are accessible to most people are the metal Ruby Steel card, requiring a 50 MCO stake, and the metal Jade Green/Royal Indigo cards, both of which require a 500 MCO stake.
Ruby Steel offers 2% cashback. The other two offer 3% cashback plus the added benefits of the Netflix and Spotify rebates and LoungeKey access to over 1,000 airport lounges worldwide. You'll need to pay for your subscriptions using your card to get the rebate. Furthermore, the rebates are calculated with a cap of $12.99 per month, denominated in US dollars. Crypto.com uses a monthly exchange rate to calculate the value in euro or sterling.
There's a registration process required to access the airport lounge benefits.
The MCO tokens you stake for your Europe MCO Visa card earn interest, and there's a minimum staking period of six months. Although you can unstake your tokens after that date, an ongoing stake will mean you continue to enjoy the full range of card benefits, including cashback and rebates.
You can compare the full range of benefits, cashback, and interest earned for staking for the different cards in our comprehensive review of the US MCO Visa card or refer to the overview shown below.
Applying for the Europe MCO Visa Card
To apply for the Europe MCO card, you'll need to be a resident of one of the 31 countries where the card is issued. The full list includes all 27 EU member states, along with the UK, Switzerland, Norway, and Iceland.
European users can download the Crypto.com app in their local language, and apply for the card within the app.
Therefore, it's a requirement to undergo a standard KYC procedure. You'll need to provide a copy of your passport or national ID card, and proof of residence, along with your personal details.
The approval process is relatively quick, taking only a few hours for Crypto Briefing's reviewer to get approved for a card in France.
Once the card is approved, it takes a few more days for Crypto.com to issue and ship it. Cards are issued and posted from the UK Once you receive the card, you simply activate it within the app.
How to Top Up
If you're in the EU, the Europe MCO Visa card's primary currency is euros, or if you're in the UK, the card currency is pounds sterling. However, you can top up in either currency.
You'll need to top up to start using the card. To do this, you can transfer funds from any of your Crypto.com accounts, including any crypto accounts, to your Europe MCO Visa card account in the app.
You can top up your Crypto.com fiat accounts using a credit card or connect your bank account for a SEPA transfer. The latter can take a few days to process, but credit card fees can be saved.
Unfortunately, it's not possible to link your bank account directly to your Europe MCO Visa card. So if you're frequently spending on your card, you'll need to plan ahead to make sure you always have the funds you need available.
Where Can You Use the Europe MCO Visa Card?
You can use the Europe MCO Visa card pretty much anywhere you can pay by Visa, including online payments or instore. Based on this reviewer's experience of using the card in France, it's been exactly the same as using a debit card.
The Crypto.com website does flag that there may be some restrictions on using the card for transactions where a credit card is required, such as authorization for hotel charges or car rental deposits.
You can also use the card at any of the thousands of ATM's that show the Visa or Visa Plus logo.
You can withdraw cash without paying any fees up to a certain daily and monthly limit.
Thereafter, the fees are 2%. A critical advantage for those who travel frequently is that there are no charges for cash withdrawals in other countries, provided you keep within the cash limit of the card.
Conclusion
In terms of rewards, European citizens don't usually have much opportunity to get cashback for credit card spending. The Europe MCO Visa card offers the opportunity to earn 1% without any strings attached. The higher reward tiers offer even more benefits. However, you will have to be prepared to stake MCO, which shows the volatility typical of cryptocurrencies.
Cryptocurrency investors will be well-used to this already. Therefore, if you're happy to go with the flow of the markets, the Europe MCO Visa card offers a rare opportunity to earn meaningful rewards for your everyday spending.
Disclosure: Crypto.com is a sponsor of Crypto Briefing. The author of this review holds MCO tokens.