How Do Altcoins Perform The Week After Bitcoin Soars?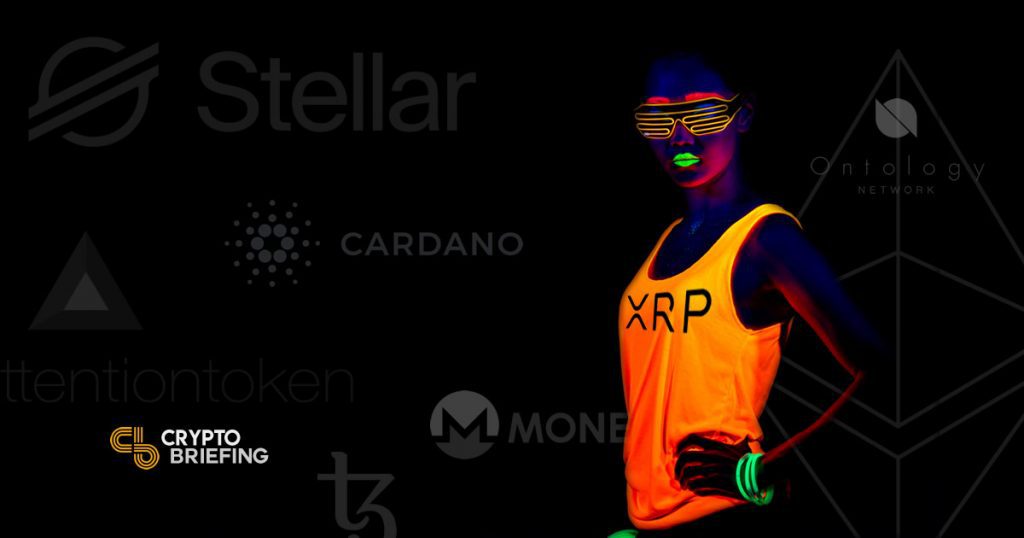 Bitcoin has been getting a lot of attention recently, and we can't even keep up with its price jumps. But is it time to shift our focus to altcoins?
The market is looking better and better each day, and in our previous analyses here at Crypto Briefing we've illustrated a number of alt trends (and described some important upcoming catalysts).
For example, we opined that bitcoin dominance needed to reach 60% to bleed out the overvalued altcoin markets and, we analyzed market fears could actually spark an uptrend in bitcoin.
But as we look to stay ahead of the curve, we see an interesting new trend in alternative crypto values.
Bitcoin dominance is currently sitting between 58% and 62%, depending on whether you subscribe to CoinMarketCap or Messari. We will take the median of these two data points and hypothesize that bitcoin has hit 60% dominance in the market for the first time since December 2017 following this most recent this price surge.
By comparing Google trend results with the price of BTC we have already shown that retail interest follows price increases, and not the other way around. Retail interest in "Bitcoin", measured by the number of "Bitcoin" searches on Google, peaked over the weekend:

Anecdotally, I also had several friends come out of the woodwork to ask me "So… what's going on with Bitcoin?"
This price surge is going to bring in new retail investors experiencing FOMO and we can try to determine where they'll be investing their money by comparing this rise to the most recent market cycle.
What happened last time?
The last time Bitcoin hit 60% dominance in the market was December 4th 2017: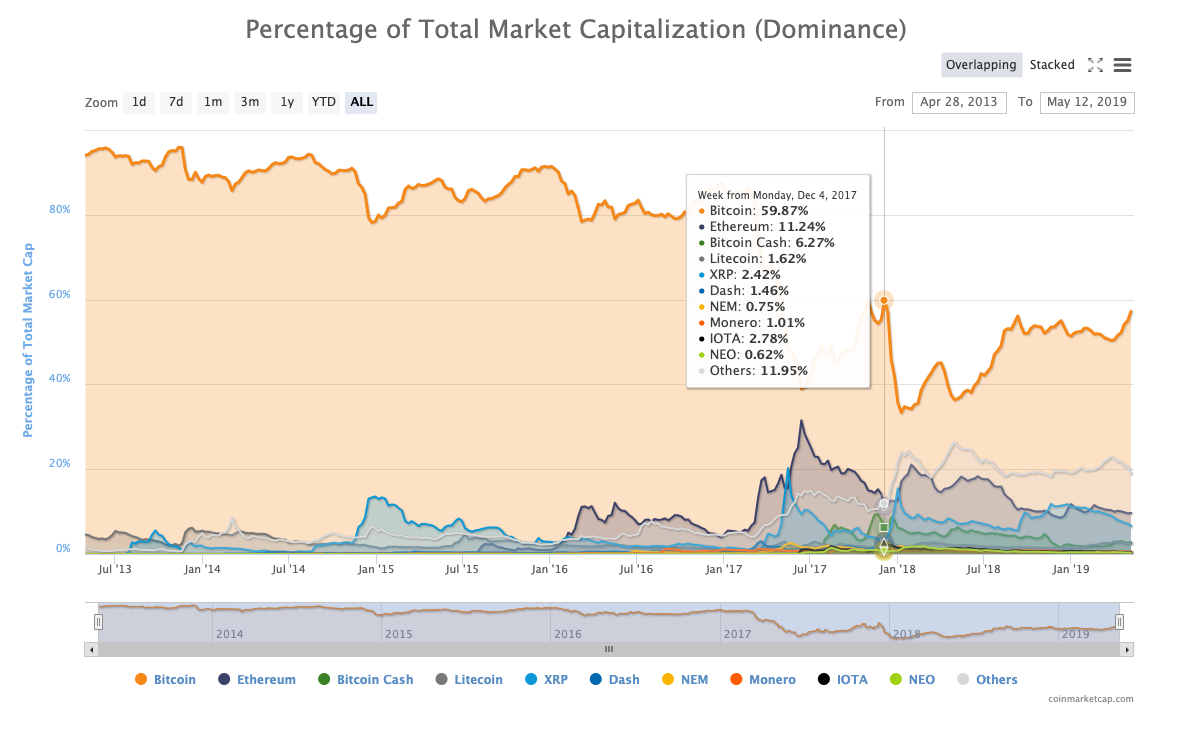 The market looked very different that week than it does now. The price of a bitcoin was approximately $11.5k; it peaked less than one week after this date.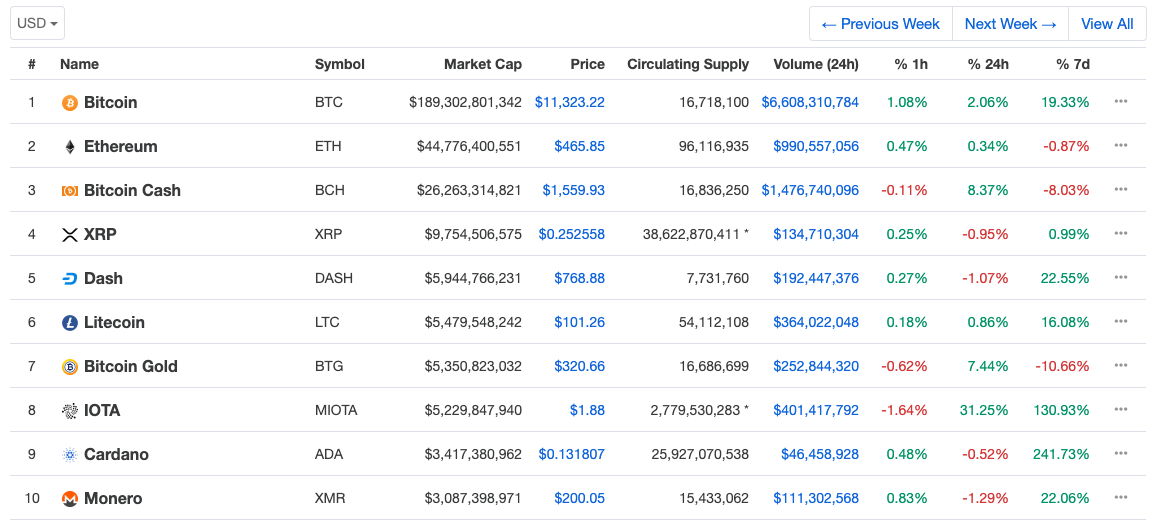 If we use a 30 day trading horizon we can analyze the performance of the top altcoins against the performance of Bitcoin. One month after Bitcoin hit 60% dominance, its hold on the market dropped below 35% as altcoins soared.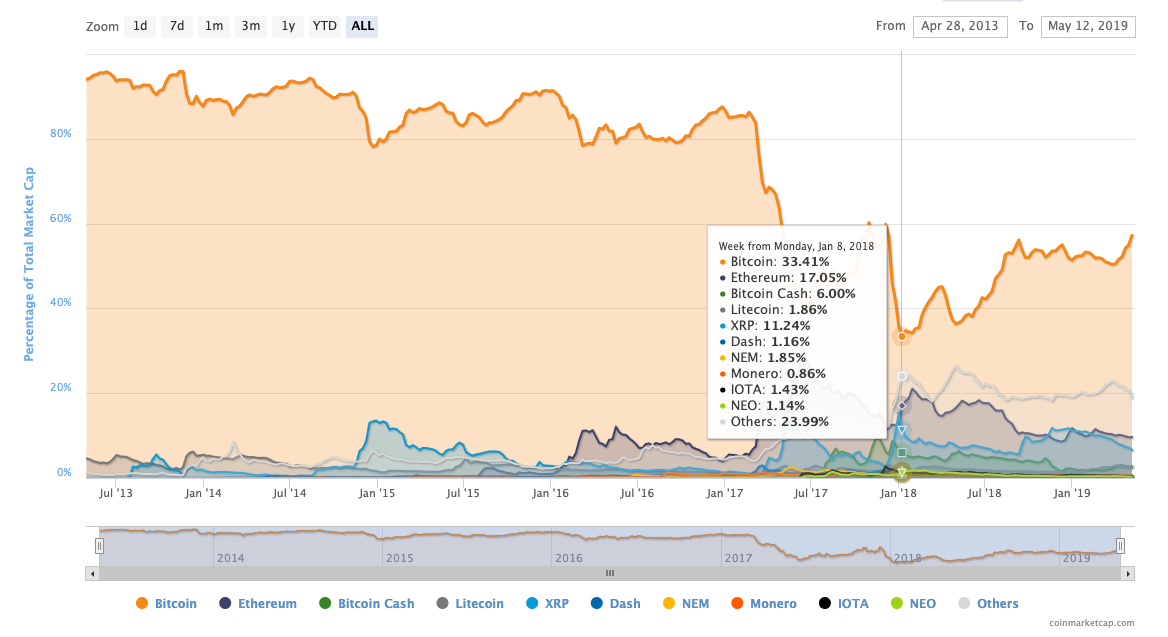 Coins such as XRP, ADA and TRX surged in price, and the top 10 coins according to CoinMarketCap looked very different: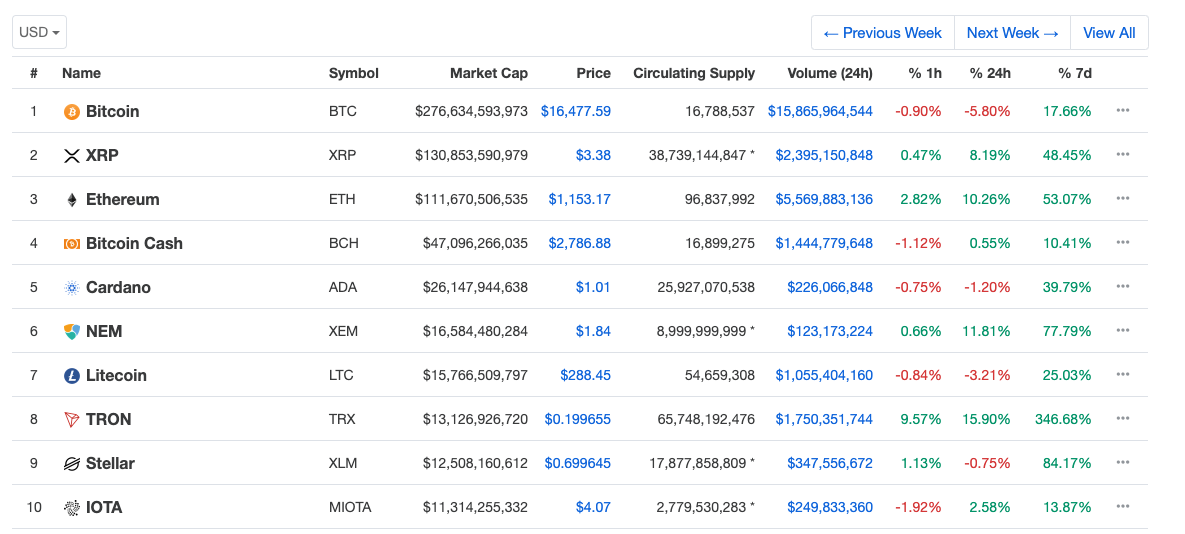 Let's examine two different scenarios:
Scenario A: You hold BTC for one month after December 4th, 2017
Scenario B: You hold an equal basket (20% each) of the top 5 altcoins on December 4th, 2017 which would consist of: ETH, BCH, XRP, DASH and LTC
In the first scenario BTC increased in price from $11.5k to $15.1k – an excellent 23% return.
In the second scenario, here are the returns of the basket of five altcoins against BTC during the same period:

So, we can see that Scenario B outperformed BTC by 17.35% during the same 30-day period after BTC dominance peaked. This is also a conservative back-test, since we have left out top performing coins during this period such as ADA, TRX and XLM. DASH was actually one of the worst performing altcoins during this period.
Using this analysis it might be time to ask ourselves a serious question: is alt-season upon us?
It may only be one illustration; but here in crypto, everything is a cycle…