Will Facebook's Libra Force Amazon To Issue A Cryptocurrency?
It may be a case of when, not if.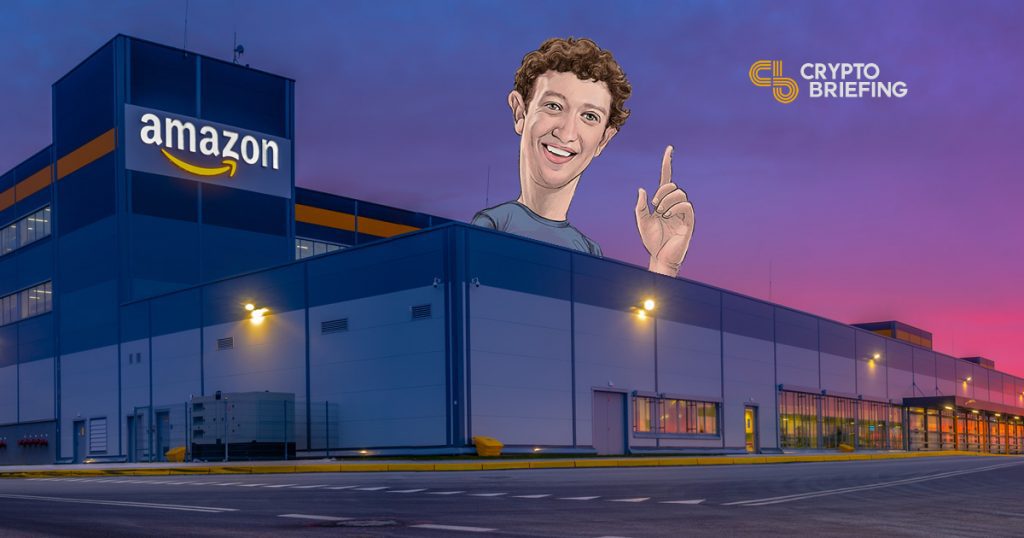 On Tuesday, June 18th, Facebook announced Libra, its highly-anticipated cryptocurrency. This event raises a pressing question: will other companies in the tech sector follow suit?
Although Amazon and Facebook may not face off on social media, the continuing expansion of the Zuckerberg empire into adjacent markets means that Amazon could eventually be one of Facebook's biggest competitors: and we have speculated in the past that the e-commerce giant will introduce its own cryptocurrency.
Even Changpeng Zhao of Binance has argued that Amazon will need to create its own crypto "sooner or later" — but will the company actually do so?
---
Amazon vs. Facebook
Facebook's Project Libra could be what motivates Amazon to create its own cryptocurrency. One major application for Facebook's cryptocurrency will be e-commerce transactions, and one of Libra's killer features will likely be fees that are far lower than the rates offered by credit card companies and payment processors.
If Libra uses its advantages to achieve the same presence that credit cards and PayPal have achieved, Amazon may ultimately be forced to accept Libra—or introduce its own competing coin.
It is also important to consider the scale that both companies are operating at. Facebook serves about 2 billion users, and Amazon has more than 100 million users subscribed to Amazon Prime alone. Facebook isn't the only one with a user-base big enough to sustain its own play.
Collaboration between the two has been relatively scarce, although they did move to tackle Google's dominance of advertising at one point. On other occasions they have been members of trade groups to lobby for tech companies – but on surprisingly-few occasions have the two companies been mentioned in the same announcement.
Furthermore, Facebook began moving into e-commerce long before it launched a cryptocurrency, meaning that competition is very close indeed.
---
Is Amazon Creating a Crypto?
So far, Amazon has shown few signs that it is interested in creating a cryptocurrency, but this isn't out of the question. Despite Amazon's silence on those matters, it is quickly becoming a dominant player in the enterprise blockchain world, thanks to its cloud-based Amazon Web Services, which provides blockchain services for businesses like Zilliqa.

So does Amazon Managed Blockchain, which came into existence this May and represents an expansion of the company's blockchain offerings.
Amazon also registered several domain names in 2017, giving rise to speculation that a cryptocurrency was imminent.
Amazon's blockchain-related efforts have also allowed it to build partnerships with several notable blockchain companies, such as Consensys, R3, and Centrality. However, it seems unlikely that any of these blockchain partnerships will develop into a cryptocurrency project, and, on the whole, Amazon's blockchain efforts are entirely invisible to its retail users.
Amazon has not indicated that it accept cryptocurrency in the near future, and the failure of other major retailers such as Overstock and Expedia to make crypto work for them may have discouraged Jeff Bezos from entering the regulatory netherworld – but how long can the world's largest online retailer hold out against the tide?
---
Can Third Parties Bridge the Gap?
Although Amazon is currently non-crypto-friendly, third-party crypto payment processors are leaping at the chance to integrate themselves with the site. This week, CLIC and Opporty announced a browser plugin that allows users to pay for Amazon products with Ether via Metamask. The service essentially converts crypto to fiat on the user's behalf, and countless other payment processors have made similar efforts to integrate themselves with Amazon. Perhaps unsurprisingly, Amazon hasn't explicitly endorsed any of them.
Still, the launch of even a minor payment plugin shows that Amazon is a desirable target for crypto spending. Even if Amazon doesn't take advantage of this fact, third parties will continue to compete.
Facebook presumably has the influence to get Libra visibly accepted and visibly promoted on sites like Amazon. Meanwhile, minor third-party crypto plugins will quietly compete with each other below the surface, filling a niche for devoted users of Bitcoin, Ethereum, and other notable cryptocurrencies.
Remember, AmazonCoin.com still redirects to their main site… should we be taking bets on AMAZE Coin?