Apple: Apps Hosting NFTs "Not Appropriate" for App Store
Apple has reportedly said that applications directly offering NFTs are "not appropriate" for the App Store.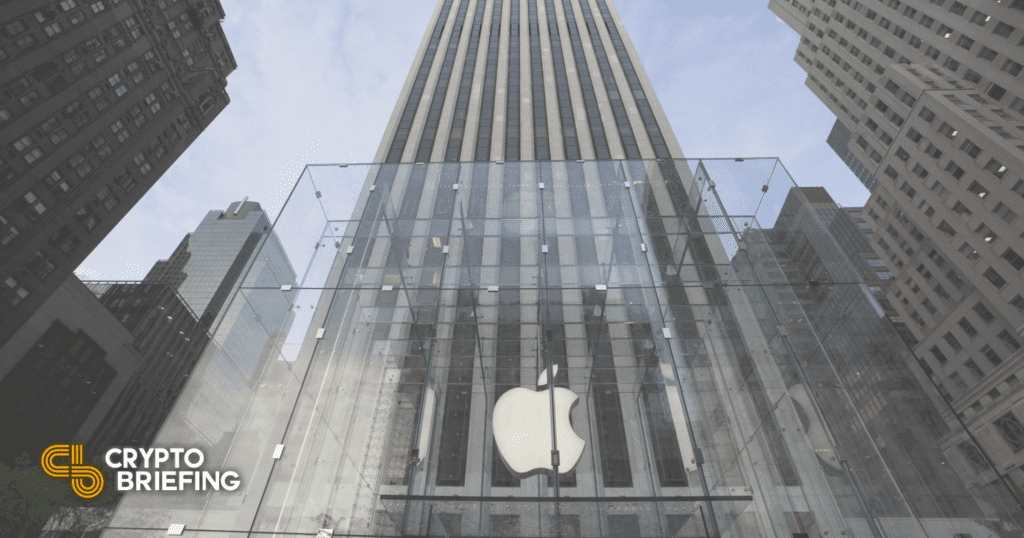 Key Takeaways
Apple has reportedly blocked Gnosis Safe's mobile wallet app from the App Store because it stores NFTs.
The company reportedly said that applications storing NFTs are "not appropriate" for the App Store.
Apple reportedly said that crypto apps offering NFTs must either make them available to App Store users as in-app purchases or remove them from the app entirely.
Apple has reportedly stated that applications storing or displaying NFTs are breaking the App Store's terms of service.
Gnosis Safe, a multi-sig crypto wallet allowing users to manage digital assets on Ethereum, reportedly tried releasing a new, updated version of its iOS wallet application on the App Store two weeks ago. To the project's surprise, Apple blocked the release, citing the wallet's NFT storage functionality as the reason.
Lukas Schor, product developer at Gnosis Safe, revealed the incident in a Tuesday Twitter thread.
Apple is blocking a release of our @gnosissafe mobile app because we display NFTs in it. After 2 weeks of back-and-forth, I felt that we need to talk publicly about this to raise awareness.

See the thread for details and why this might affect other wallets and apps as well. 👇

— lukasschor.eth | Gnosis Safe 🔰 (@SchorLukas) September 14, 2021
According to the email exchanges between Gnosis and Apple shared by Lucas Schor on Twitter, Apple says that applications that include access to NFTs by means other than in-app purchases violate the App Store's guidelines. According to a screenshot shared by Schor, App Store wrote:
"The app allows users to store and send NFT's (sic) which are digital items in nature in the Collectibles section of the app. This feature is not appropriate for the App Store."
Assuming the message was a human error, Gnosis says it reached back to Apple but got the same response. "Since NFTs are digital assets that have a price and cost associated with them," the email from Apple reads, "Apps that access, whether it is just simple storage or marketplace, are not appropriate for the App Store. We suggest you remove this feature from your app."
Interestingly, Gnosis Safe's mobile wallet application upgrade had nothing to do with NFTs, as it's been offering this functionality for several months without any issues. Moreover, other iOS crypto wallets, including the most popular crypto wallet with over 10 million active monthly users, MetaMask, allow users to store and even directly sell NFTs from their wallets.
Apple forces applications listed in the App Store to use its in-app purchase system, charging up to a 30% commission on downloads and in-app sales and subscriptions. Last month, Epic Games sued Apple over monopolistic practices after having their most popular game, Fortnite, delisted from the App Store for circumventing the 30% through direct in-game payments. On Sep. 10, Federal Judge Yvonne Gonzalez Rogers gave its final verdict in favor of Apple on all accounts.
Apple reportedly claims that all crypto applications offering NFTs (paid digital content) must either make them available to App Store users as in-app purchases or remove the functionality from the applications entirely. According to Schor, removing NFTs is not an option for Gnosis. Commenting on the issue on Twitter, he said:
"This shows how access to Web3 still relies heavily on gatekeepers like Apple. It's an industry problem, as the same arguments apply to any wallet displaying NFTs or games making use of NFTs. We need to find better ways to make Web3 accessible on mobile permissionlessly."
If Apple decided to enforce this policy more broadly, MetaMask and other crypto wallets would have to remove the NFT storage functionality from their iOS products.