Arweave ICO Review And AR Token Analysis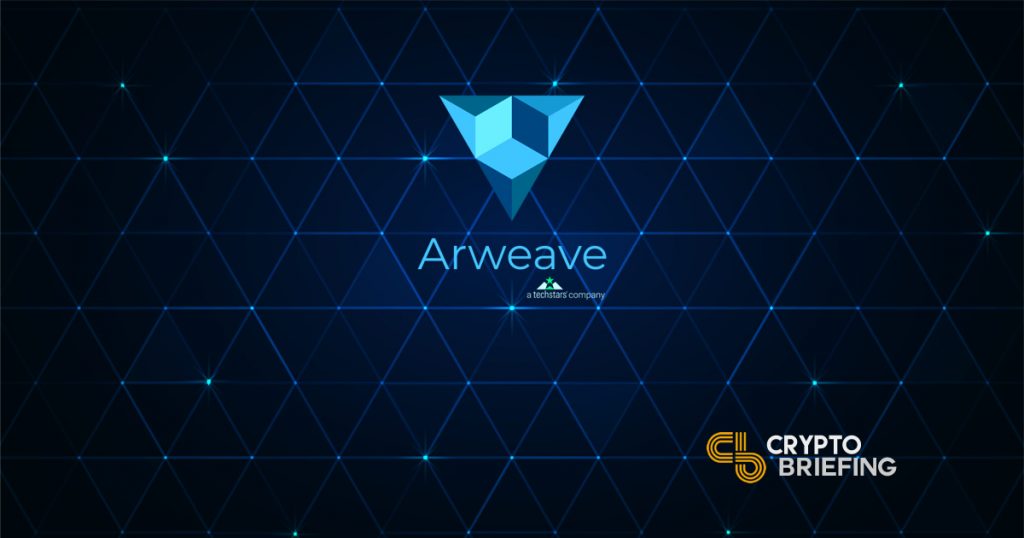 Arweave ICO Overview
The Arweave ICO and AR Token offer a new data storage blockchain protocol. Arweave is based on a novel consensus mechanism, Proof of Access, which is designed to facilitate permanent, low-cost storage onchain. The project ultimately envisages becoming an indispensable storage layer that can be leveraged to provide speed and scalability to other systems.
Arweave ICO Value Proposition
Arweave utilizes the "Blockweave", a blockchain-like structure that enables scalable onchain storage in a cost efficient manner. The amount of hashing needed for consensus decreases as the amount of data stored on Arweave increases, which reduces the cost to store data. Through the Proof of Access consensus mechanism, miners are incentivized to provide as many replications of the data held in the system as possible.
Arweave propose a two-fold value proposition: 1. a solution for permanently storing any data in an immutable manner that prevents manipulation and theft 2. an ideal infrastructure layer for dapps for which data immutability is essential (i.e. news sites, archives).
As a new protocol, Arweave will utilize the native AR token. AR tokens are required to store information on Arweave. The payments made by users in AR are then distributed as a reward to miners, who store and maintain the information. The Arweave ICO team has also has a native wallet to store AR tokens.
(Editor's note: the Arweave website claims to have 'solved the millennia old problem of decentralised data availability' which smacks of just a tiny little bit of hyperbole, since the printing press wasn't invented until around 1445, and the thorny issue of where Shakespeare kept his selfies from the summer of 1579 is not documented, even in his more melodramatic works.)
Arweave ICO Team
Sam Williams (Co-Founder & CEO) Sam is a Computer Science PhD candidate at the University of Nottingham. The focus of his research is decentralized system design. With a background in academia, Arweave is Sam's first foray into the startup world
William Jones (Co-Founder & CTO) William is also a Computer Science PhD candidate at the University of Nottingham. His research focuses on the development of cognitive systems and neural networks.
India Raybould (CCO) India has academic and work experience in psychology. She served as a psychology advisor before joining Arweave as Chief Coordinating Officer.
Kyle Beckles (Senior developer) Kyle began his career in 2015 as a developer with Bright Future Software. He has held developer positions with UKFast and boohoo,com. Kyle holds a BSc in Software Engineering from the University of Nottingham.
Anthony Ryan is an adviser to Arweave. Anthony serves as Head of Growth at Quantstamp and has a strong background in entrepreneurship.
More information on the team and advisors is available here.

Arweave ICO Strengths and Opportunities
Arweave has coordinated the launch of its mainnet alongside the ICO. Arweave launched their alpha testnet in November 2017, and plan on launching the mainnet in early June. The launch of the mainnet brings a tangible utility value to the token beyond speculation. Along with the mainnet, the Arweave ICO team has already created the REST API, available for developers to build projects using any programming language.
Still, there is more to ecosystem building than launching the mainnet and letting developers run wild. As a distributed storage solution, a crucial piece of the puzzle will be onboarding participants to supply space. Without users renting out their devices, developers will have little incentive to build using Arweave. While there's no straightforward solution to this classic adoption question, Arweave has arranged several partnerships to begin ecosystem building.
Arweave are working with decentralized auction house Shelf.Network to provide their data storage layer. Shelf.Network itself uses blockchain to post one listing on multiple online marketplaces. The Blockweave data structure will be utilized to store auction listings, while a reference to the data stored by Arweave is recorded the Shelf.Network native chain.
Arweave's second partnership is with Charité, Europe's largest university clinic. Charité and Arweave are cooperating to create the Journal of Raw Data, an online open-access biomedical data journal that is peer reviewed. Arweave will provide a storage solution so that data sets from biomedical research submitted to the journal will be publically available, inalterable and immutable. This use case scenario demonstrates the relevance of the product outside the realm of decentralized networks through the value add an immutable ledger brings to improving the quality of research; research data cannot be falsified or altered.
As a basic infrastructure component with a wide array of use case scenarios, storage protocols have a favourable track record when it comes to delivering returns. Competitor projects such as Storj (+8,000%) and MaidSafe (4,285%)) performed very well.
Arweave ICO Weaknesses and Threats
There's no shortage of serious distributed storage projects in the space, not to mention the spectrum of low-cost cloud based solutions. Storj, MaidSafe and Filecoin represent some of the other projects that offer comparable products.
The question of who comes out on top will inevitably connect with the issue of price and product- will the solution offer cheaper, better storage than the alternatives?
Arweave has two important value adds: the 5k tps throughput rate for better network scalability and the one-time payment structure that forgoes the monthly payment model of other storage protocols. These features may prove more attractive to users and developers, or they may not.
For a team that has no prior entrepreneurial experience, Arweave has reached several milestones that bolster confidence in the project. The team have secured support from funds, established partnerships, built a large community and will launch their mainnet shortly.
One of the most renowned tech startup incubators, Techstars, has selected Arweave for its 2018 accelerator program. Arweave stand to benefit from the tremendous track record of success attributed to the program through the intensive mentoring and exposure to industry leaders members receive. Alumni of the Techstars accelerator program include Uber and Digital Ocean.
That said, there is still a long road ahead when it comes to building and scaling the ecosystem around Arweave. Without much of a track record to judge the long-term capabilities of the team, there's naturally more questions regarding how they will perform in the next stage of the project's development.
The Verdict on Arweave ICO
While the team behind the Arweave ICO are new to the startup world, they've managed to bring a novel storage solution to the table with a mainnet launch around the corner. Despite the competition and questions about scaling, we think Arweave is a serious contender among storage protocols.
In addition to this ICO review, there is a code review by Andre Cronje available here.
As a Top 10% rated ICO, we will look to make a small bet on the Arweave ICO (AR Token).
Learn more about the Arweave ICO (AR token) from our Telegram Community by clicking here.
---
We have rated hundreds of projects to unearth ICOs in which members of our team intend to invest.
We won't often go into further depth on projects that we don't consider as candidates for our investments after the initial rating process, which is why you will usually see our stamp on our detailed ICO reviews – they are the best we have found. However, on occasion, we might also rate a well-hyped project that does not meet our personal investing criteria. Please see our detailed disclaimer to the right (on desktops) or below (on other devices).
The Crypto Briefing Top 10 stamp is awarded to ICO projects that we rate in the top 10% of all projects.
ARWEAVE ICO REVIEW SCORES
SUMMARY
The Arweave ICO (AR Token) is an unusual candidate for a Top 10% rating from Crypto Briefing, as we are usually looking for significant experience in taking an idea from concept to execution – basic, successful entrepreneurship. Sometimes, however, the team is just the team – and they can knock it out of the park on the first at-bat. We see potential in this team, and in the novel proof of access consensus – and feel there is still room for another player in the crowded storage space… if the product is exceptional.
Founding Team……………………….7.1
Product…………………………………..8.2
Token Utility…………………………..8.9
Market…………………………………..8.1
Competition…………………………..2.6
Timing……………………………………7.5
Progress To Date……………………5.5
Community Support & Hype…..8.7
Price & Token Distribution……..9.4
Communication……………………..7.8
FINAL SCORE……………………….7.7
UPSIDES
Tech development at advanced stage with mainnet launch in June

Potential for competitive advantage over other storage solutions

Two partnerships lined up to pilot use case
DOWNSIDES
Team has no prior experience with startups

Saturated space with high-profile competitors
Today's Date: 5/28/18
Project Name: Arweave
Token Symbol: AR
Website: https://arweave.org/
White Paper: Arweave Lightpaper
Crowdsale Hard Cap: $8,700,000 USD
Total Supply: 66,000,000
Token Distribution: 48.5% to crowdsale, 26,5% to reserve, 19.1% to ecosystem, 13% to team, 2.9% to advisors
Price per Token: 1 AR = $0.74 USD
Initial Market Cap (at crowdsale price): $18,000,000 USD
Accepted Payments: ETH
Countries Excluded: USA, China, North Korea, Iran
Bonus Structure: N/A
Presale Terms: N/A
Whitelist: https://arweave.org/onboard.html
Important Dates: June 7th crowdsale begins
Expected Token Release: After June 8th mainnet launch
Additional Information: https://t.me/arweave
---
ICO Review Disclaimer
The team at Crypto Briefing analyzes an initial coin offering (ICO) against ten criteria, as shown above. These criteria are not, however, weighted evenly – our proprietary rating system attributes different degrees of importance to each of the criteria, based on our experience of how directly they can lead to the success of the ICO in question, and its investors.
Crypto Briefing provides general information about cryptocurrency news, ICOs, and blockchain technology. The information on this website (including any websites or files that may be linked or otherwise accessed through this website) is provided solely as general information to the public. We do not give personalized investment advice or other financial advice.
Decentral Media LLC, the publisher of Crypto Briefing, is not an investment advisor and does not offer or provide investment advice or other financial advice. Accordingly, nothing on this website constitutes, or should be relied on as, investment advice or financial advice of any kind. Specifically, none of the information on this website constitutes, or should be relied on as, a suggestion, offer, or other solicitation to engage in, or refrain from engaging in, any purchase, sale, or any other any investment-related activity with respect to any ICO or other transaction.
The information on or accessed through this website is obtained from independent sources we believe to be accurate and reliable, but Decentral Media LLC makes no representation or warranty as to the timeliness, completeness, or accuracy of any information on or accessed through this website. Decentral Media LLC expressly disclaims any and all responsibility from any loss or damage of any kind whatsoever arising directly or indirectly from reliance on any information on or accessed through this website, any error, omission, or inaccuracy in any such information, or any action or inaction resulting therefrom.
Cryptocurrencies and blockchain are emerging technologies that carry inherent risks of high volatility, and ICOs can be highly speculative and offer few – if any – guarantees. You should never make an investment decision on an ICO or other investment based solely on the information on this website, and you should never interpret or otherwise rely on any of the information on this website as investment advice. We strongly recommend that you consult a licensed investment advisor or other qualified financial professional of your choosing if you are seeking investment advice on an ICO or other investment.
See full terms and conditions for more.
Founding Team
This category accounts for the leaders, developers, and advisors.
Poor quality, weak, or inexperienced leadership can doom a project from the outset. Advisors who serve only to pad their own resumes and who have ill-defined roles can be concerning. But great leadership, with relevant industry experience and contacts, can make the difference between a successful and profitable ICO, and a flub.
If you don't have a team willing and able to build the thing, it won't matter who is at the helm. Good talent is hard to find. Developer profiles should be scrutinized to ensure that they have a proven history of working in a field where they should be able to succeed.
Product
What is the technology behind this ICO, what product are they creating, and is it new, innovative, different – and needed?
The IOTA project is a spectacular example of engineers run amok. The technology described or in use must be maintainable, achievable, and realistic, otherwise the risk of it never coming into existence is incredibly high.
Token Utility
Tokens which have no actual use case are probably the worst off, although speculation can still make them have some form of value.
The best tokens we review are the ones that have a forced use case – you must have this token to play in some game that you will probably desire to play in. The very best utility tokens are the ones which put the token holder in the position of supplying tokens to businesses who would be able to effectively make use of the platforms in question.
Market
There doesn't have to be a market in order for an ICO to score well in this category – but if it intends to create one, the argument has to be extremely compelling.
If there is an existing market, questions here involve whether it is ripe for disruption, whether the technology enables something better, cheaper, or faster (for example) than existing solutions, and whether the market is historically amenable to new ideas.
Competition
Most ideas have several implementations. If there are others in the same field, the analyst needs to ensure that the others don't have obvious advantages over the company in question.
Moreover, this is the place where the analyst should identify any potential weaknesses in the company's position moving forward. For instance, a fundamental weakness in the STORJ system is that the token is not required for purchasing storage.
Timing
With many ICO ideas, the timing may be too late or too early. It's important for the analyst to consider how much demand there is for the product in question. While the IPO boom funded a lot of great ideas that eventually did come to fruition, a good analyst would recognize when an idea is too early, too late, or just right.
Progress To Date
Some of the least compelling ICO propositions are those that claim their founders will achieve some far-off goal, sometime in the future, just so long as they have your cash with which to do it.
More interesting (usually) is the ICO that seeks to further some progress along the path to success, and which has a clearly-identified roadmap with achievable and reasonable milestones along the way. Founders who are already partially-invested in their products are generally more invested in their futures.
Community Support & Hype
Having a strong community is one of the fundamental building blocks of any strong blockchain project. It is important that the project demonstrates early on that it is able to generate and build a strong and empowered support base.
The ICO marketplace is becoming more crowded and more competitive. While in the past it was enough to merely announce an offering, today's successful ICO's work hard to build awareness and excitement around their offering.
Price & Token Distribution
One of the biggest factors weighing any analysis is price. The lower the price the more there is to gain. But too low of a price may result in an under capitalized project. It is therefore important to evaluate price relative to the individual project, its maturity and the market it is going after.
The total supply of tokens should also be justified by the needs of the project. Issuing a billion tokens for no reason will do nobody any good.
Communication
Communication is key. The success of a project is strongly tied to the project leaders' ability to communicate their goals and achievements.
Things don't always go as planned but addressing issues and keeping the community and investors in the loop can make or break a project.