Bandwagon Aims to Solve Ticket Fraud With The Blockchain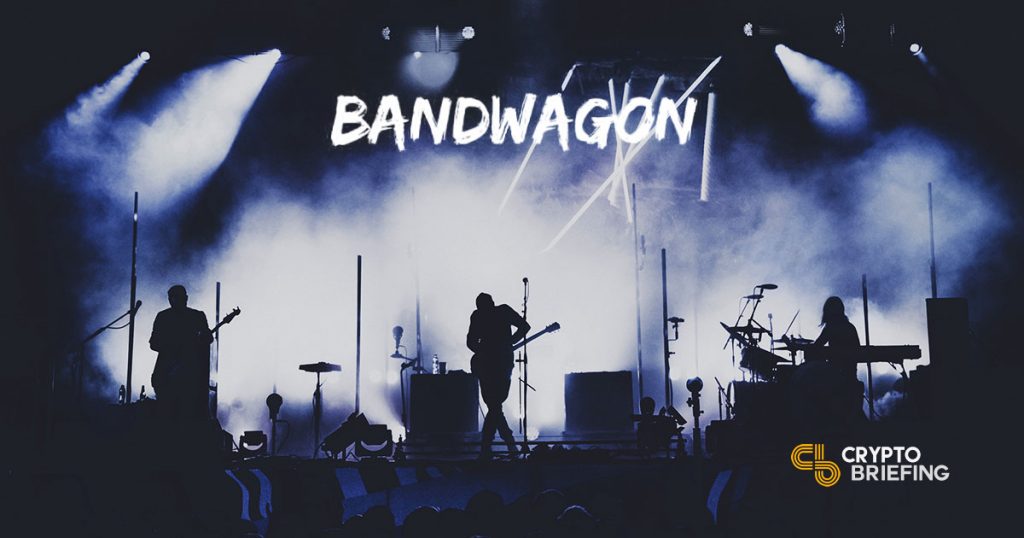 Each year $2.3 billion is spent on fake ticket sales, but a new software platform is taking the stage to eliminate ticket fraud, through the use of blockchain technology.
Headquartered in Greenville, South Carolina, Bandwagon is a blockchain-based ticket authenticity and fan identity management company. It's also one of ten businesses taking part in IBM's Blockchain Accelerator program.
Using data and the blockchain, Bandwagon is aiming to help sports teams, festivals, and other organisers eliminate ticket fraud. At the same time, it builds richer connections with fans regardless of where they purchased their tickets.
Harold Hughes, who started Bandwagon in 2014 as he finished his MBA at Clemson University, told Crypto Briefing that he wanted to create a fan-to-ticket marketplace. Similar to StubHub, his vision was to allow fans to protect their home-field advantage by indicating that they would like to resell their tickets to a member of their own fan base.
"We set up a membership program for each team and facilitated the transactions for physical and digital tickets, as well as parking passes," he added. "As we began to scale, we became aware of the fact that we were leaving ourselves and our fans vulnerable to fraudulent tickets due to the fractured and siloed nature of the ticket industry."
He noted that it's thought around $2.3 billion is spent each year on fake ticket sales. In a bid to change this, the team turned their attention to the blockchain.
Using the blockchain, Hughes explained, Bandwagon aggregates various ticket marketplaces into one platform so that event organisers have better insight into fan attendance and identity.
"We create APIs [application programming interfaces] that connect with various ticket marketplaces so that at the point of checkout, each transaction is recorded and registered to our blockchain network," he continued. "The fan's buying experience is not changed, the ticket marketplace's process is not changed, yet event organizers are able to gain visibility like never before while eliminating ticket fraud."
According to Hughes, their solution is unique because it hinges on "collaboration versus exclusivity." With collaboration in mind, Bandwagon is able to partner with both ticket marketplaces and event organisers.
Bandwagon's first client was the Sacramento State Hornets. In order to work with them, Bandwagon needed to get a snapshot of who attended their baseball games. During the pilot with Sacramento State, Hughes said that they identified 48% of their fans, up from 0%. They then expanded into football, providing insight on brand preferences and demographics.
"We have since expanded beyond sports most recently with the Africa Rising International Film Festival (ARIFF)," he added. "Last November, ARIFF hosted their inaugural event and we were able to help them identify and target more than 30% of their attendees, having a direct impact on their event's attendance."
---
Why is the Blockchain Needed?
According to Hughes, the data to move the industry forward is siloed in the databases of many different stakeholders, each of which has different needs and market drivers. Teams that issue tickets may know about their season ticket holders, but not what happens when the tickets leave the distributor.
Additionally, the secondary market knows when a ticket is being sold, but not where it originated from or whether it's being sold on another market at the same time, Hughes says. Likewise, while marketers and vendors have an expected target audience, they may not know who attended the game.
With the aid of the blockchain, Bandwagon's solution can work for three parties: teams, ticket companies, and brands.
Knowing who's in the stadium means that teams can deliver a better fan experience and value. For ticket companies, a clear audit trail gives fans the option of listing their seats, as ticket companies know the ticket's origin, ownership, and restrictions. With brands, Hughes noted, the biggest opportunity is to lower customer acquisition costs by using fans' data based on the preferences they display.
Hughes added:
We believe that blockchain is the right technology to address these issues, by allowing stakeholders to cooperate on a shared model of tickets and fans, with the confidence to know that the model is only ever accessed and modified in ways that meet agreed-upon business rules, enforced by smart contracts securely, mathematically, and cryptographically.
With revenues continuing to vanish into the pockets of scalpers and bad actors, Bandwagon is hoping that new technology will be a winning ticket to restoring confidence in the industry.
---
The author is invested in digital assets.