Bank of England Says Stablecoins Should Be Regulated
The Bank of England is worried that stablecoins may hinder the effectiveness of the U.K. government's monetary policy.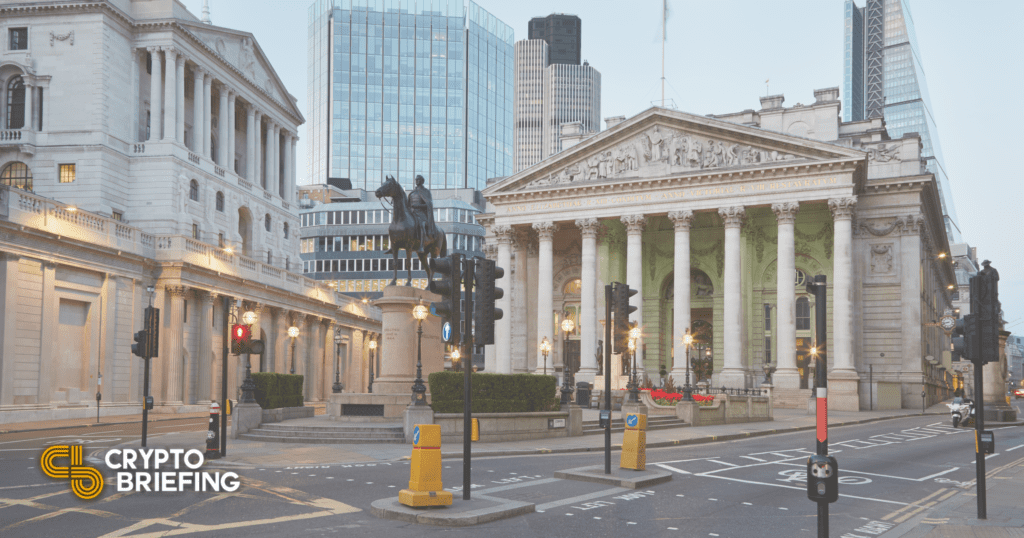 Key Takeaways
The Bank of England has suggested implementing banking rules for stablecoins in an official document published Monday. 
The paper details the bank's view on stablecoins and other digital currencies. 
It raised concerns around the bank losing control over savings deposits and traditional payment channels. 
England's central bank has published a paper titled "New forms of digital money" to assess the viability of a central bank digital currency and other issues surrounding cryptocurrencies.
Bank of England's Concern for Stablecoins
The Bank of England (BoE) published a paper Monday weighing the benefits of new digital payments.
The paper, titled "New forms of digital money," discussed central bank digital currencies (CBDCs) and other forms of digital assets, including stablecoins.
While the bank aims to build confidence in stablecoins as commercial bank money, it has suggested guidelines for stablecoin issuers. The note read:
"Stablecoins used as money should meet equivalent standards as those provided by commercial bank money, otherwise known as bank deposits."
In the future, the BoE expects that stablecoin issuers will need to meet capital and liquidity rules and offer deposit insurance.
The BoE views fiat-backed cryptocurrencies in two lights: ones issued by private firms like Tether and the other by a country's central bank.
It also states that "any stablecoins that become "systemic" should be stable in value at all times and offer 1-to-1 redemption with a robust legal claim."
BoE Governor Andrew Bailey has recently attacked cryptocurrencies, saying they have "no intrinsic value" and that investors should be prepared to "lose all [their] money." Nevertheless, BoE is among major central banks across the world planning a CBDC.
The rising prominence of stablecoin payments presents potential threats to other national currencies and traditional payment systems, according to the paper. It states:
"By offering people an alternative to commercial bank money, new forms of digital money could affect the cost and availability of borrowing from banks. All else equal, that could make it more difficult for monetary policy to ease financial conditions."
In recent years, private stablecoins like Facebook's Diem and state-issued coins like the digital renminbi have been in development. The Federal Reserve is planning on releasing a paper this summer to assess the benefits and risks of a digital dollar. The BoE has welcomed comments from stakeholders on their views in the paper.