Bank of Russia, Finance Ministry Fail to Reach Deal in Crypto Meet
The Bank of Russia and Ministry of Finance hold opposing views on how to deal with the emergent asset class.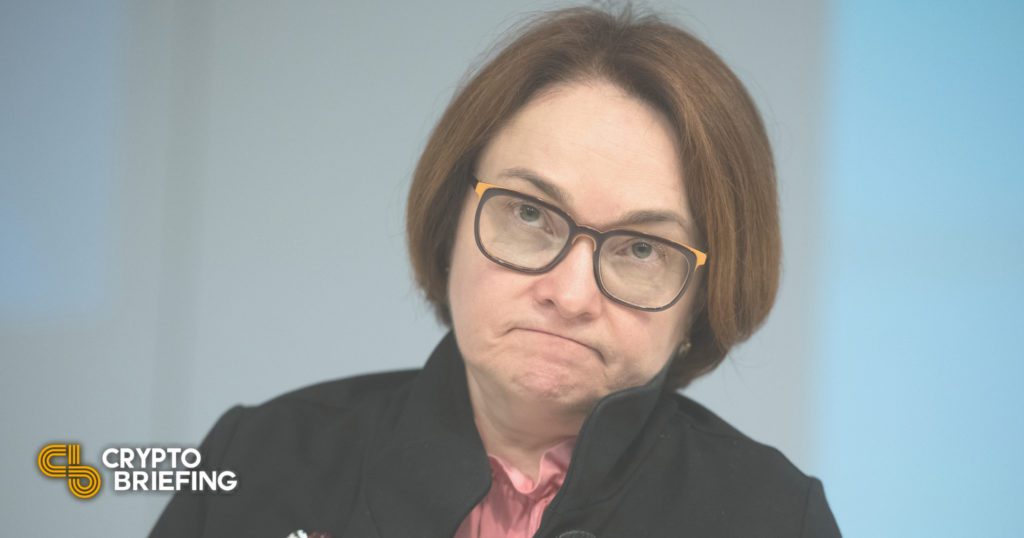 Key Takeaways
The head of the Bank of Russia met the country's Finance Minister to discuss crypto regulation Tuesday.
The two sides have still not resolved their disagreements on how to regulate the asset class.
President Putin has shown interest in crypto mining and asked the government and central bank to reach an agreement.
The Bank of Russia and Ministry of Finance reportedly clashed over crypto regulation in a Tuesday meeting.
Crypto Showdown Continues in Russia
The Bank of Russia and Ministry of Finance still haven't reached an agreement on how to regulate crypto.
Elvira Nabiullina, the head of the Bank of Russia, met with the country's finance minister Anton Siluanov and Deputy Prime Minister Dmitry Grigroenko to discuss the emerging asset class Tuesday. However, according to anonymous sources cited in a Bloomberg report, they failed to resolve ongoing disagreements regarding crypto regulation.
Last month, the central bank proposed a blanket ban on all crypto activity in Russia, citing risks to economic stability and alleged use of the assets in illicit activities. However, the central bank's proposal did not find support from the finance ministry in the Putin-led government, which has lobbied for regulating crypto.
President Vladimir Putin then said he supported regulated crypto mining rather than a blanket ban. In a speech, he said that Russia had "advantages" in crypto mining due to its surplus energy production (Russia is currently the third-largest Bitcoin mining hub after the United States and Kazakhstan). Putin also requested the central bank and finance ministry to come to an agreement on the topic, but the two sides are yet to see eye to eye.
In a Friday letter written by Nabiullina to Siluanov, the Bank of Russia head reportedly expressed her opposition to crypto and pushed for a blanket ban. The government, meanwhile, has indicated that it wants to create a regulatory framework. The Ministry of Finance has already released an outline of its regulatory plans for the crypto sector.
"We need to create clear and transparent rules for the participation of citizens and businesses in the financial instruments of the crypto market," Deputy Finance Minister Alexey Moiseev said in a Monday media statement.
As such, little progress has been made on finding common ground between the central banks' crypto fears and the government's view of formalizing the sector into the economy. Notably, crypto is not a fringe activity in Russia. A recent government estimate said that Russians owned more than 16.5 trillion rubles, or roughly $214 billion, worth of crypto assets.
As Putin appears to have ambitions for Russia to lead the Bitcoin mining sector, an outright crypto ban looks less likely, especially amid fears of economic sanctions over the ongoing conflict with Ukraine.