Basic Attention Token (BAT) Progress Report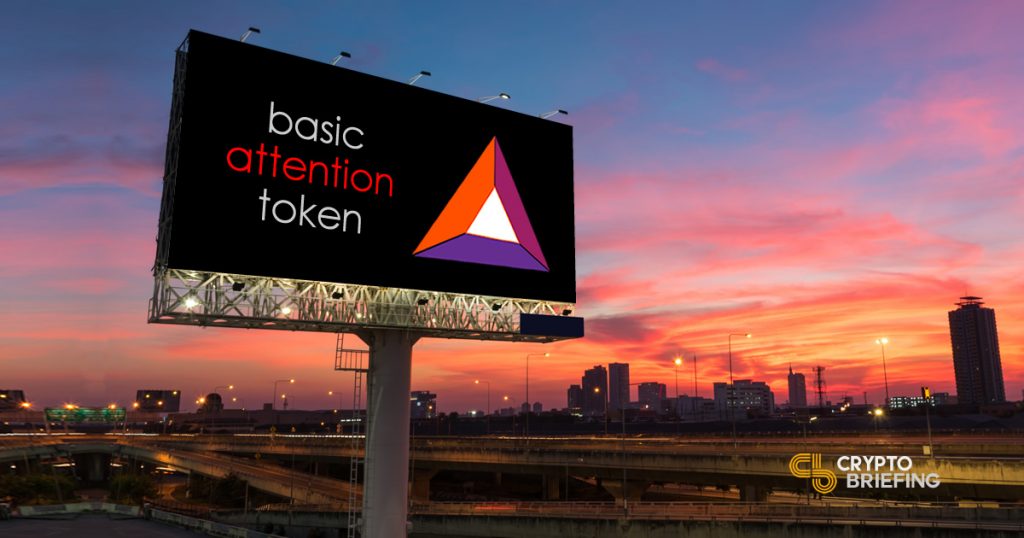 Overview on Basic Attention Token
Basic Attention Token (BAT) and Brave browser offer a decentralized, digital advertising platform built on the Ethereum network that fundamentally changes the way users, publishers and advertisers interact. The utility of the token is imbued in the name itself- Basic Attention Token commodifies user attention within the digital realm.
As users browse the internet on Brave, all external advertising content and data tracking is blocked. Brave replaces the status quo with a transparent ad delivery approach, whereby catalogues of content are directly sent to and stored locally on user devices.
From each catalogue, a tailored selection of ads are chosen and displayed according to user browsing behavior.
Users are rewarded BAT directly to their wallets for their attention as they consume paid content, while their personal data and identities remain protected. All ads are based on an opt-in system and ensure the security of the individual user data.
Users, publishers and advertisers all stand to benefit from more efficient delivery of content, rewards for consumption, decreased ad fraud and better privacy through data security.
BAT Proposed Roadmap
The team has divided the roadmap into 3 sets of development milestones; namely, Mercury, Gemini and Apollo. Below is the comprehensive roadmap from the BAT website.
Mercury (Summer 2017)
BAT wallet integrated into Brave

Convert Brave Payments from Bitcoin to BAT

Extend Brave secret-key sync to include the Brave ledger and wallet

Compile demand-side dashboard data into BAT ad and offer catalog that is downloaded and updated on-device; scraped and mock ads/offers with micro-BAT subsidized revenue

Develop the on-device machine learning models that privately match catalogued ads and place them in user-private slots based on user intent signals, from search queries (you own your query log, Google does not) to surfing, to researching, to purchasing

Design research and engineering development of user-private ad slot form factors

Measure ad engagement and user satisfaction via Basic Attention Metric (BAM) system

Extend the Brave Ledger ANONIZE ZKP-based proof protocol (

Zero Knowledge Proof

) to convey ad attributions and confirmations as well as transactions
Gemini (Fall 2017/Winter 2018)
KYC (humint + machine learning), rate, and flow control for anti-fraud

User Growth Pool (UGP) grants to users who opt into the new model

Further machine learning development and optimization

Further demand-side dashboard to BAT ad/offer catalog work

Ledger- and Ethereum-attested dashboard analytics for early publishers interested in BAT indirect ad partnership trials

User-private ad trials with select agency and other demand-side / lead-gen partners

One premier publisher partner to co-develop publisher-provided inventory system

Revenue as soon as system performs as well as or better than status quo ad-tech
Apollo (Rest of 2018)
Real ad revenue that scales with user growth; further UGP grants and growth hacks

Donation flow fee revenue, smaller but scaled as far as possible via incentives to users who get BAT revenue from ads and want to give back to their pinned and top sites

Major work to move from Brave Ledger confirmation and revenue flows to entirely decentralized on Ethereum flows using a state channel with ZKP for anonymity

Evolved BAM options based on premium attention models — price discovery at high end

Aggregated, large-anonymity-set reports and forecasts on the Ethereum blockchain, with competitive demand (advertiser) and supply (publisher) dashboards for performance measurement, optimization and sales planning

Integration into other apps based on open source and specs for greater ad buying leverage and publisher onboarding
BAT Project Development Progress:
From a macro-level standpoint, the Brave browser is a front-runner application based on blockchain technology that has significant potential for adoption. The critical issue facing websites that rely on dwindling revenue streams from advertisements has created a demand in the market for alternative sources of revenue.
For advertisers as well, millions of dollars are lost through inefficient placement of content, and consumers themselves currently have little control over their browsing experience or data privacy. It is at this juncture Basic Attention Token has focused efforts on adoption and growth strategies.
After successfully integrating BAT wallet with Brave browser, the foundation was set on which to build both an active user base and set of publishing partners. From there, the strategies deployed to onboard both users and publishers have resulted in impressive results. Earlier this year, the project launched a referral program for YouTube and Twitch that rewarded $5 USD worth of BAT to each participating content creator for every new active Brave user brought onboard.
In addition, the project has tactfully leveraged the User Growth Pool, a dedicated fund to supply free BAT for users toward developing a new ecosystem of value exchange between consumers and content creators. These growth strategies have resulted in 11,000 YouTube channels signing on as Brave Publishers, with a combined viewership of 200 million people.
As of June 2018, Brave browser has 2.7 million monthly active users, according to the BAT website.
According to the Gemini Roadmap, BAT aimed to establish a partnership with a premier publishing partner to develop the inventory system of the platform. To this end, multiple enterprise partnerships are already underway .
On April 18th, Dow Jones Media Group announced a partnership with the Brave software team in order to test the platform and token. Dow Jones Media Group will supply content via Brave's digital advertising and services platform. More partnerships have been established with high-profile sites such as the Guardian, the Washington Post and Vimeo, among others, to support Brave browser.
BAT has reached another significant milestone on the Gemini roadmap. On June 19th, BAT announced voluntary testing will begin for the consent-based digital advertising model. Over the course of the next several months, the team plans to expand user trials.
These trials are particularly important for assessing the impact of user rewards on the advertising system, to prove the viability of the ecosystem envisioned by BAT. During the trial phase, users will actively earn tokens for their consumption of content and each stage will expand to include a wider base.
Though several major milestones have been met in 2018, the project has not yet completed the Gemini Roadmap according to the proposed time frame. Originally scheduled for early 2018, user ad trials have just begun.
BAT has also yet to start generating revenue, which represents one of the most significant steps forward toward attracting the support of many more prospective enterprise users. The results of the ad trials and generation of revenue will mark a major turning point for BAT. Revenue will only come into play after BAT can prove the advertising platform performs as well or better than the current status quo for online advertising. These milestones are among the most crucial indicators for the future of BAT Token.
Adoption of the Brave browser itself faces a potential ceiling; in order to access the real value proposition for users, a certain familiarity with cryptocurrency is required. Wider adoption of the browser, which will further facilitate interest from enterprises, may need a more streamlined onboarding process that accounts for this dynamic.
On the other hand, the opposite scenario could play out; the ability to use Brave without BAT could serve as a vehicle to foster wider adoption of cryptocurrency. Users unfamiliar with cryptocurrency who are simply seeking a better way to surf the web can use Brave and gain exposure to the use of BAT within the ecosystem as a result.
Whether either of these scenarios plays out ultimately depends on the results of this crucial period in which user trials are underway and the question of revenue remains open.
Our Verdict on BAT
While BAT may be behind on some milestones, the scope of accomplishments achieved so far outweighs any reservations relating to the roadmap. Real adoption of blockchain-based applications will likely come from projects such as BAT that bring meaningful change to industries ripe for disruption, and this process will take time.
At this pivotal moment, the success of the project since its inception foster a largely positive outlook for the future. With a current price around $0.24 and a potential breakthrough around the corner, we'll consider adding some BAT to our bag.
Learn more about the progress of BAT Token from our Telegram Community by clicking here.
Published: 7/6/18
Token Name: BAT
ICO Date: May 31, 2017
Raised: $36,000,000
Crowdsale Token Ownership:
ICO Price: 1 BAT = $0.036
Current Price: $0.239
Token Return: 6.65x
Market Cap: $239,773,000