Beeple's NFT-Paired Astronaut Sculpture Sells for $29M at Christie's
Spoiler alert: the event was cool. And very... rich.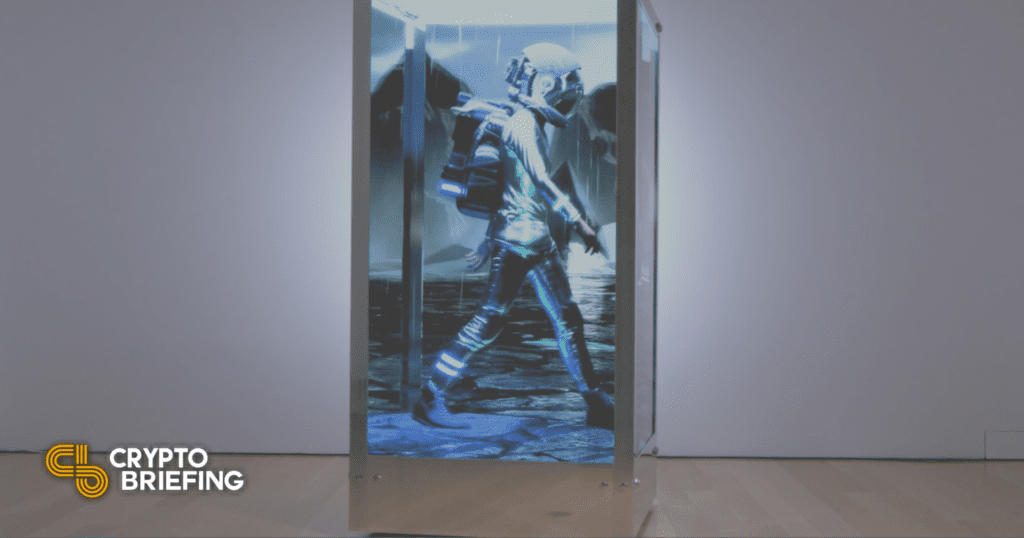 Key Takeaways
Famed digital artist Beeple last night sold his 'HUMAN ONE' sculpture for nearly $29 million at Christie's, crushing many estimates.
The piece features a 7-foot-tall astronaut dressed in a mirrored helmet and silvery suit that appears to stroll sci-fi landscapes.
Many other prominent artists like Damien Hirst, Banksy, and Jean-Michel Basquiat had pieces sold at the auction. Some pieces were payable using cryptocurrency.
Towards the end of the auction, six-figure bids started to feel boring and tame.
Beeple Gets Real
Last night, one of the most valuable living artists in art auction history, Beeple, sold 'HUMAN ONE' for $28,985,000 in Christie's 21st Century Evening Sale. The sale far exceeded the $15 million expectations. The auction was a live event in New York City but had bidders represented from across the world.
The event, which was viewable via livestream, showcased 40 lots of art, and Beeple's 'Human One,' a 7-foot-tall sculpture and its accompanying NFT, was the seventh lot. The auctioneer mentioned how hotly anticipated the piece was, and bidding was up to $15 million in seconds, seeing a major bidding war between someone present in the room and someone online from Switzerland. Ultimately, $25 million was the winning bid secured by Ryan Zurrer of Dialectic. After auctioneer fees and taxes, the price tag is $28,985,000.
The life-size astronaut slowly rotates, appearing to stroll through the sci-fi landscapes it finds itself in. Beeple told Christie's, the 255-year-old auction house, that he had plans to update the piece "fairly regularly," even going so far as to say that the owner of this piece "won't really know what they're getting because I'll keep changing it."
Peter Doig's 'Swamped' achieved $39,862,500. Some other NFTs were sold, and some pieces were payable via cryptocurrencies Ether and/or Bitcoin. The last piece that went up for auction was a video (with audio) that included an accompanying NFT, which went for $420,000.
Beeple (Michael Winkelmann) made waves in March of this year when he sold his NFT "Everydays: The First 5,000 Days" for 69.3 million in an online-only sale that saw some 22 million website visitors who witnessed the end of the sale. This piece was a collage of every image Beeple posted online daily since 2007, and this lofty time component was cited by the winner of the auction as a primary motivation for the purchase. This was arguably a watershed moment in NFT, art history that set the stage for the NFT Summer craze.
Beeple received payment for that sale in Ethereum (42,329.453 ETH), and if he had not sold it for U.S. dollars, it would be worth roughly 2.5 times more today than in March. In speaking of NFTs more generally, Beeple told Christie's, "It feels like genuinely new work is being birthed through this technology, through this movement."
Beeple should appear on Jimmy Fallon Wednesday night, and he seemed happy to have his parents at the live auction event last night to support him.
Disclaimer: At the time of writing, the author of this feature held BTC, ETH, and several other cryptocurrencies.