Binance Suggests Craig Wright Take His Toys Elsewhere
'Fraudulent' 'dumpster fire' booted from top crypto exchange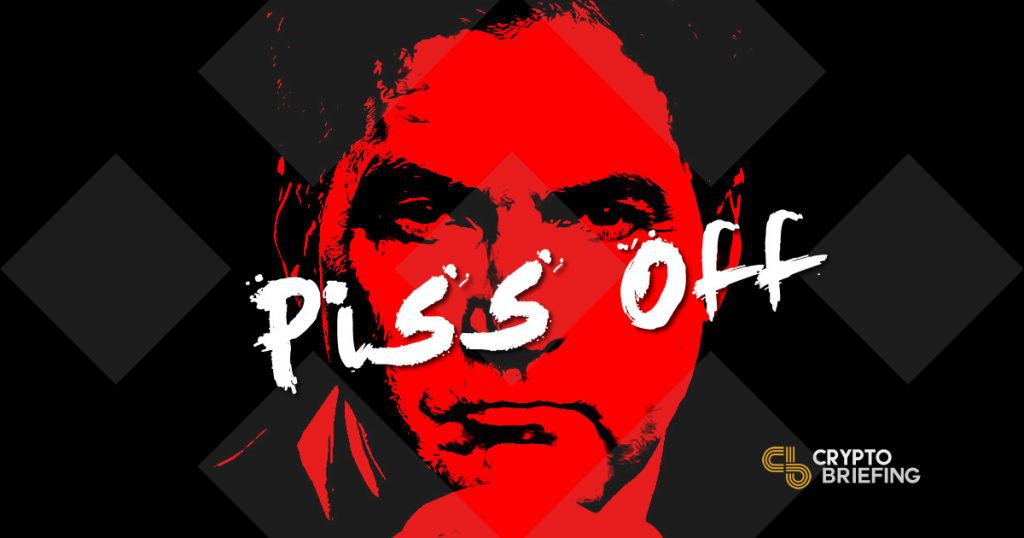 The largest crypto exchange in the world is delisting Craig Wright's pet project, Bitcoin SV, after Binance declared that the token no longer met its standards for listing.
Binance explained that among the factors that their listing team considers when adding or removing an asset are:
Commitment of team to project
Level and quality of development activity
Network / smart contract stability
Level of public communication
Responsiveness to our periodic due diligence requests

Evidence of unethical / fraudulent conduct

Contribution to a healthy and sustainable crypto ecosystem
(Emphasis ours.)
The defenestration of 'Satoshi's Vision' brings to a close a year-long saga during which many in the industry have denounced Craig Wright as a fraud – including Binance CEO Changpeng Zhao.
Master piece! You have my full support, Peter.

To be clear, I don't choose sides on technology. We let market do that. I am against fraud, such as lying to be someone. As such, it is my strong opinion that:

Craig Wright is fraud. https://t.co/f9ihSD6Pr3

— CZ 🔶 Binance (@cz_binance) April 15, 2019
Wright has long-claimed to be the creator of Bitcoin, and recently embarked on a mission to sue industry figures who suggested otherwise. Vitalik Buterin has reportedly also been sued, after he referred to the project as a 'dumpster fire' and called Craig Wright a fraud at a conference.
The crypto community has reacted by standing shoulder-to-shoulder with his first target, Hodlonaut, and a number of people have used the Hodlonaut moniker in their own Twitter handles as an illustration of their support.
Wright went further when he was reported by CoinGeek to be offering a 'bounty' of $5,000 for information leading to the identity of Hodlonaut.
Crypto Briefing reported last year that the token metrics behind Bitcoin SV suggested a market capitalization that was unrealistic, and while it's comforting to believe that Binance threw Bitcoin SV out because of the public spat with Craig Wright, it's also possible that network stability was an issue.
Bitcoin SV plummeted on the news of Binance delisting the asset, and is currently trading at a 7.76% loss for the day. According to CoinMarketCap, Binance is the second-largest market for Bitcoin SV, with USDT and BTC pairs accounting for 10.37% of all trading (just over $17M in 24-hour reported volume).
However, since many of the other exchanges that support BSV have been accused of wash trading, it is entirely possible that Binance's decision will have a much greater impact.
Other than Binance, the Messari Real 10 (exchanges that appear to have real volume) include Bitfinex, Bitflyer, Bitstamp, Bittrex, Coinbase Pro, Gemini, itBit, Kraken, and Poloniex.
Of these, the first entrant on the volume trading list on CMC is Bitfinex, which appears as the 18th exchange by volume for any BSV pair, accounting for 2.19% of trading.
This story is developing.